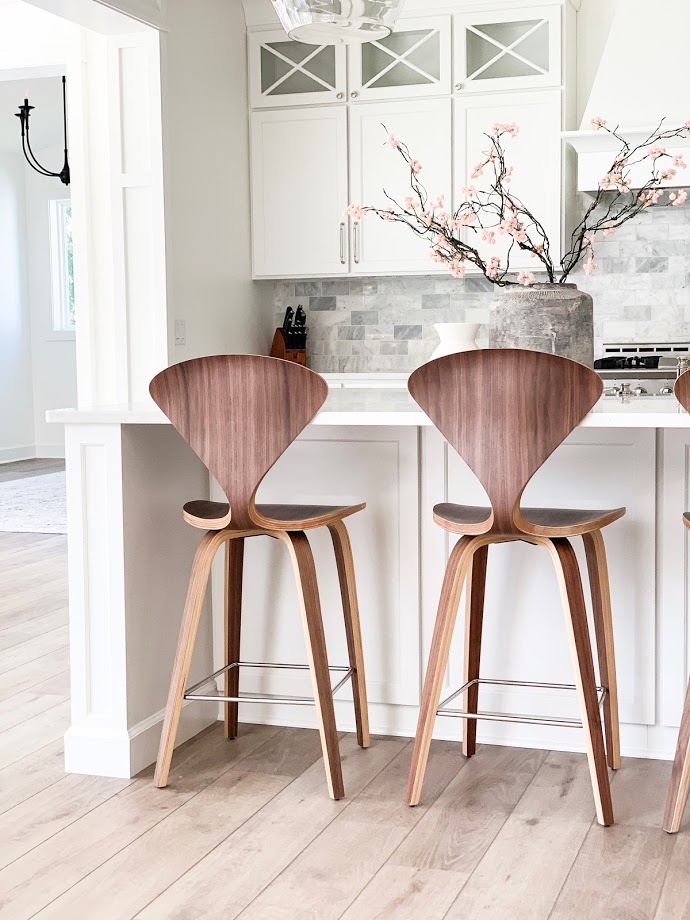 When we decided we were going to build our forever home we knew we were going to have to purge and declutter before moving in with my in-laws. We sold most of our furniture when we sold our house. Since the home build was going to take the better part of a year, we didn't want to have to store it. This allowed us to find new pieces for our new home over time. In the new house, we were most excited to use our kitchen island. This kitchen island was counter height which was different than our previous homes breakfast bar.  We didn't find counter stools to purchase while we were building so we moved in without them.
so excited about our new kitchen
One of the first things I remember about living in this house was a comment our preschool daughter said. She was sitting on the floor eating dinner, and she looked up and said "Mom, how come this house doesn't come with any chairs?" It was the cutest and so funny! We spent the first few months eating on the floor in the dining room together as a family. They are memories I won't ever forget. Finally after a year of looking, and four months of narrowing down our choices, we finally found what we think are the perfect counter stools for our kitchen and the stage of life we are in right now.
taking our time with furniture purchases
One may not think this is a big decision, especially after having completed a fully custom home with an insane amount of decisions, but choosing our counter stools did not come easy. One thing I wanted to make sure of when purchasing home décor and furniture for this house was that it was thought out and something we really loved. I do not want to just purchase things to fill the house. Rather I am trying to take my time and find the pieces that we really love.
While choosing our kitchen design, I really wanted a timeless feel. Time and time again I kept coming back to a classic all white kitchen. During the build process we made some larger changes to cabinets and our range hood. Our decision for an all white kitchen remained.  We chose Sherwin Williams pure white for our kitchen cabinets.  (If anyone is in the midst of the great white paint debate, I can completely relate and validate that all whites are not the same.)
choosing furniture that compliments your style
Choosing an all white kitchen really put pressure on the counter stools. They needed to provide contrast and warmth. We found we were drawn to the lighter wood color but this also presented challenges as I did not want it to feel too much like a farmhouse.
Counter stools, in my mind, transform the look of your entire kitchen. There are so many fun options out there. I love that you can create your own personal touch/personality by choosing a counter stool that speaks to you. Its kind of fun!
After a few attempts to purchase our counter stools, we finally landed on what we think are the perfect stools.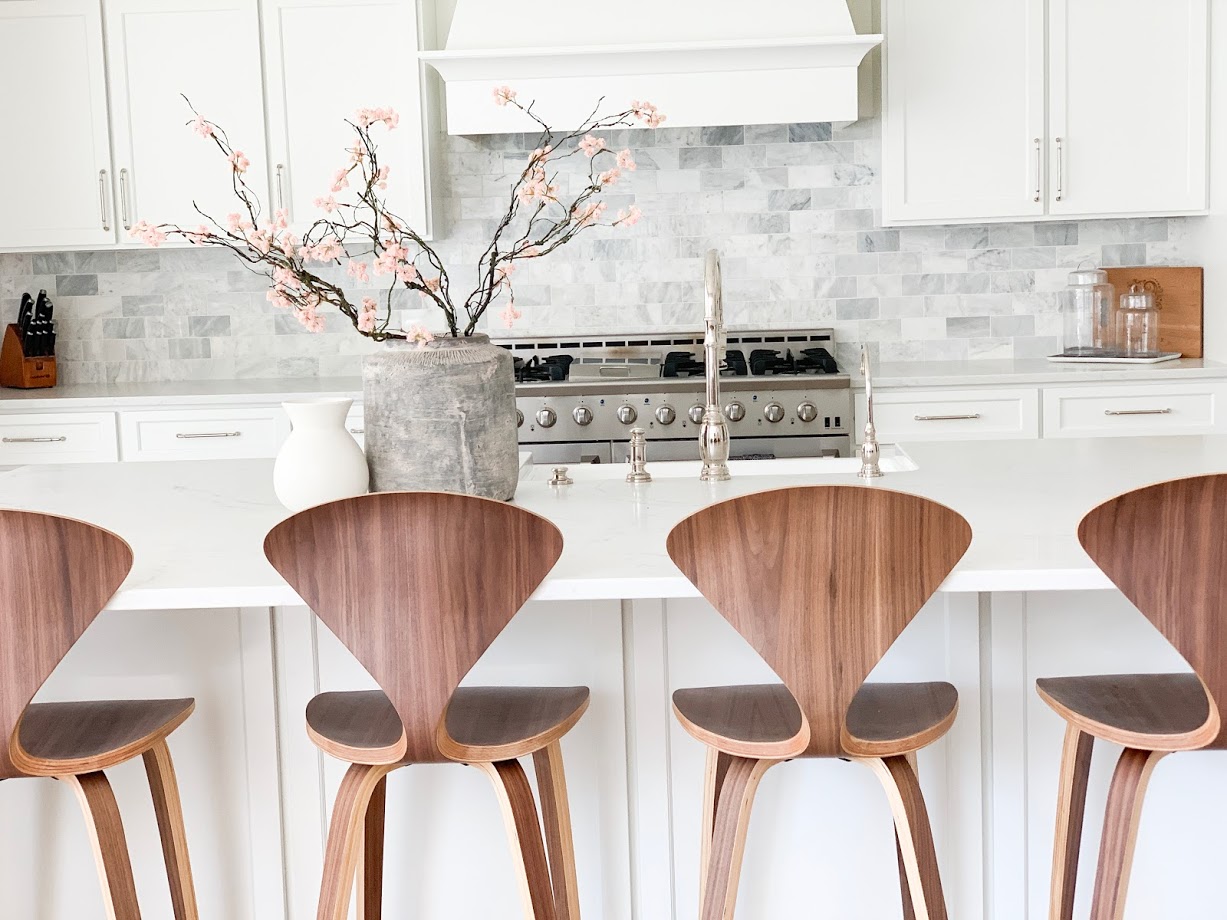 | counter stools | faucet | concrete vase | white vase | similar stems|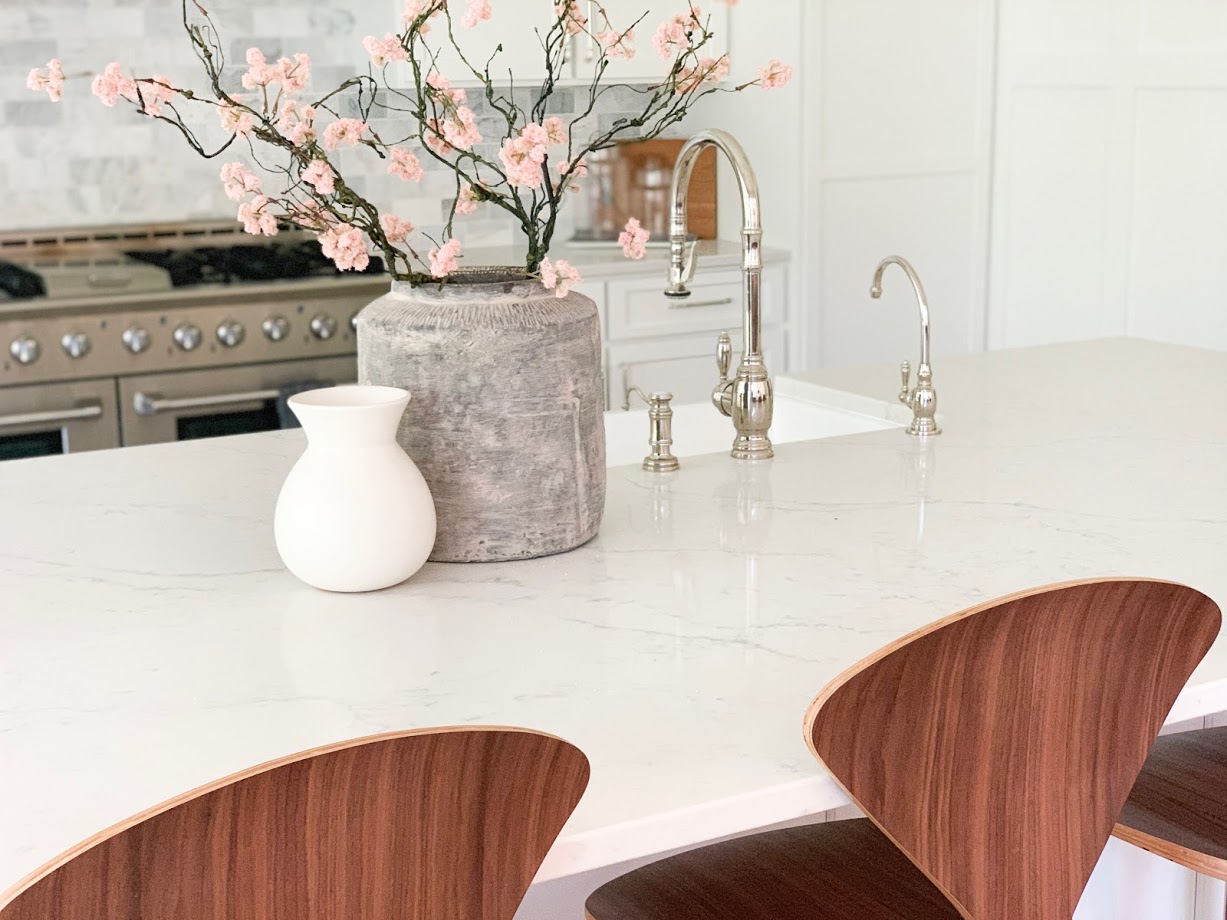 | faucet | counter stools | concrete vase |
I am in love with these counter stools and I could not be happier with them. Right away I knew we were going to need some wood tones to warm up our all white kitchen. I wanted them to have enough contrast against the white cabinets, without them clashing with our flooring. I think these are a perfect fit.
counter stool must haves
durable
An absolute must have for our counter stools was the durability. Of course, I had been drawn to the very expensive, gorgeous stools I have seen all over Pinterest and Instagram. But realistically these were not going to work for us. We needed durable.  These stools are made out of some type of plywood and extremely easy to wipe clean.  I love that they come pre-finished and you can literally wipe them down with a wet wash cloth. Anyone else's kids spill EVERYTHING? With three little kids it is really hard to find furniture that not only looks good, but will hold up to all their mishaps.
heavy duty yet light weight
Another thing I really like about these counter stools is the weight of them. They are light enough to push around freely, where they don't leave any scratch marks on my floors, but they are heavy enough so that I don't have to worry about them falling over while the kids are eating.
and I found them on sale…
I had my eye on other options for our counter stools and there are still many out there that I adore.  My previous choices were in the $450-$550 range and to be honest, I was about to pull the trigger and buy them at that price point. For us, the kitchen is the heart of the home, so investing in a high quality product was something we were willing to do. Here is the best part about these stools, they are literally 1/3 the price of the previous stools we had considered. I found them on a flash deal one day as well, and they were less than $200 with free shipping. They arrived in two days, and took my husband all of 40 minutes to put all four together. I think I scored big!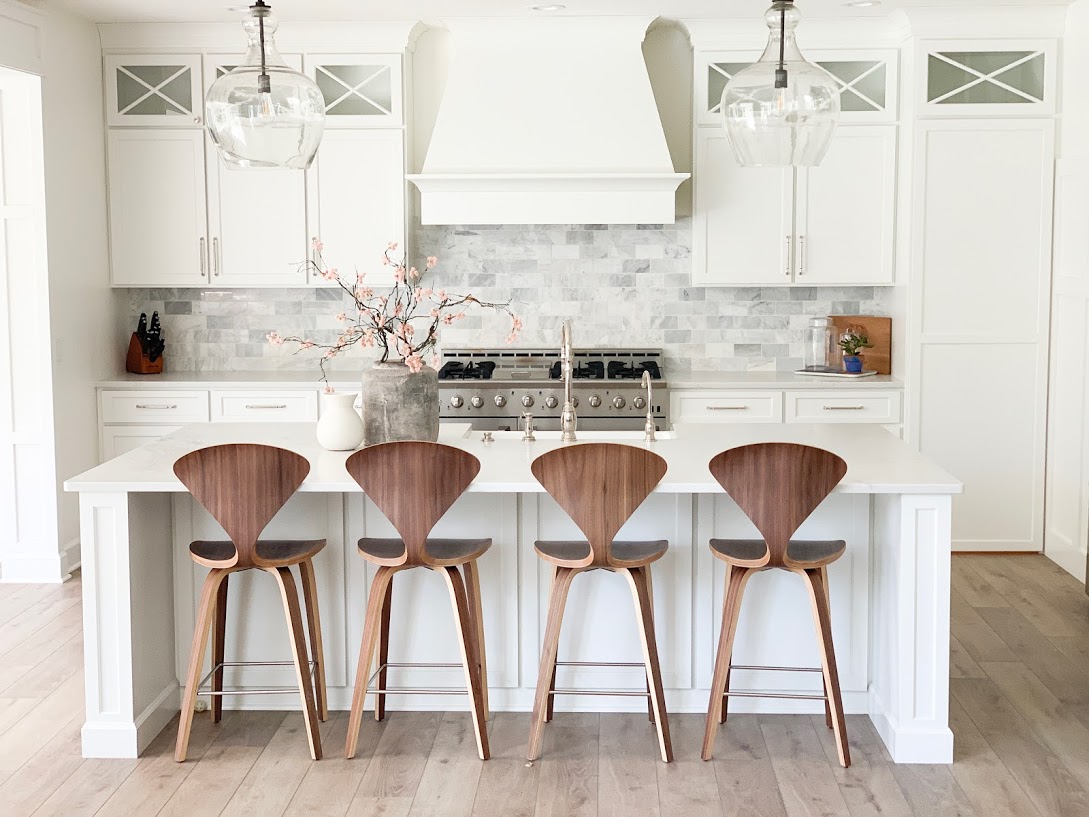 | counter stools | faucet | concrete vase | white vase | similar stems | pendant lights |
Choosing counter stools can be a tough decision. I found it especially tough because I had a vision in my mind and it took months to find it. I had found things I loved but they were out of price range or would not hold up with kids. My advice is stay the course and keep searching. It's better to take your time and purchase a product you LOVE than rush and fill a space. If you rush, you may not be fully in love with your decision! Sales happen all the time. Remember the kitchen is the heart of the home, and often conversations start when someone pulls up that first counter stool. 🙂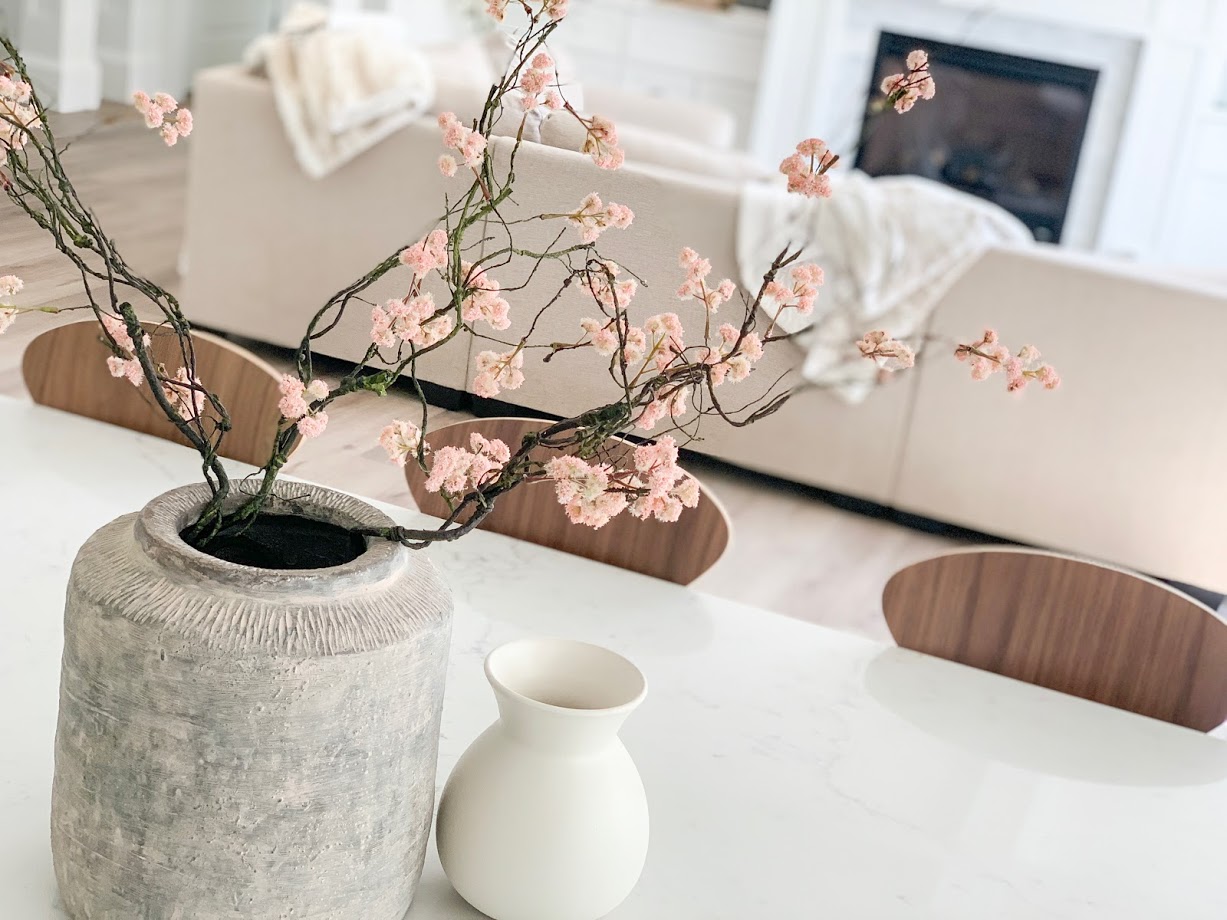 This post was not sponsored and all opinions are my own.
xo, kayla
Shop The Post