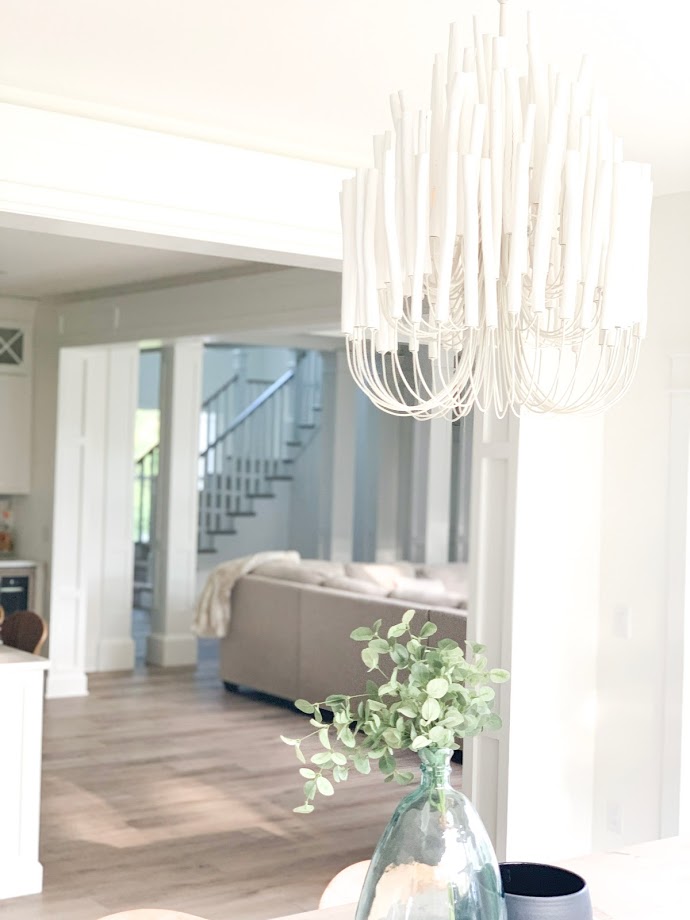 Make a statement when choosing your lighting
One of my absolute favorite things to choose while building our house was our lighting. Light fixtures in a home can really tell a story and show personality in a home! I think it is one of the most fun things to pick out when building or renovating a house. It feels like the jewelry to the home and the final touch that makes the space feel cohesive.  I won't lie, it can feel a little overwhelming at first, especially when you are choosing lighting for an entire house.
One of the things my husband and I decided we would do when we built our house was to purchase our light fixtures on our own. I wanted to have free reign on the options and this allowed us to save up for certain holiday deals, without placing this expense on our home loan. If you are anticipating a long build process (6 months – 1 year) and have the opportunity to purchase lights throughout the course of your build, I do think this is a way to save on cost and budget. Of course you will need a place to store them. We stored ours in my in-laws barn and this worked great!
Some of my favorite places to purchase lights are: Pottery Barn | Bellacor | McGee and Co | Wayfair | Anthropologie | Build.com |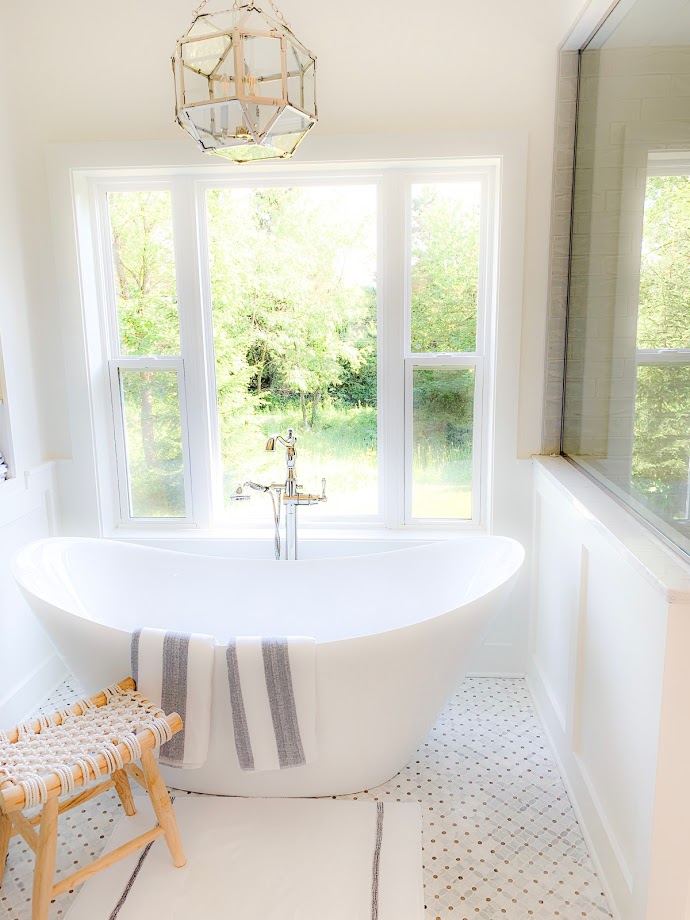 |bathtub chandelier| bathtub | stool | towel set | faucet |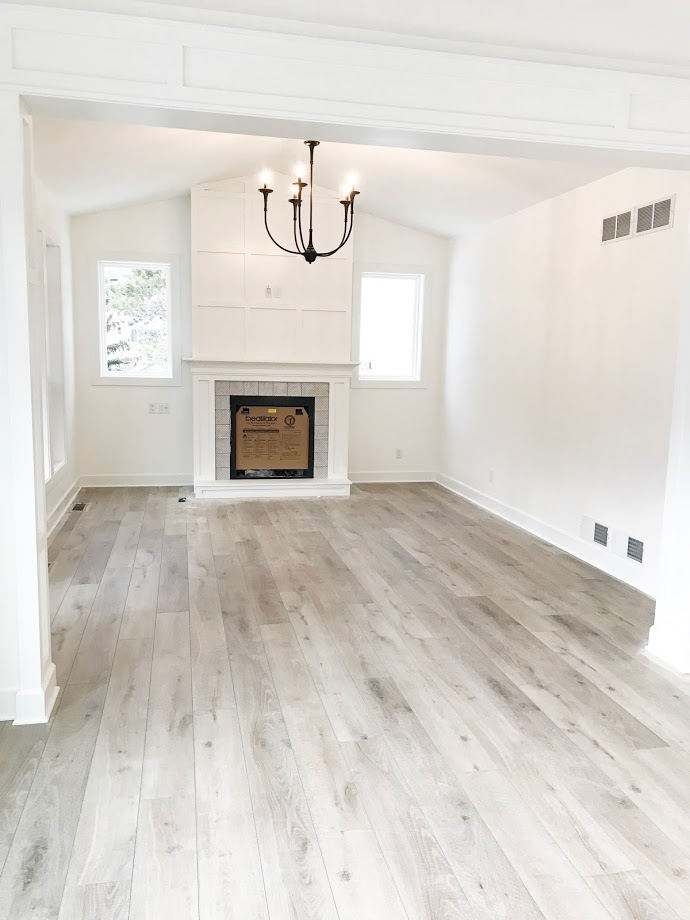 choosing statement lighting
I use the term statement lighting when referring to fixtures that turn the eye and make someone notice. A seemingly otherwise plain room can be spruced up and completely transformed with an updated light fixture. I can't tell you how many times people come into my house to visit and comment on the light fixtures. It really is a place in your home where you get to be unique. Some of my absolute favorite light fixtures, and the ones that get the most attention, are the pieces that are different and outside of the box.  Rooms that statement lighting works really great in are foyers, dining rooms, master bedrooms, living rooms and offices. You can even get bold these days in laundry rooms and pantries! Those previously plain rooms, like a laundry room, may feel completely different with the right light fixture.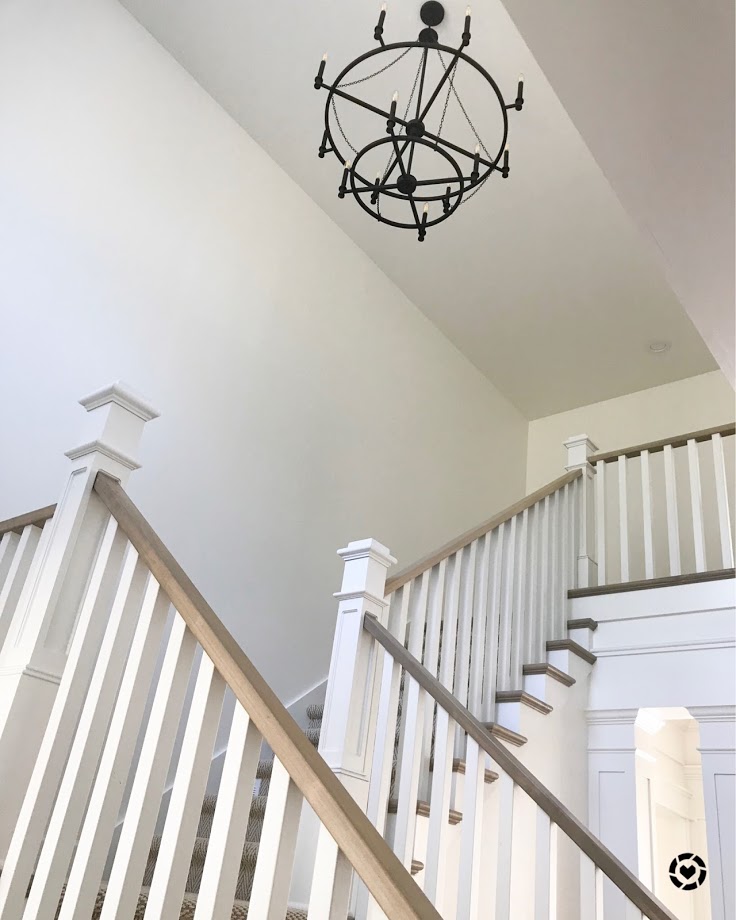 our dining room chandelier
One of my all time favorite lights in our home is our dining room chandelier (pictured below) Originally we had chosen something much simpler, but after numerous hours searching instagram and pinterest I knew we needed to go bolder. Our dining room is filled with tons of windows and our ceilings are plan so I wanted to make sure our chandelier caught the eye and added some character to this space. It was important to choose something that meshed with the rest of the house also, as you can see this room from many areas. This tilda chandelier is incredible and I have to admit, a complete splurge. With that being said, I was able to wait for the right time and purchased it during a holiday sale.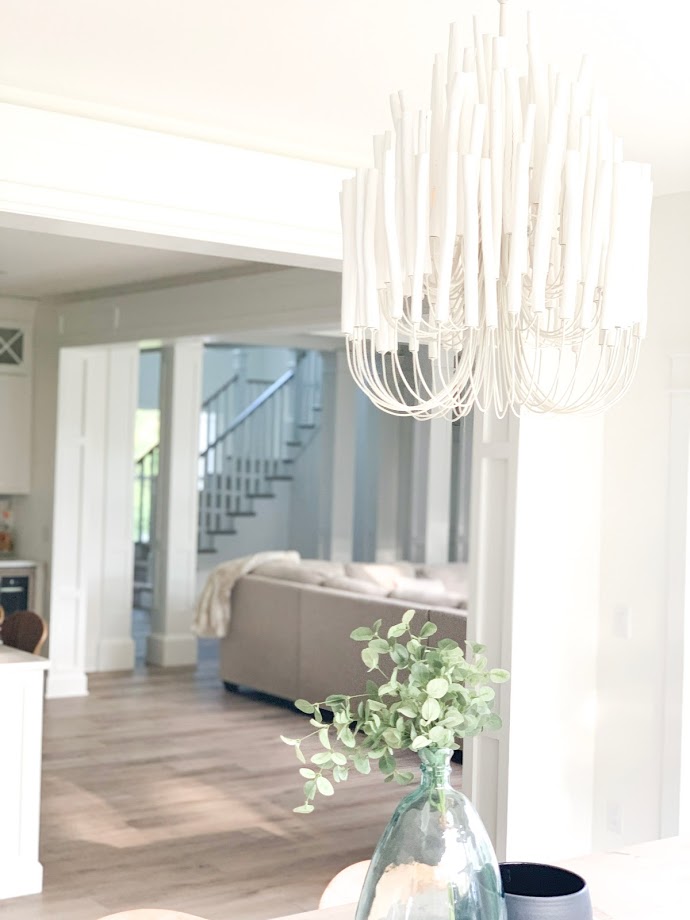 |chandelier|
wood beaded chandeliers are a piece of art!
If you aren't already following @almahomes on instagram you need to! They are the people who inspired this beautiful beaded chandelier. We have this in our office which is located right off of our foyer/front door. We get constant compliments on the beauty of this chandelier. It is so big and makes such a statement. Our office is not decorated yet but the design will most definitely stem around this light fixture.
This was another light fixture that would have originally been a splurge had I not waited. It thankfully went on sale during a holiday and I think I scored it for a few hundred dollars less than the ticket price. This week I shared it a ton on instagram because its original price is $799 with additional cost for shipping. This week it has been on sale for only $478 with FREE SHIPPING ( about $200 less than I paid! )  It rarely goes on sale so when it does, I talk about it ALOT! This chandelier is so huge, so stunning and the absolute best quality! It comes preassembled so you don't need to worry about placing all of those gorgeous wood beads.
Pottery Barn has such great quality pieces that I am continuously drawn to for inspiration. We have a few other chandeliers in our home that are photographed in this blog post.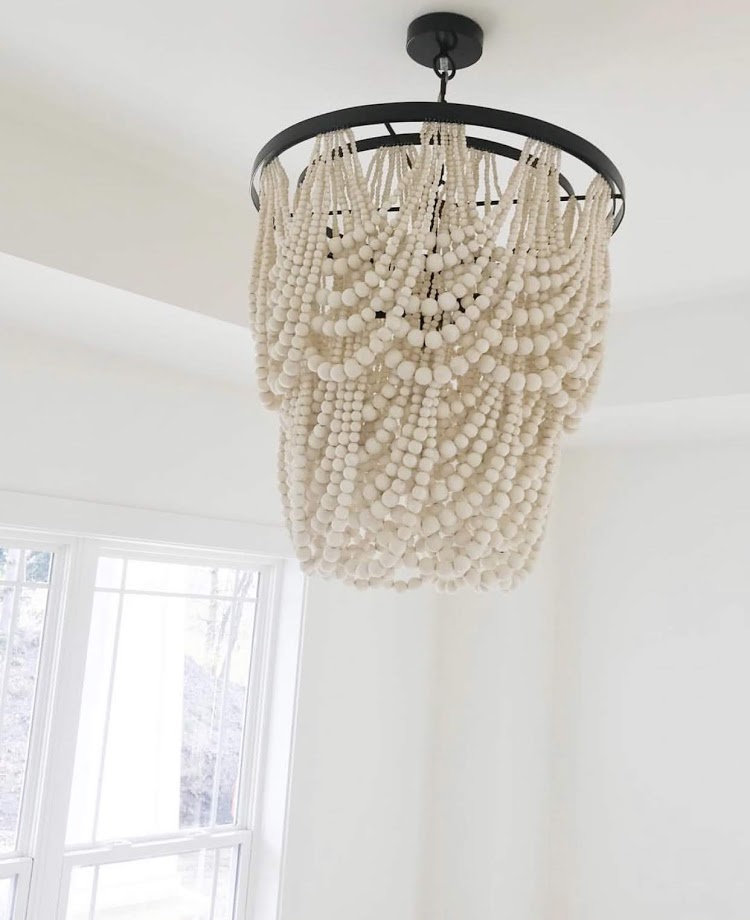 | beaded chandelier |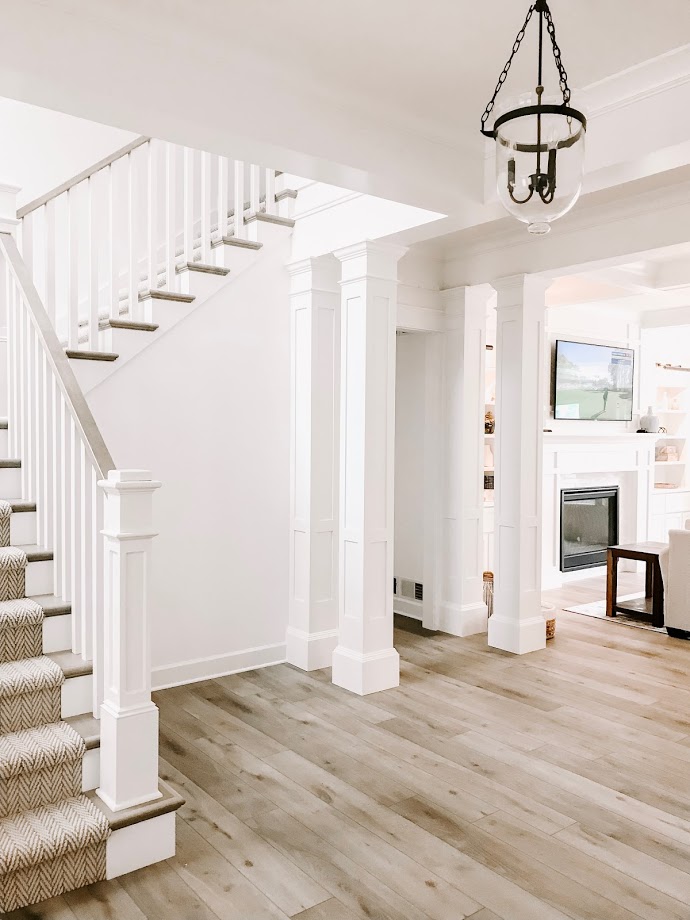 | lantern light |
more to come
I could go on and on about statement lighting because it's so fun! I wish I had a million rooms to pick out unique lights for, but since I don't I love rounding up great options and sales. This was my first post talking about statement lighting and options for purchasing lights throughout a build. I plan to make future blog post about other lighting options and will share deals as I find them! My advice for those thinking about updating a room with a light fixture and/or getting ready to build. If you are continuously drawn to a light fixture but it may be out of your price range, keep looking! It's either likely to go on sale, or another retailer may have a similar option at a lesser price point! You really never know what amazing deal you may find if you just stay patient.
This post was not sponsored and all opinions are my own.
Shop The Post