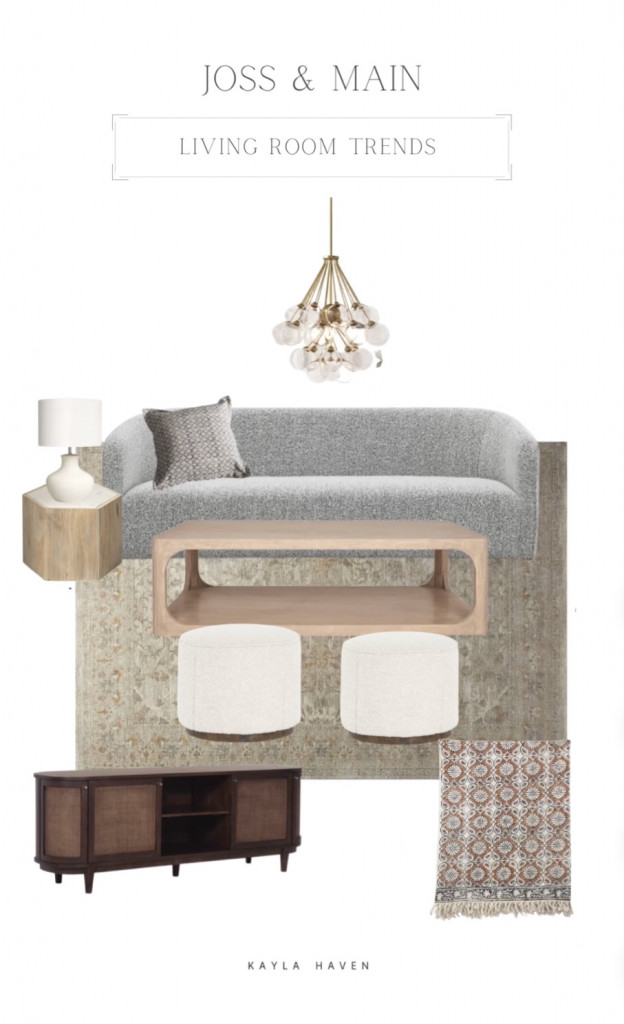 Some of my favorite products to source are living furniture pieces. I enjoyed looking through the Joss and Main Trend Report, and adding pieces into my home that I felt were great compliment to the style I already have. Coffee tables are always highly requested links on my instagram page. I recently changed my personal coffee table out in our great room from a metal blue stone coffee table, to this larger wood table.
Our Hearth room has been a work in progress but one of the pieces I used to begin my design was this curved arm sofa. I spoke about this in yesterday's post, which you can read here, but I was really excited to learn that it can be purchased at Joss and Main and they also offer it in a gorgeous gray color which you can see in the mood board above. This entire family room was styled with pieces from Joss and Main Trend report. The coffee table and boucle ottomans might be my favorite! I have also been wanting to use this console and light fixture in a design for a really long time!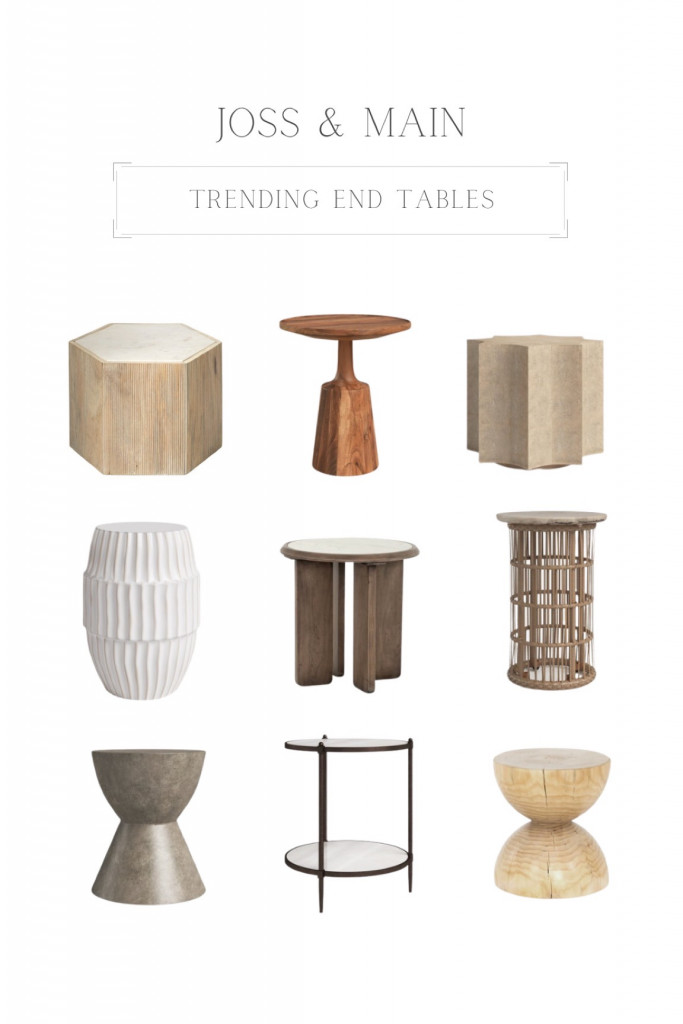 End Table Favorites
When choosing end tables you always want to keep in mind furniture height, shape and style. I think end tables are a really great opportunity to bring in some different patterns/materials to elevate your space. This hold especially true if you are pairing them with very neutral sofas. Adding in a visual appealing and attractive end table will help break up the room and add that modern touch. Additionally, end tables serve a big purpose. You will want to make sure you are choosing an end table that can function for what you need. Do you need lighting in this area? Does your end table need to hold a table lamp, or can you get by with a floor lamp? If you use your end table for drinks, keep in mind the surface material so you can avoid water lines!

---

Coffee Table Picks
As I mentioned before, we recently had a bluestone/iron coffee table—you can read more about my living room furniture here. Ending last year, I decided to change our space and bring in some warmth with a wood table. There is a lot to consider when finding a wood coffee table—size, material, shape— which made the process more difficult. I love the idea of wood tables in the living room but you will want to be mindful of the finish of the wood. Raw wood will cause you a lot of hassle. Oftentimes, veneers or wood with laminate tops are a better option if you plan to have drinks or decor on it. Just like wood floors, there is maintenance that goes into keeping a wood coffee table or dining table.

---
I certainly hope you found this post helpful. Joss and Main is quickly becoming one of my favorite retailers, especially because of their free shipping options. Make sure you tune into my instagram to follow along as I continue to furnish and style our home with trending products while maintaining the classic Kaylahaven style!
xo, kayla
Shop The Post