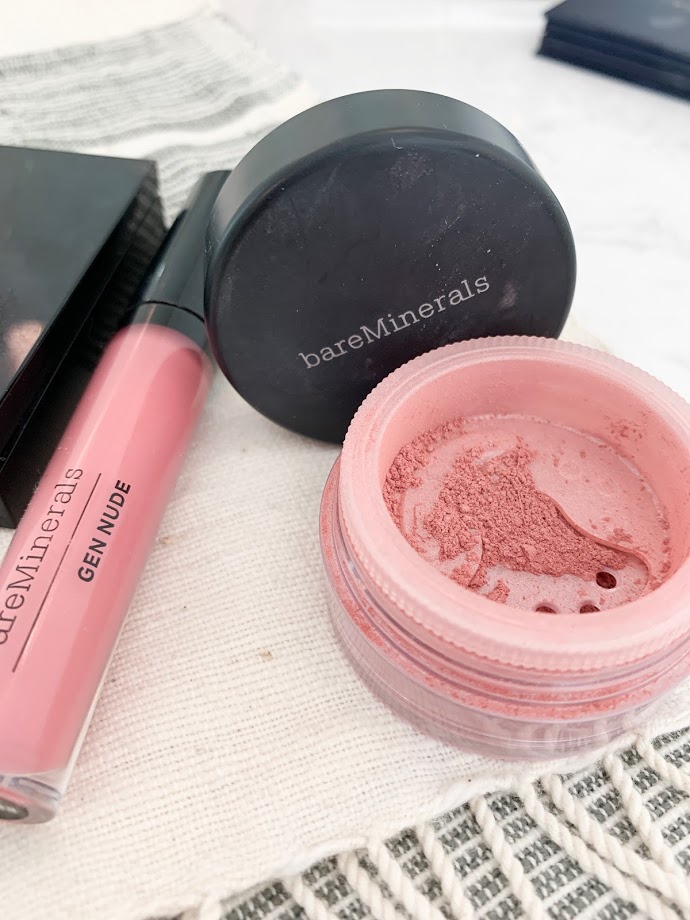 Although there are certain beauty products I swear by and love using (not clean) I have definitely been keeping my eyes open to the value of clean beauty products and have slowly been trying to transition what I can, when I can.
If you are a mother, of even if you are not, I am sure you have seen articles, magazine ads and blog posts about the harmful chemicals and ingredients that can be found in over the counter products. They can contain things like parabens, sulfates, synthetic fragrances, mercury, even formaldehyde. I haven't always used clean products for myself but when choosing soap for our kiddos, we have always went with Burts Bees because it was free of all of those ingredients.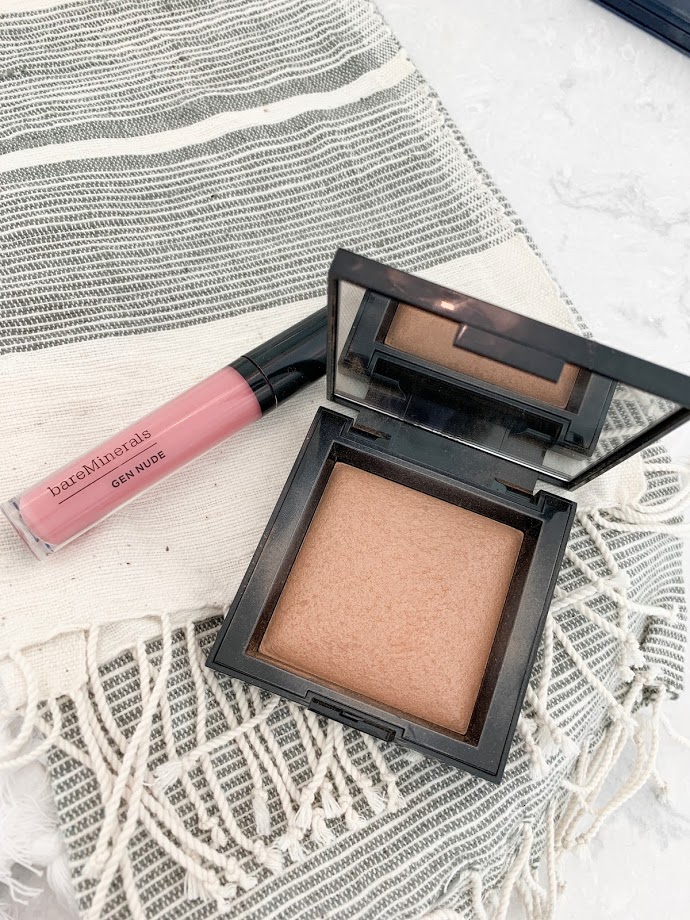 | Nude lipgloss in color – can't even | bronzer |
Lately I have been trying to learn more about ingredients in products we sell in the United States. I am still learning as I go, and if I am being completely honest, I still use many products that are not considered clean or safe, simply because I just love them! However, with that being said, I am becoming more aware of alternatives out there. Today I thought I would share some of the clean products that I have found over the past year. Many of these have made their way into my everyday make up and skin care routines.
Farmacy products I swear by
Farmacy cleansing balm–  I absolutely love this stuff and its here to stay! Prior to finding this cleansing balm I had only been using the neutrogena make up remover wipes. I honestly didn't have what one would call a skin care routine until earlier this year when I realized my skin was changing so much. While scrolling instagram, I had seen this cleansing balm advertised that it would literally melt make up away and all I needed was a warm wash cloth- SOLD. Even better, it consisted of clean products. This balm does exactly what it says, it literally melts your make up right off your face and feels fantastic while it does. It smells great and the container lasts a super long time. I love that it is made of clean ingredients. At least if I am using products that may not be clean, I can follow it up with a clean cleanser!  This may not sound consistent or the way to go, but I share honesty and this is how I am trying to transition into a cleaner shelf.
One more product I am loving by Farmacy is this firming night balm. This is also a golden ticket. I can't say enough about how this feels on your skin after you wash it and it smells amazing. I have had this little bottle for 9 months and its barely made a dent. It lasts forever and works wonders!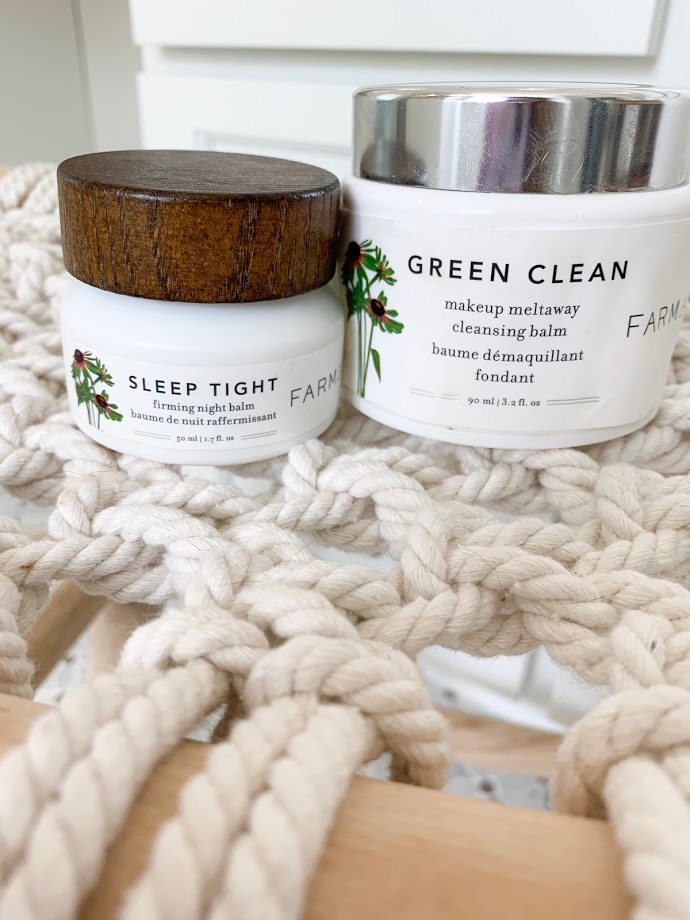 |firming night balm | makeup cleansing balm |
Tula products I am loving…
The second product is the under eye brightening balm that I shared earlier in this post. I love the products from Tula because they also value clean ingredients and their products are amazing. This brightening eye balm is so helpful for those of us that don't get enough sleep. It can be used as a cooling balm in the morning after waking up with puffy eyes, and also in the afternoon to freshen up your make up. It's very versatile and one of Tula's best sellers.
I have also loved these other two products, the sugar scrub face wash as well as the blurring make up primer. This primer gives the most beautiful under glow and helps with blurring in all of your pores before applying you foundation. I can absolutely tell a difference in how my make up holds when I use this primer and when I don't. Highly recommend it!  Something I really love about this primer is that you can wear it alone on non-make up days. It will give you a very subtle glow while blurring your pores creating an effortless look. On full make-up days it only enhances your make up and creates a gorgeous flawless finish.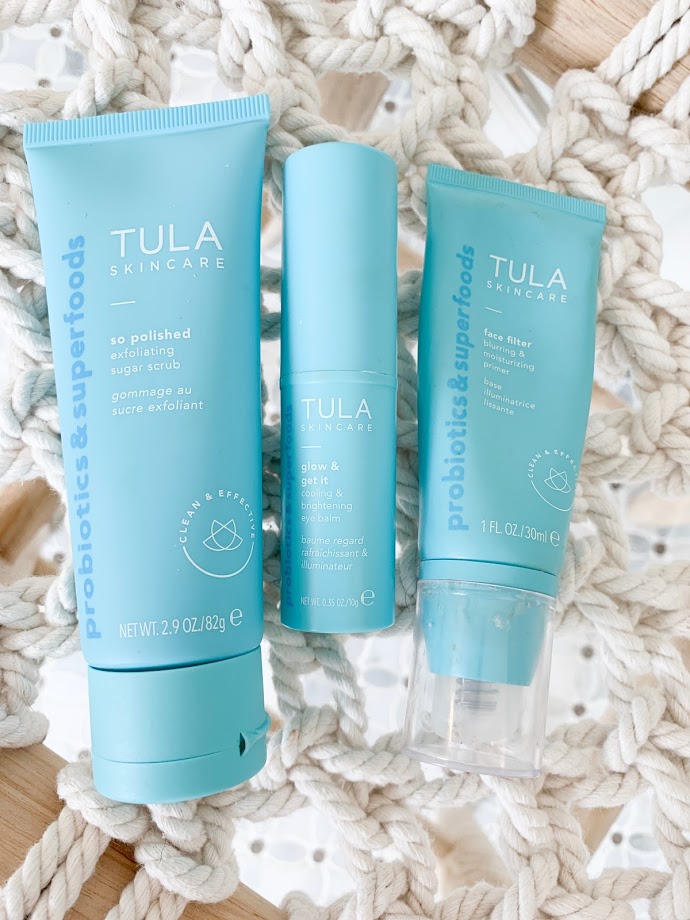 | sugar srub face wash | cooling balm | blurring primer |
This exfoliating face wash is a must have! This sugar scrub feels amazing. I have been using it a few times a week and it leaves my skin feeling rejuvenated and fresh. Whenever I use it my skins feels so soft!
My transition to BeautyCounter
The last things I have been slowly transitioning into are numerous items from beauty counter. If you don't know much about beauty counter, you should check out their website. My girlfriend  sells products for them and she has been helping me transition my make up to cleaner ingredients. I have just started transitioning to beauty counter and always try something new when I am in need of replacements. SO far I have been so impressed with the quality and price of these products. The very best part is its free of all those harmful ingredients.
So far the products I use are mainly for my night time skin care including moisturizer, serum and toner.
The new make-up products I have been really loving are this gorgeous eyeshadow pallet – name is Romantic
I also absolutely adore this eye brow brilliant brow gel

While I am still using other products that do not line up with the clean ingredients, I am certainly happy with the clean products I have found. One of my main questions when trying clean products is always "will they hold up"?  I can honestly say the products I have talked about in this blog post have been working just great! You can't put a price on safety and I love that I can still achieve a beautiful look with clean ingredients. Let me know if you have any more questions!
This post contains affiliate links, which means if you purchase through a link on my post I may earn a small commission.
Shop The Post