It's that time of year again! The holidays are creeping up on us, and so is the stress of family holiday photos! As a family of five, I can absolutely relate to the stress that comes with trying to coordinate outfits for everyone— yourself, husband, and kids. Since I love shopping and creating classic, modern, timeless styles, I wanted to share with you all some inspiration to make your next session effortless. Whether you're looking for ideas for your upcoming session, or want to save this for future reference, I hope this can be a source of stress-relief for you. The best part, you probably have a lot of these items in your closets already, so utilizing this post as a reference for color/pattern/textile coordination will be an easy task!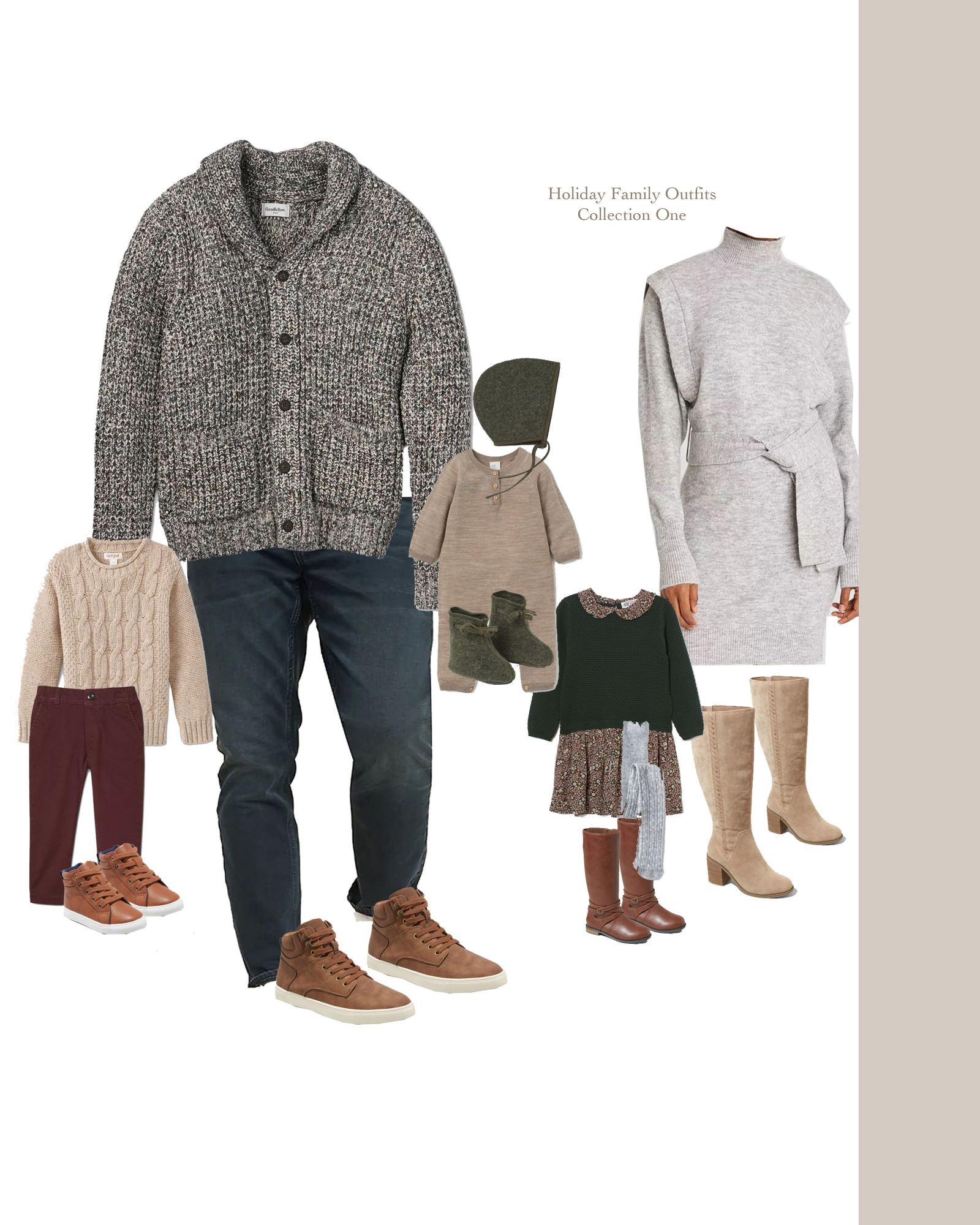 family photos collection one—
I love the mix of elevated neutrals seen in this option! Although not every family member is wearing the exact same color, there are coordinating colors happening between the floral print, corduroy pants, and knits which creates a cohesive look. Oftentimes, when shopping for family photos I'll find one piece that I absolutely love, and then utilize that for the inspiration of the remaining outfits. In this case, the floral peter pan collar little girls dress is swoon-worthy, and was my 'pop' in order to bring in coordinating elements! Collection one is perfect for that timeless, casual, elegant look!
Shop Collection One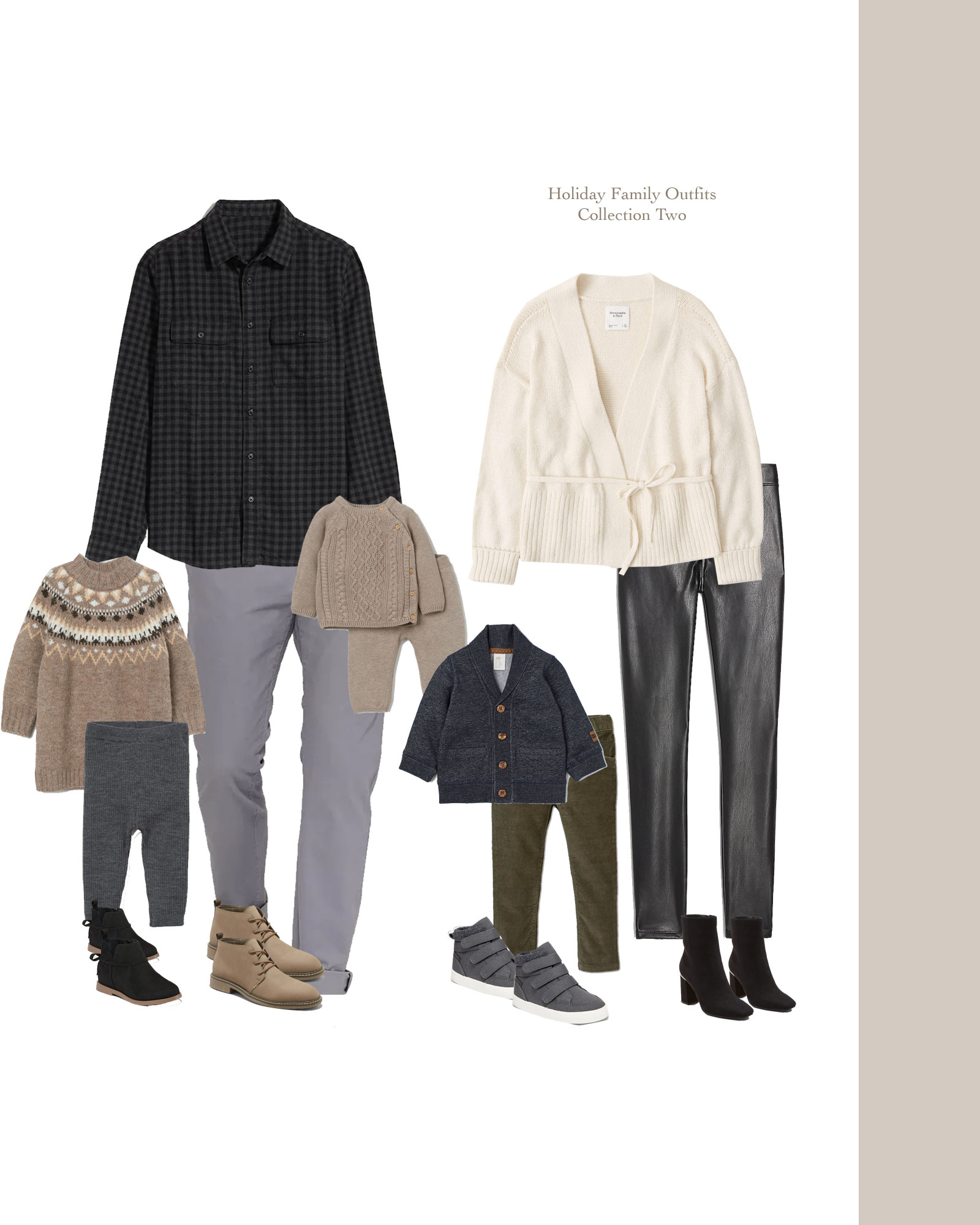 family photos collection two—
When selecting family photo outfits, I always recommend looking through all of your closets and finding a colorway that you already see a lot of—most likely these will be your whites, taupes, and grays. I think oftentimes many can get stuck on the details of a textile, for example plaid, knit, etc., when it's completely okay to mix those elements. If you utilize a neutral base, regardless of the pattern or print, it will allow for a cohesive and coordinating look still. This collection is great for your neutral lover!
Shop Collection Two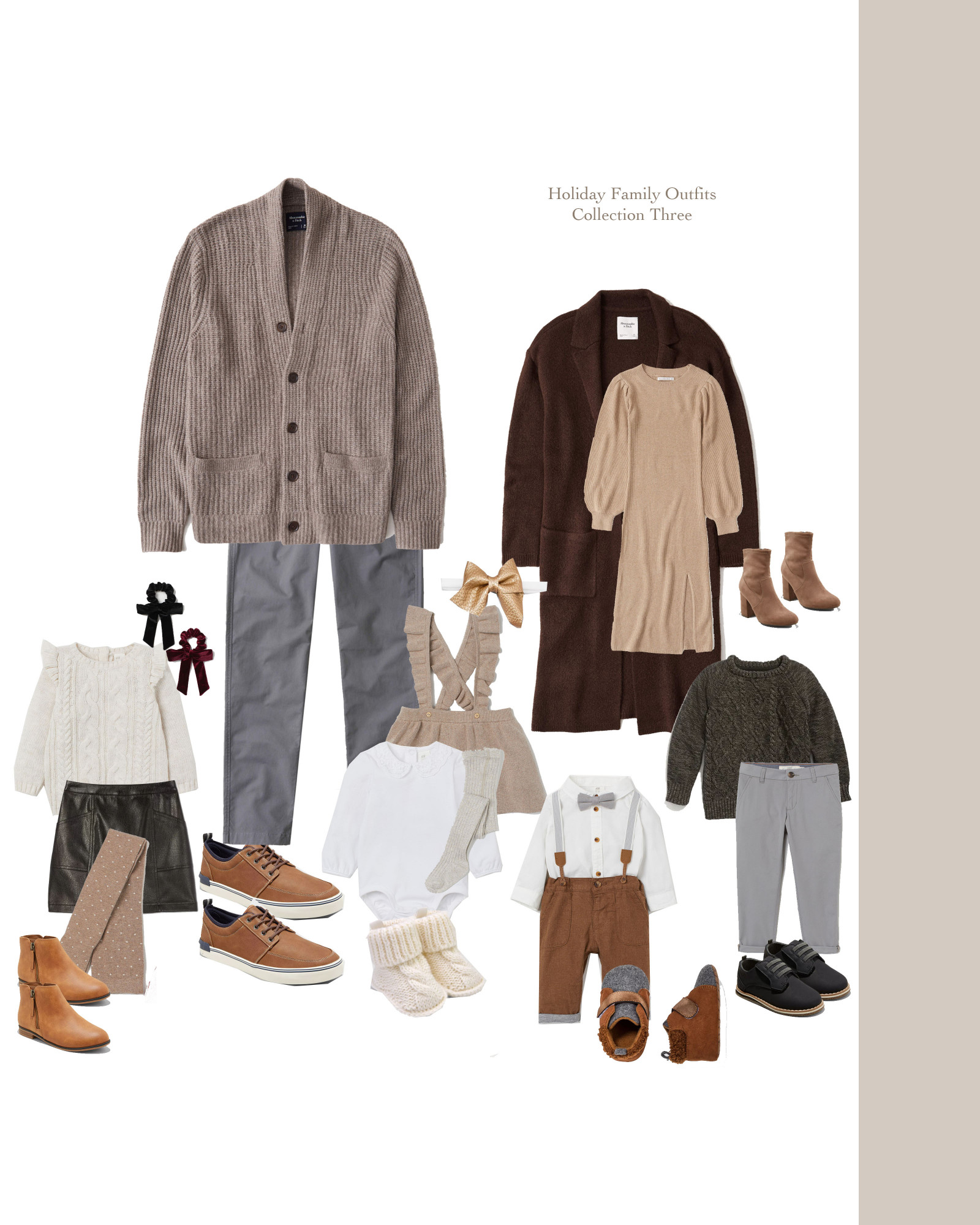 family photos collection three—
Collection three is so stinkin' darling! I'm obsessed with the little stockings, suspenders, and bows! When taking family photos, let's be honest, most of the attraction is towards the kids, mainly because they're so adorable. With this collection, you can see that I went a little more classy utilizing elements like knit stockings and booties, velvet and silk bows, and cross-stitched knit tops. All of these pieces are still very neutral, but the details within the textiles enhance the overall cohesive look. This is probably my favorite family photo outfit option!
Shop Collection Three

xo, kayla
---
This post does contain affiliate links, which means if you choose to purchase something while clicking a link in my post, I may receive a small commission.
Shop The Post