I am so excited to share our master bedroom refresh/reveal with you on the blog today! I have been waiting to share all of the details until everything arrived, and after a good 6 months of planning and waiting- its all together! If you are new here or if you remember, I started planning our master bedroom refresh earlier this year (like January!). When we moved in to our new home March of 2019, I wanted a light and bright room, with all of the whites!
I had ordered a white bed off of Wayfair and loved our light and airy bedding we purchased. However, after living here for a year, I realized we needed some contrast. Having white walls and white trim, really allows you to play with your furniture and decor and still achieve that light and airy feel without having to have all light colored furniture.
The Planning stages
Here is a picture of our bedroom before our update.

Last winter I created this mood board of our master bedroom. It was the first time I had actually planned out a room top to bottom. You can read about how I planned out our room here. I won't lie, having your vision complete on paper before you begin purchasing makes the process alot easier! It allowed me to see what the pieces all would look like together and also allowed me to purchase them over time. I think I will be doing this going forward when styling/planning a room design.

Here she is- complete!
And here, finally, is our master bedroom complete (almost). I honestly am so thrilled with how it came together. The moss linen bed was worth the wait! I think with the right bedding your bedroom can still feel light and airy with any color bed you choose to have.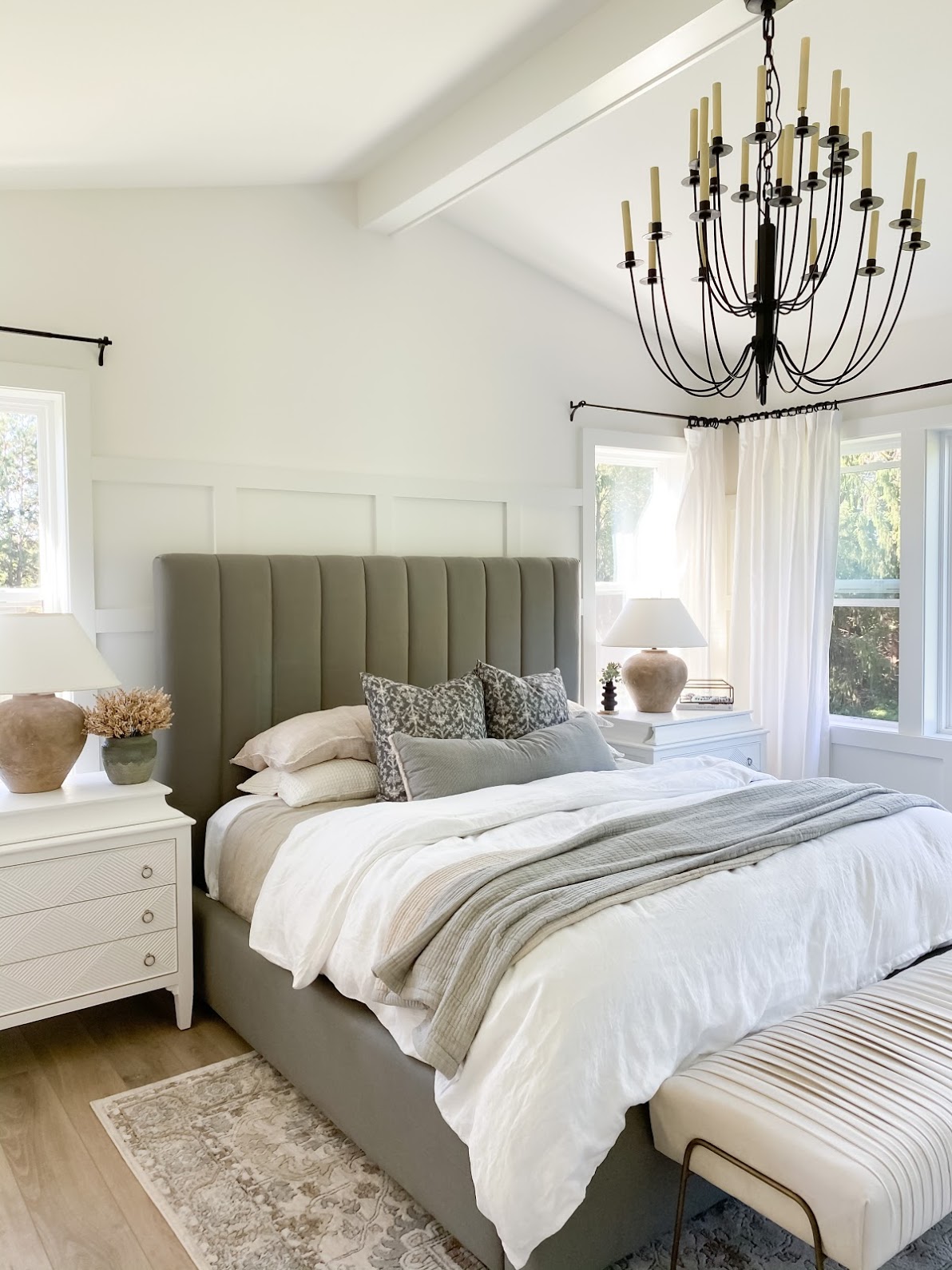 All the details
Bedding: We chose these pillow cases from Pom Pom at Home and I love the texture and color the bring! The two larger throws are 24×24 pillow covers from McGee and Co. The long lumbar pillow is from Target.
Nightstands: These are frequently inquired about on my instagram. They are Gabby Decor nightstands and the serve as dressers for us.  Our bedroom is on the smaller size (14×15) so no room for a long dresser but these nightstands work perfectly for additional storage.
Lamps: Troy Lighting to the rescue again. I think I now own 5 lamps from Troy. They are so good. I won't lie this one took a long time to arrive, but I found a different retailer that shipped it much faster for you here!
Pot and Greenery: Unfortunately the found pot is currently sold out but I linked it below for you anyways. You can add your email to be updated when its back in stock. The greenery is from Micheals and a gem for fall and transition to the winter months.
Rug: Loloi rugs sponsored this rug and the colors play perfectly with our new Moss Linen Bed. I found it for you on Amazon
Bed: the long awaited bed! This is the Hoffman bed by McGee and Co. It took a super long time to arrive but it is worth it. Its such a great quality piece. It comes in a variety of colors. We got the Moss Linen which is a beautiful linen green color.
Chandelier: I worked with Kate Mark Interiors to get this beauty in our bedroom. It was part of the original design and once we got it I feared it was too large. Someone on instagram recommended I sit on it for a week, and see how my eyes adjusted. It only took a couple days and I knew it had to stay. We love it. We still haven't put our light bulbs in lol but soon!
Curtains: curtains and curtain rod are from Pottery Barn. I love the linen look and it matches our bedding perfectly, however I learned that these need to be much higher so we will be getting the next size up. For reference I have 9 foot ceilings. I need to get our curtain rod up closer to the ceiling to maximize ceiling height!
Bench: this velvet bench is such a show stopper and I think I got it for less than $400! it is currently out of stock but should be back soon!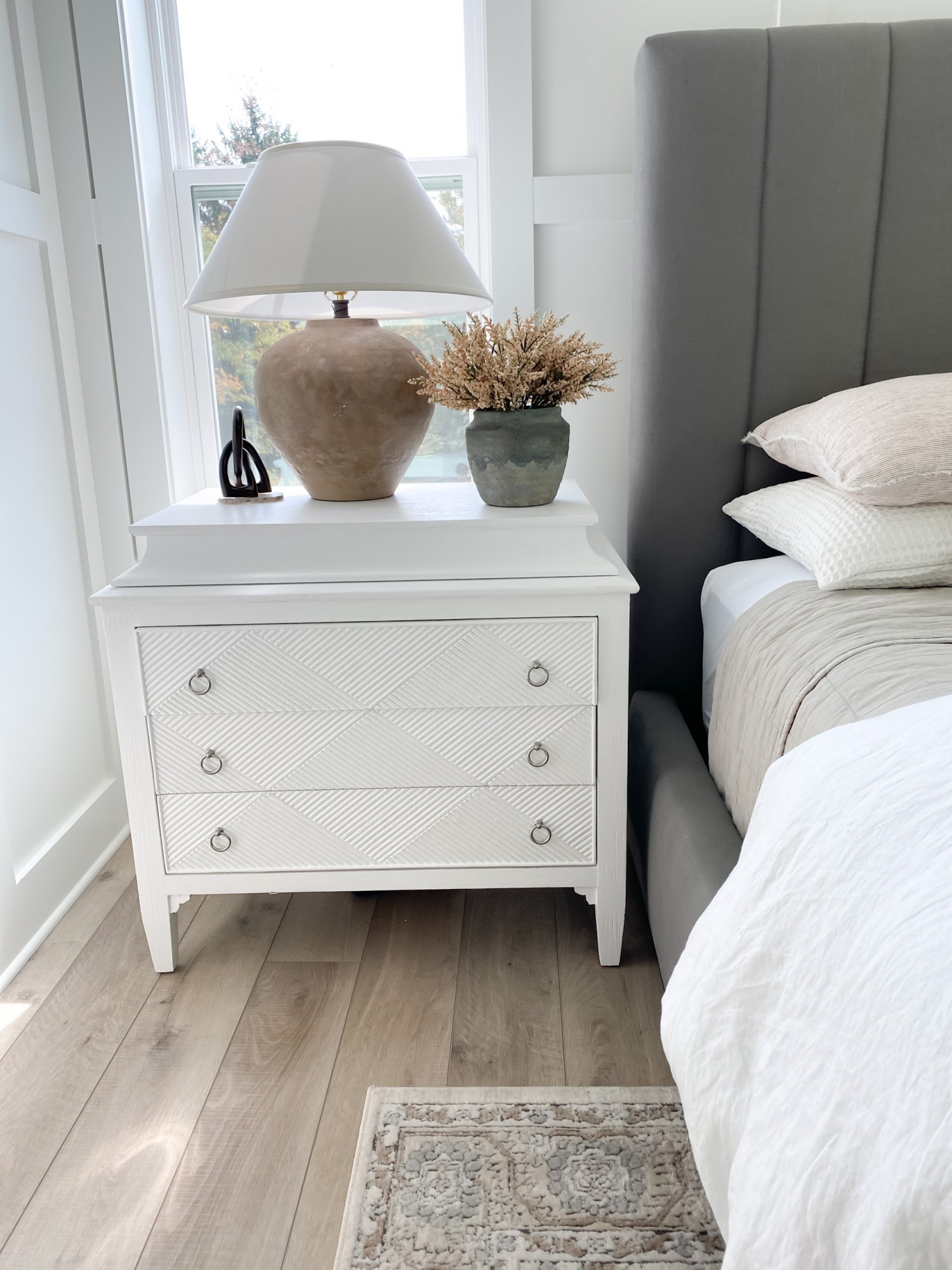 I am a huge fan of the layered look in all rooms of my home, but especially my bedroom. My husband can attest to the fact I may be addicted to bed linen. Our closet is jam packed with blankets and throws etc. One of my biggest recommendations when updating your bedroom is to invest in bedding that you love. We spend so much time running around with the demands of life, our bedroom should be a place where we retreat and can find respite. I fully believe that having bedding that is comfortable and good quality can mean the difference between a good night sleep and a poor night sleep.
If anything I hope this blog post inspired you to allow yourself to put effort into your space of rest. I linked our bedroom products for you and hope you love them as much as I do. This post does contain affiliate links, which only means that if you decide to purchase through a link on my blog post I may make a small commission at no extra charge to you. This continues to support Kaylahaven and I think you from the bottom of my heart!
xo, kayla
Shop The Post