Finally! Finally our living room furniture has arrived and is looking gorgeous as ever in our new home. I am so excited to share this space with you! It literally took Alex and I months to finally decide on furniture for our great room. Once we decided it took another 4 months for the items to arrive, so to say we are excited is an understatement. You have heard me say this before, but we truly have tried to take our time furnishing our new home. In our previous homes we furnished our spaces quickly without much thought, often throwing things together. It caused us to have buyers remorse, or choose things that maybe didn't have as great of quality. Now that we are in our forever home, we really wanted to take our time.
Great Room Design Taking Shape
When we moved in we had a sectional sofa from our previous home. We loved it, but I always knew for our great room I wanted additional seating and a little more transitional style. Our living room is open to our foyer and kitchen and the gathering space for all guests as well as everyday living. Since we have 3 children and really want this to be a place that we can have friends and family over, I knew we needed quite a bit of seating. I had always envisioned two full size couches and accent chairs.
We settled on two custom sofas from McGee and Co. I really wanted them to be different from one another in style so we went with two completely different designs. One is very modern, low profile with a bench seat, and the other the more of the traditional look with a deeper seat and higher back! In terms of fabric choices, we chose two neutral colors. The lower profile sofa we purchased in a performance crypton fabric. I love the subtle blend of colors in this fabric and it is SO SO SOFT. Our other sofa is in a natural linen color. I would highly recommend both of these sofas if you are looking to invest in a high quality piece! The only down side is they take a good few months to arrive because they are custom fabric choices. Worth the wait in my opinion!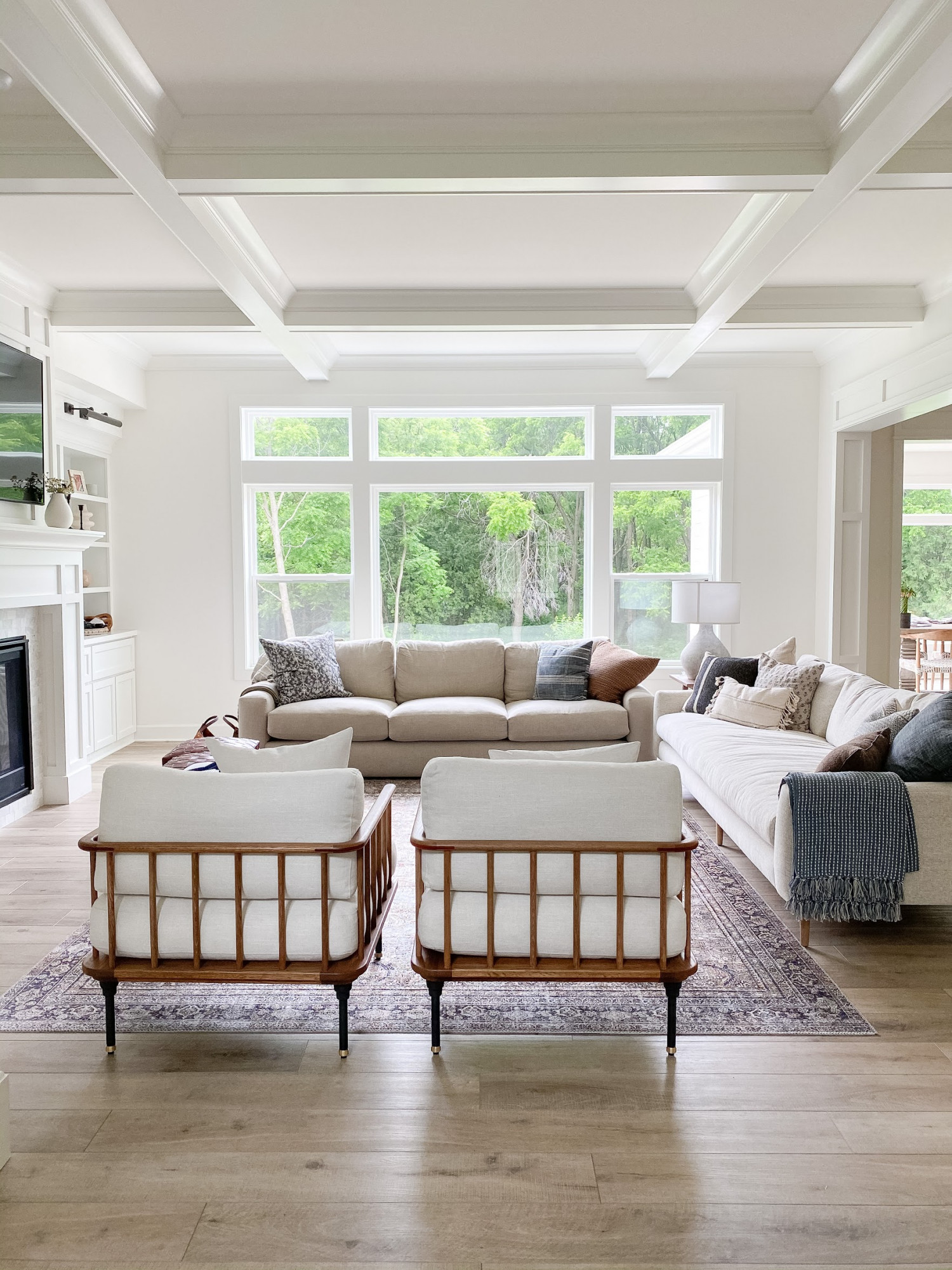 Lighter Fabrics with Kids
I get asked quite frequently if I am worried about light colored sofas with children. The honest answer is, I really try not to worry about it. Just like any family, we have messy fingers, hand prints, dirty toes and crumbs that make their way into our living room without fail. We have established rules for the kids eating in the kitchen but seeing as they are all under the age of 6, this rule is of course not always followed. With that being said, we did choose performance fabric. I honestly can attest to it being worth the money. We had our new sofas for less than a week and my husband spilled soy sauce all over it. Instead of freaking out, he just goes "lets see if this was worth the extra cost" welp, it was! It seriously wiped right up. Performance fabric has came along way in recent years and if you really like the look of light fabrics, I encourage you to not be afraid to use them!
Accent chairs
If you have been following on instagram, you know how obsessed I am with our accent chairs. I wont lie to you, they are a complete splurge. We had actually only purchased one for our master bedroom. It was going to be "MY" chair to read and spend time in the mornings and evenings. After we put the first one together, we realized how incredible the quality was, and that it was meant to be in our living room. The quality is that of a really nice sofa, and honestly pieces I feel like we will have for years and years to come! They are my favorite pieces of furniture in the entire home! I LOVE THEM!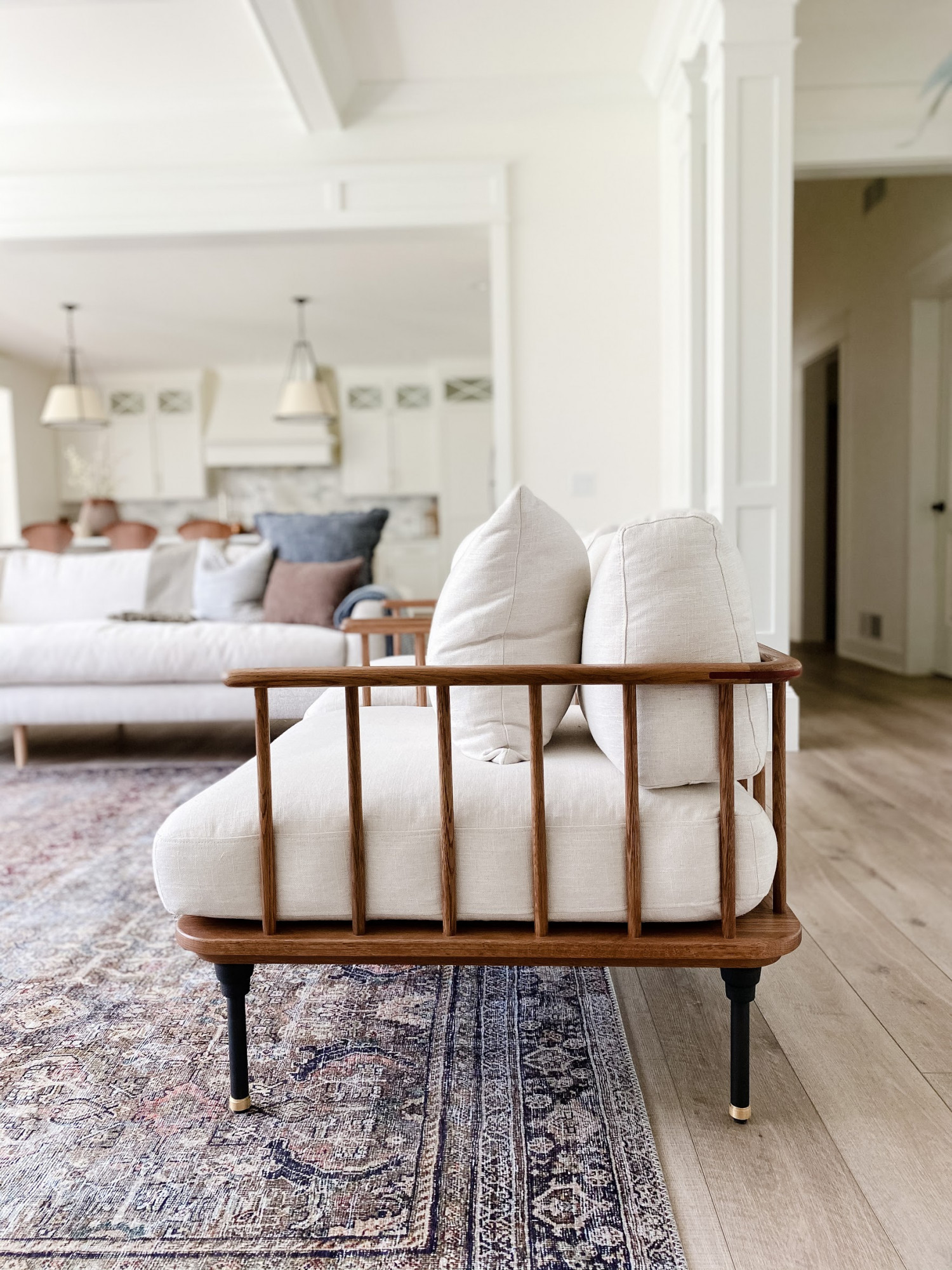 What's left to Furnish?
The original coffee table did not work out for us so I am still on the hunt for the perfect one. I will be rounding up some of the options we are considering in an upcoming blog post. The rug pictured was not originally in the plan either but seems to be working for now as we really needed a darker rug to ground the space. It really is hard to know the size of rug you need until your furniture arrives. This rug we currently are using is only a 9×12 and not large enough.  I did end up ordering another 10×14 jute rug to layer underneath it and I will be sure to share that when it arrives. I also ordered large round end table and a darker vintage lamp to go between the two sofas! In addition, we have lots of new pillow covers coming as well which I will also be blogging soon! Make sure to check back for the final look!
This post was not sponsored and all of these opinions are my own. Make sure you check out my IG to see more content as we furnish our living spaces. You can shop our great room living room pieces below I have added affiliate links, which means that if you choose to purchase something through my blog or a link I provide, I may receive a small credit. This commission continues to support Kaylahaven so I can share more content with you, so I thank you from the bottom of my heart!
Details:
xo, kayla
Shop The Post