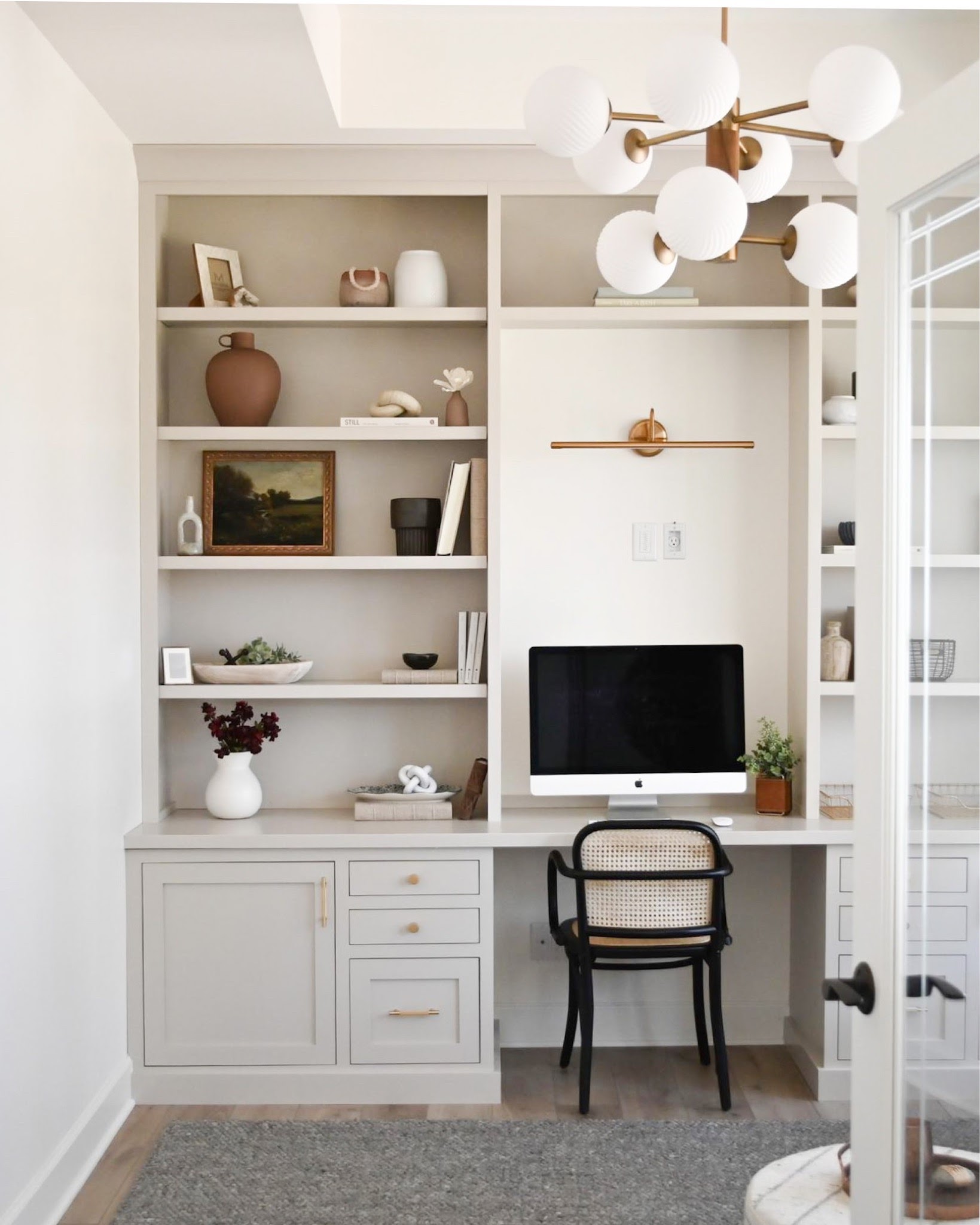 Ta Da! My home office is finally done! I have shared the reveal on instagram but I really wanted to dive into the design on the blog too. This space took quite a long time to finally bring together but I am thrilled to say I am happier with the end result than what I expected. This space moved high on the list of MUST GET DONE late this summer when we realized Covid would likely keep us working from home for quite some time as well as homeschooling.
Home office inspiration and an evolving home style
When we moved into our home, this is one of the spaces we left completely empty. Honestly, we did it to save cost at the time. Now looking at the transformation I am really happy we waited. I feel like the office is an accurate example of how my style has evolved over the course of starting Kaylahaven. Though I love the traditional and classic elements in my home, I have loved to bring more modern warmth into our spaces as well.
Invest in Good Custom Cabinetry 
My office design started with our cabinetry design. We worked with Cabinetry Plus out of Columbus and I could not have had a better experience. I knew for certain I wanted inset cabinets and I was dead set on a beige color. We went with the paint color Hallman Lindsay Sheepskin 0566. It's the perfect contrasting neutral against our Simply White walls, and I love how it allows me to play with shelve styling and looks so great with the brass accents.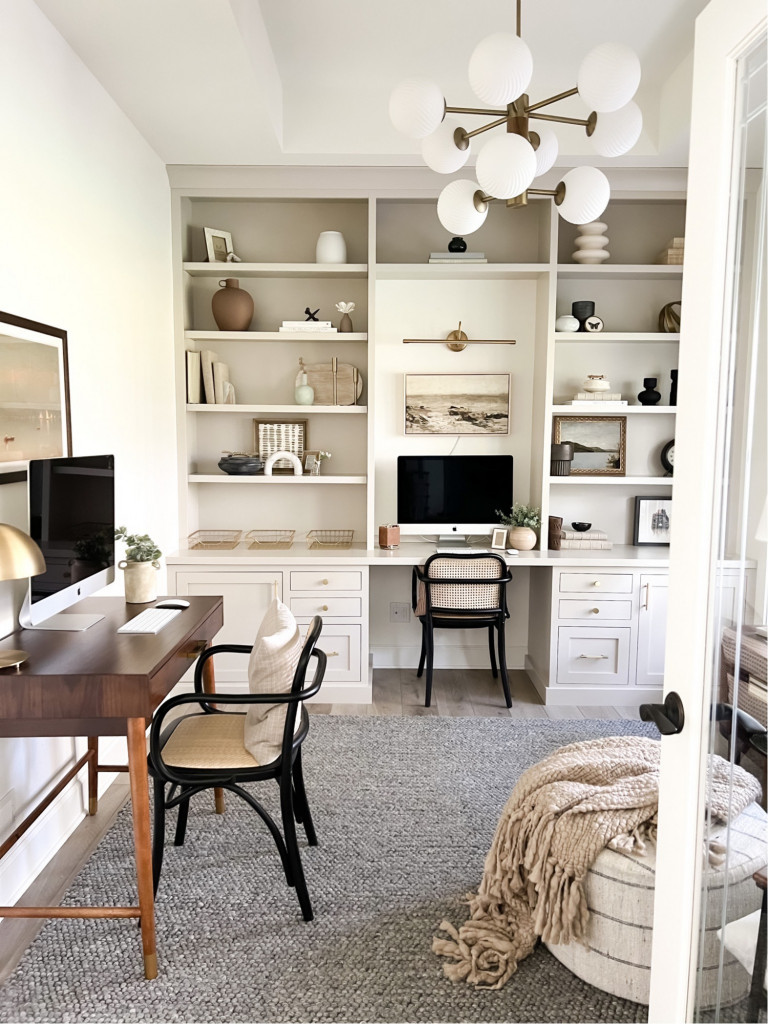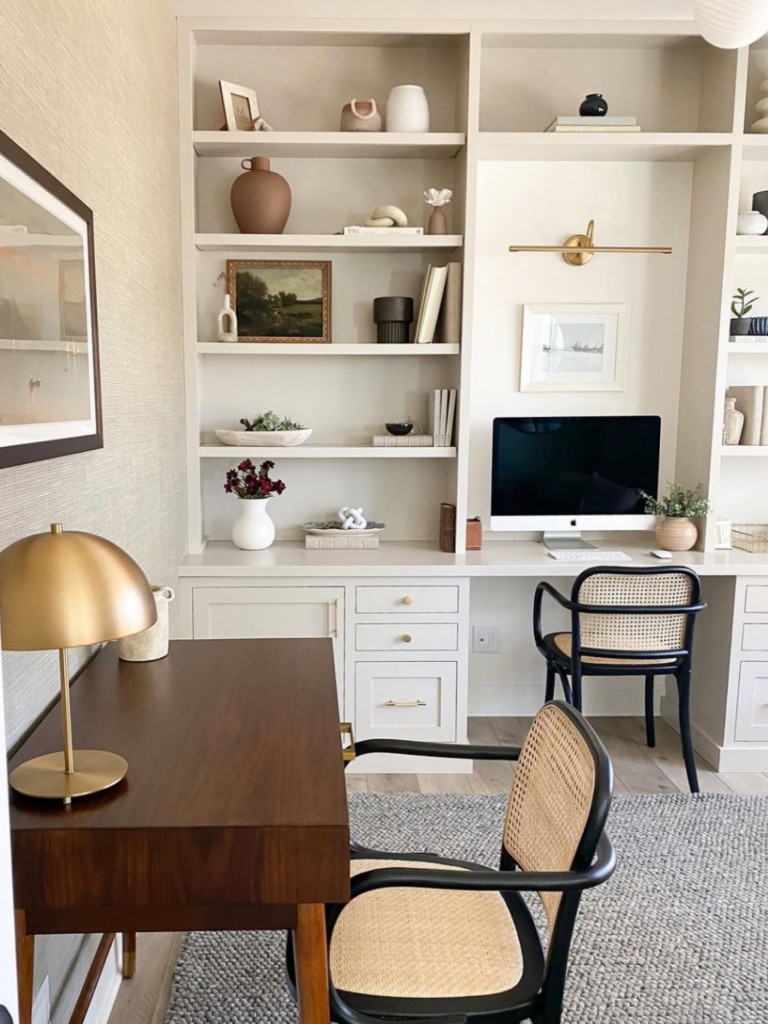 We originally had a beaded chandelier, which I absolutely love; However, now that this is a combined workspace I knew it needed something a little less feminine. When I saw this chandelier from Anthropologie, I knew it was the one! It's absolutely stunning and makes such a statement. It also brings a little more of that edgy modern flare that I am trying to incorporate into our home.
A calming and inviting place to work 
I wanted this office to have neutral calming colors and to not feel sterile. Everything needed a place and organization was a must. I sprouted for two filing cabinets, drawers, and a hidden place for a printer and trash can within the built-in. Organizing my life in files was so satisfying 🙂
Stepping away from the traditional style and focusing on function
Since I don't always work on the computer and often am on my phone or having meetings I wanted there to be cozy spot to sit. I opted for a chair in the corner next to a console instead of a traditional desk in the middle of the room. However, since we did need more work space for Alex and Penelope, I did add a desk in on the wall paper wall and it fits perfectly!
Shop My Furniture

Shop My Lighting & Decor

xo, kayla
---
This post does contain affiliate links, which means if you choose to purchase something while clicking a link in my post, I may receive a small commission.
Shop The Post