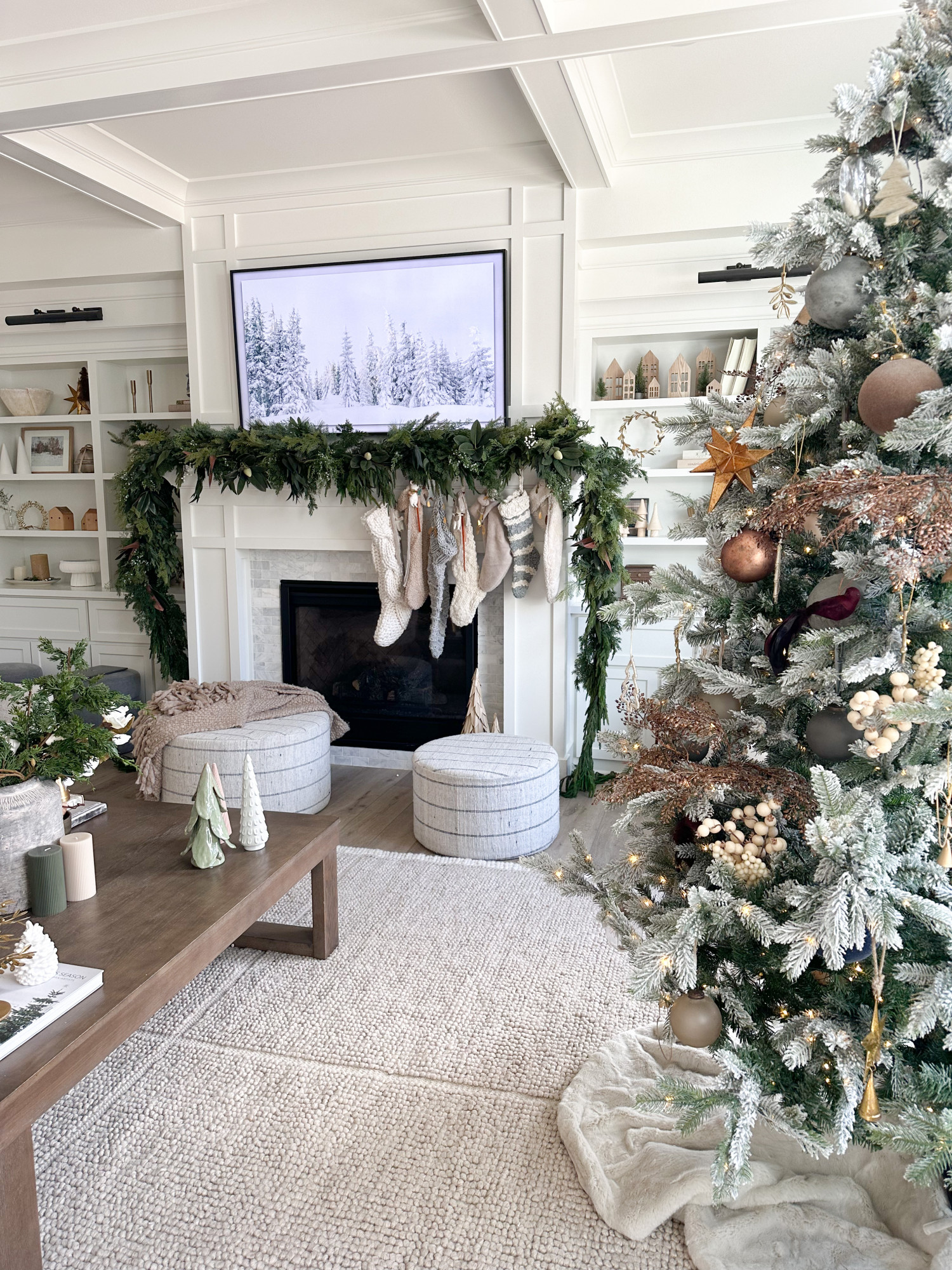 The holiday season is officially here at Kayla Haven! Each year I try to place our tree in a new spot, simply to create a new look and feel in our great room. This year I decided to place our tree in the center of our windows this year, and I absolutely love it! I love how it looks at night with the lights on, and it's the prettiest view when you enter our front doors. I utilized one of my favorite trees this season in our great room as the base of my holiday tree decor—the McGee & Co. Snowy Faux Pine tree. It comes in both a 9ft. and 7ft. option, and it's wonderful quality!
Each year I try to utilize the ornaments and decor that I already have, while adding in a few new items, to create a timeless and seasonal look. This year my color palette focused on blues, greys, nudes, blushes, and metallic gold tones, while letting the natural greenery be the main pop of color. I love a textured and full look for my holiday tree, and I achieve this look by incorporating various elements. I utilized various ball ornaments in 3 inch and 5 inch sizes, gold metal hanging ornaments, stems with both metallic sprays and cream berries, and textile ornaments in both yarn and velvet fabrics. I'm so happy with how it turned out, and I love how cozy it makes our great room! If you want to recreate this look, I'm linking my holiday tree decor below!


For more holiday finds this season, be sure to check out the Kayla Haven Holiday Shop on my blog where you can see a roundup of all the products I'm loving this season from various retailers! My LTK page is another great resource this holiday season for holiday finds, decor roundups, and gift guides. And be sure to follow along on my Instagram to see all the holiday finds I purchased this season, and how I style and use them!
xo, kayla
---
This post does contain affiliate links, which means if you choose to purchase something while clicking a link in my post, I may receive a small commission.
Shop The Post