One of the my most frequently asked questions, or link requests, are the nightstands in our bedroom. I haven't ever dedicated a blog post specifically to them, but the amount of questions that stream in, I would say they must be worth it!
These nightstands were actually one of the very first pieces of furniture that we ordered when we were building this house. They arrived before we moved in and I was so excited to get them in right away. Our bedroom isn't a huge size (14×15 ) so it was important that we found nightstands that could serve a purpose and give storage.
The detail on these white nightstands is beyond gorgeous. My favorite part: there are actually 4 drawers ( one his hidden in the top) We use them as side dressers and storage and they fill the space just perfectly. We originally had a white bed in our bedroom, but once these nightstands arrived I knew we needed a contrasting bed to allow each piece to be its own detail to our primary bedroom. You can read more about my primary bedroom reveal here!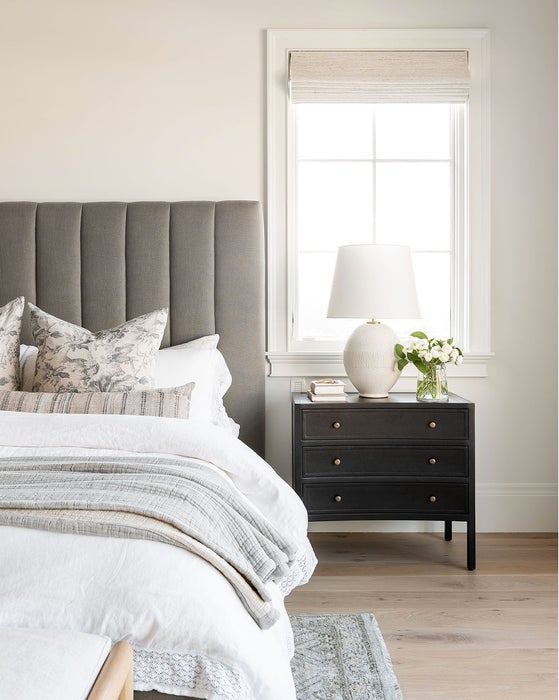 This nightstand by McGee & Co. is one of my absolute favorites
Studio McGee is obviously a big source of inspiration for my own home. Though with everything, my style continues to evolve over time. Here you can see the same upholstered bed in moss linen, paired with a darker nightstand. It creates a similar light and airy look, but the darker nightstand is such a show stopper and gives a little more drama.
In terms of comparison, both tables have similar qualities for storage and size. I think if your room can handle it, a king size bed deserves a substantial size nightstand, however, if you do not have the space for a wide nightstand, a similar style with three drawers but smaller will give you the same look.
Joss & Main

McGee & Co.


Here is a great example of a smaller nightstand with a King size bed. This room would have allowed for a larger nightstand, however the design strategically ensured the windows weren't encroached on, which I love. It fills the space perfectly and allows for some storage. The above style of nightstands is really nice for those of us that read. I think you can use the opening for functional things while still keeping its styled. I would suggest a stack of books, a side candle or a photo frame.
Layla Grayce

Lulu and Georgia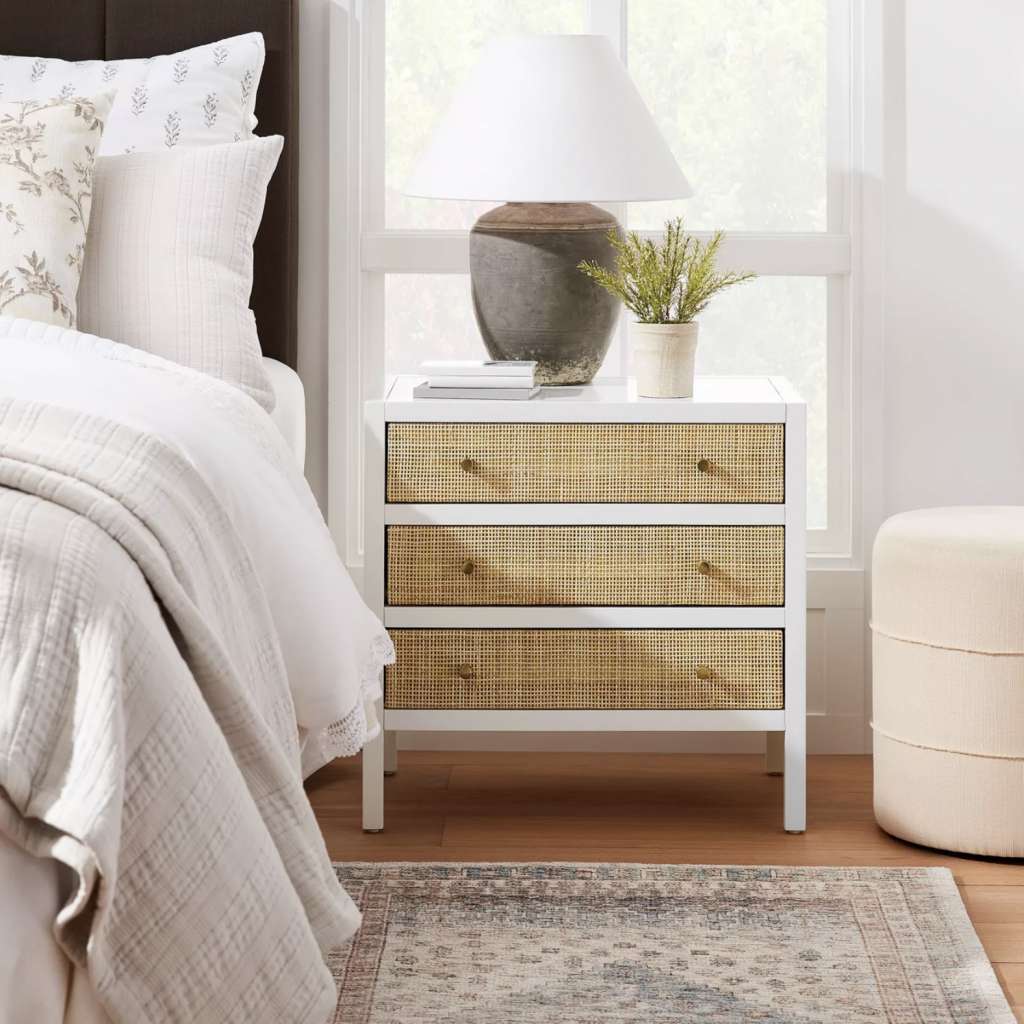 This new nightstand from the Studio McGee x Target line is beyond adorable
I am just beginning to prep for the spring launch of Studio McGee x Target, and noticed that they will be offering larger pieces of furniture again. This cane nightstand looks to be a great bang for your buck. I love the 3 drawers and the contrast of white and cane, and it would pair well with just about any color bed as well.
Target

Walmart

Throughout the blog post I shared many different options for nightstands from various retailers. You can find them at all different price points, sizes and shapes. I think you can certainly keep nightstands as an affordable furniture piece in your room, while investing in your bed. However, I can attest to investing in a high quality nightstand as we have.
xo, kayla
---
This post does contain affiliate links, which means if you choose to purchase something while clicking a link in my post, I may receive a small commission.
Shop The Post