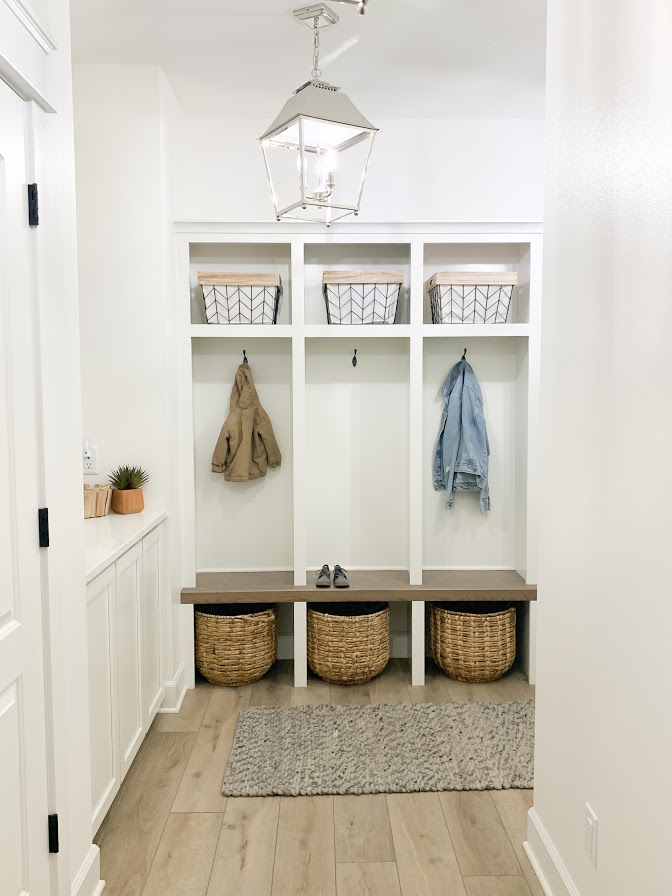 Getting Organized
How does one keep a home clean while raising the tiny humans? Honestly, this is one of my main questions since I started writing a blog. Sure, from the instagram photos it may seem that we have everything in order and organized. Don't let that fool you. We have cereal spills, dog hair, piles of paper and little kids shoes coming out of our ears. I typically just shove everything out of the way when I am shooting a particular area and walah, pretty squares for the gram!
Making it a functional space
Being that it is a new year and the first in our new home, I have been trying to focus on organizing our home room by room .Now, I wish this was a post with ALL of the tricks to revamp and completely organize your entry, but it's not. I do, however want to share some affordable options for making your mudroom or entry way a functional space for you and your family. Transforming a room into a space that is functional comes with planning. Finding a specific place for each item can make the difference between chaos and clutter & structure and order.
I want to thank Bed Bath & Beyond for sponsoring this post. With their help, we were able to give our mudroom the overhaul it was needing. The storage solutions at Bed Bath & Beyond were endless and I was able to find some amazing options that were functional and stylish.  I am going to share with you the 5 tips that we used when eliminating the clutter and how you can implement them into your storage design.
5 tips to an organized and clutter free mudroom
Separate Space is Key –
We didn't have a mudroom in our previous house, so when we decided to build, a mudroom was on our must have list. Having a space in the house where everyone can drop off their things is so incredibly helpful. In our previous home our coats and boots would end up in the living room, kitchen or dining room. Our mudroom was designed with 5 separate lockers (one for each person) Each locker has separate hooks, bins and baskets to hold all of the things.
Only keep the items in the cubbies that you use for that season.
When we were cleaning out our mudroom I couldn't believe how many sandals, swim suits and spring jackets we had hiding out in there. Seeing as its the beginning of February, in cold Wisconsin, I can say these items wont be needed anytime soon.  The mudroom can be a place for your things but it doesn't need to hold everything you own for the entire year. I have found it is helpful to utilize your closets for the things that are not needed for that particular season. Reducing clutter will help you stay organized.
Invest in storage products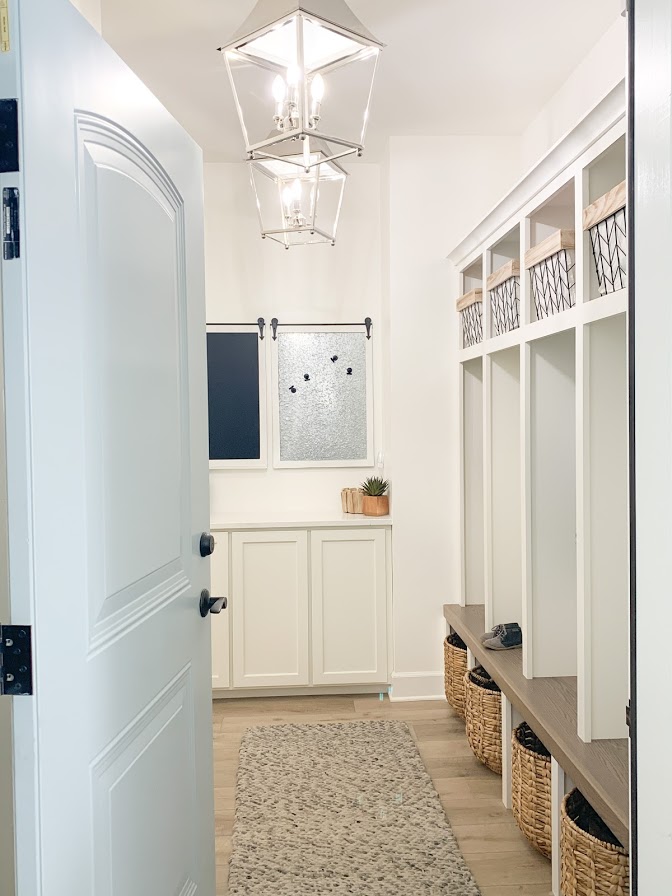 Baskets and Bins–
Our lockers have separate spaces above and below our lockers that we use to hold onto things. I found these amazing oversized round baskets at Bed Bath and Beyond for underneath that hold everyones shoes.  They are easy to slide in and out of the lockers and large enough to hold many pairs of shoes. They keep the shoes in one space and prevent them from landing on the floor in front of the lockers. On the top of our cubbies we found these great totes! I measured the space because I wanted to make sure I was getting a size that fit perfectly in there to allow for as much storage as possible. In the bins above we keep hats, mittens, scarfs, ballet items etc.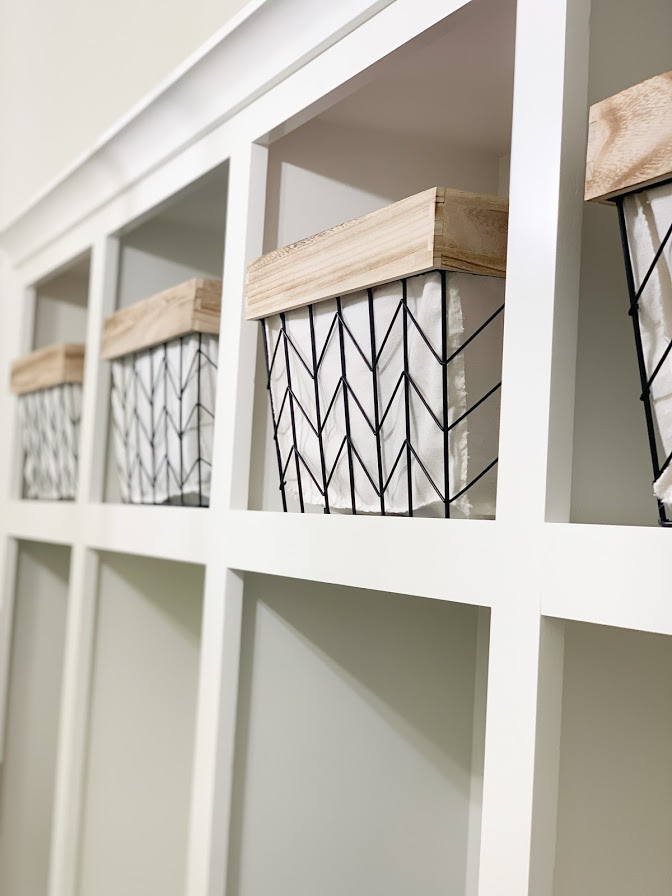 Utilize hooks –
Although these photos are bare, because I wanted you to see the actual cubbies for the post, we actually utilize these hooks more than you know. Our kids seem to have so many items that need hanging up. Wet coats and snow pants, ballet bags, book bags etc. I recently decided to add some additional hooks at arms reach for them as well!
Creating a Drop Zone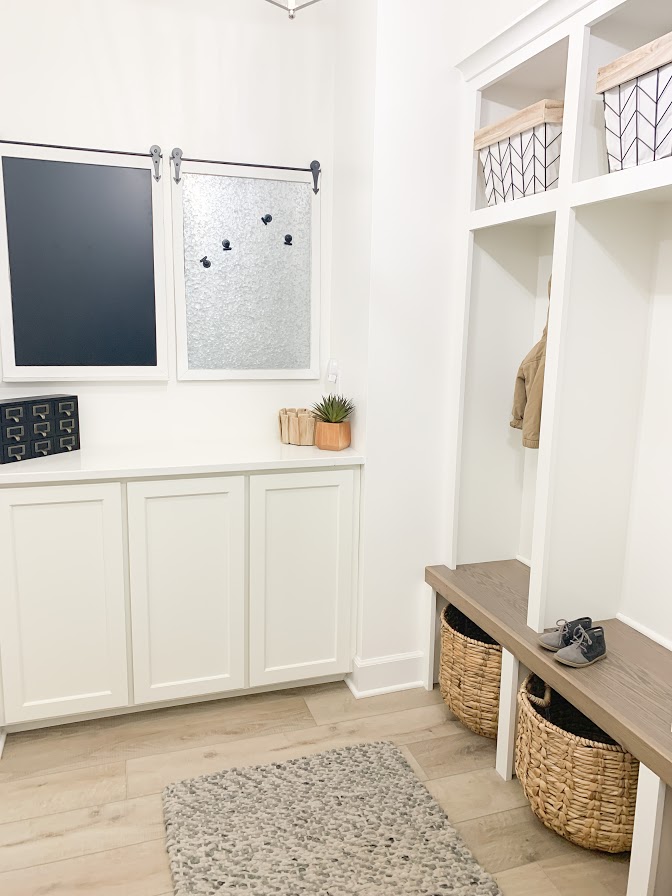 | chalk board | magnet board |apothecary drawer | wood chip basket |
Command Centers & Drop Zones
Our drop zone is our command center. It is an absolute must have if you have the space. Anyone else struggle with all of their mail, artwork and junk landing on the kitchen counter every single day. We are just like any other family, in which our mail and paperwork ends up on our counters day in and day out.  This drop zone functions as a command center, where we can literally "drop" the things we brought in from the car, hang up important notices, bills or invites/events. Bed Bath & Beyond had these amazing chalk boards and magnet boards that we are loving to organize our artwork, bills and to-do lists. We also have this great calendar that allows us to communicate the days events and commitments we have to one another in our busy lives.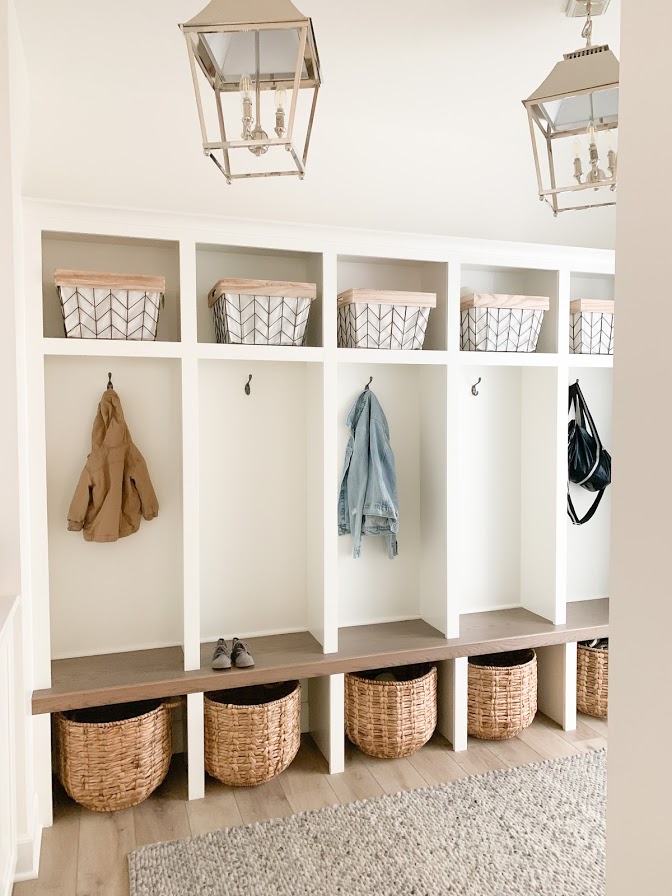 Bed Bath & Beyond has the solution for all spaces in your home if you are looking to get organized. Right now there is a 20% off storage and organization sale going on (valid through 2/4), where I am certain you will find just what you need to simplify and declutter your home. I linked a bunch of great options below but be sure to head to their website to check it out for yourself!
xo, kayla
---
This post does contain affiliate links, which means if you choose to purchase something while clicking a link in my post, I may receive a small commission.
Shop The Post