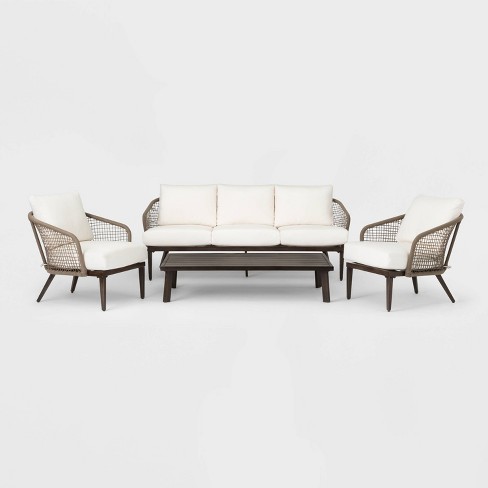 If I learned anything last year as a home blogger, and my own personal experience, is that patio furniture sells out quickly! Which is why I have been up since 4 am working on this blog post for you! Lets just say I am dedicated to saving you money 🙂  Target is having an amazing sale now through Monday and I did not want you to miss it!
To be honest, it's kind of hard to think about patio furniture where I live. It was a balmy -10 degrees yesterday here in Wisconsin! Brr! I won't lie, spring is on my mind but the decor has been on the back burner! However, I know most of my followers and audience reside in places that are not the arctic, and are just getting ready to decorate for spring! Regardless, this post is for everyone!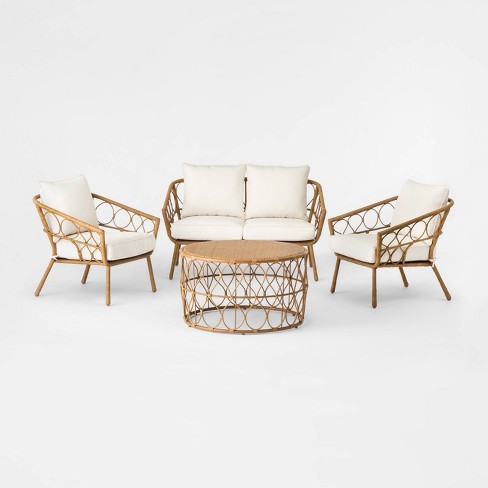 | 4 pieces set |
Target stepped up their patio furniture game
Target has seriously stepped up their patio furniture game in the past few years, and this years options do not disappoint. I want them all! No but seriously, living in Wisconsin I always want to emphasize the time we have to be outside and patio furniture is such a priority when the time comes! Even in this colder climate, we try and get outside as much as possible in the spring and summer months. Outdoor living is where it is at. I love when my kids can go outside! We play outside all day, eat lunch, sometimes cuddle up by a fire-pit or a movie on the screened in porch. It's so important to be outdoors so why not make it an oasis you enjoy just as much as your indoor spaces!
Patio furniture sells out quickly, don't wait if you love it!
Like I said earlier, I learned quickly last year that patio furniture sells out! I felt like I kept putting off purchasing things last year because it wasn't quite spring yet or something. Unfortunately by the time we were ready to purchase, all of the really amazing options were sold out! Also, I have learned that you really can't find patio furniture on much of a sale during the peak season. You either have to take advantage of sales during the beginning of the seasons, or at the very end. And well since we are at the very beginning, I have to share this amazing patio sale with you.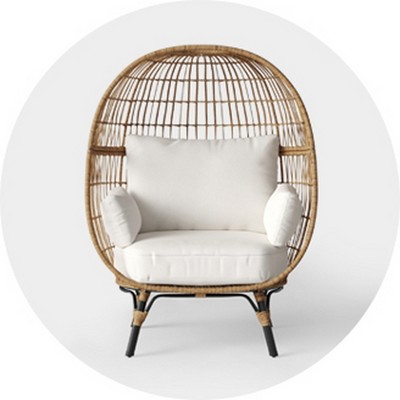 20% off patio at Target now through Monday 2/17
Target is having 20% of Patio through Monday. There are so many INCREDIBLE options out there today. I honestly am so impressed with their modern feel, and the quality. So many of them have 4-5 star reviews which likely came from last year and they restocked because the product was so good. That famous egg chair, she's back- and $100 off today.
I rounded up a bunch of my favorite options this morning and I know there is something for everyone! The details on these pieces are so good! I can't believe the discount they are offering this weekend! Be it a conversation set, side tables, dining set, sectional or egg chairs, you are surely to find something that will make your outdoor space your retreat. The sale doesn't last long so if you're in the market,  or especially interested in the new arrivals, don't wait!  The great news about outdoor furniture- you don't need to find a place to store it, because it belongs outdoors already 🙂
This post contains affiliate links, all that means is if you click on a link or photo in this blog post and make a purchase, I may receive a small commission. This continues to support Kaylahaven and I so appreciate that 🙂
xo, kayla

Shop The Post