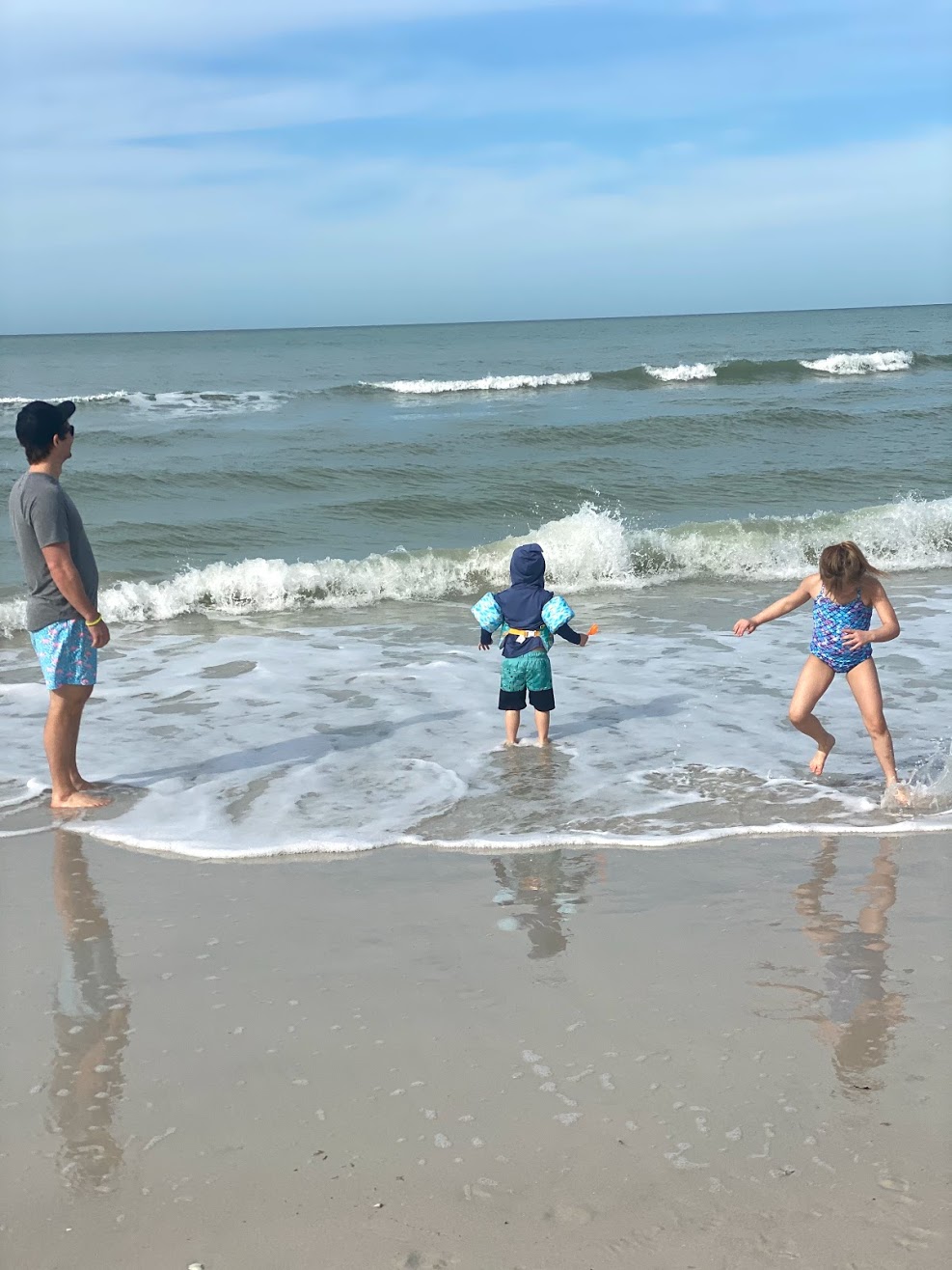 It's Monday and we have safely made it back home after a week in sunny Florida. I originally wanted to get this post up and published while we were still there but decided to wait. Now that we have made the trip from Wisconsin to South Florida, and spent 40+ hours in the car, I can share the real deal. I want to be transparent with our travels and also share tips of how you can safely travel during Covid-19.
Spend time in the planning stages
Planning is key. As I mentioned in my previous post when we made the decision to travel. I honestly feel creating a well thought out plan is half the battle, and half the anxiety. With the pandemic raging, the fear of the unknown is what paralyzes us all. However I can say that coming up with a strategy on how to deal with situations on the road, like finding food and where to go potty and keeping the kids entertained, made me feel like this was something we could really do. I am hopeful my experience will provide you with actual insight of how it was to travel across the country with three little kids during a global pandemic.
But how did the trip really go?
Once you have mapped out your trip, and packed the items you are set. But the question is, how did it really go?
To be completely honest, it went WAY better than expected. Considering our oldest is 6 and our youngest is 3 I definitely was prepared for a chaotic and loud car ride full of yells, screams and cries. We have never done a long road trip like this so I set my expectations really low. I think this in some way was quite helpful.
Split the trip up if needed (don't fear the hotel)
Since Florida is a 20 hour drive from our home, we knew with little kids we weren't going to be able to make it straight through. We decided splitting the drive in half would be the better approach. Our first leg we drove 10 hours and stayed in a hotel in Chattanooga, Tn.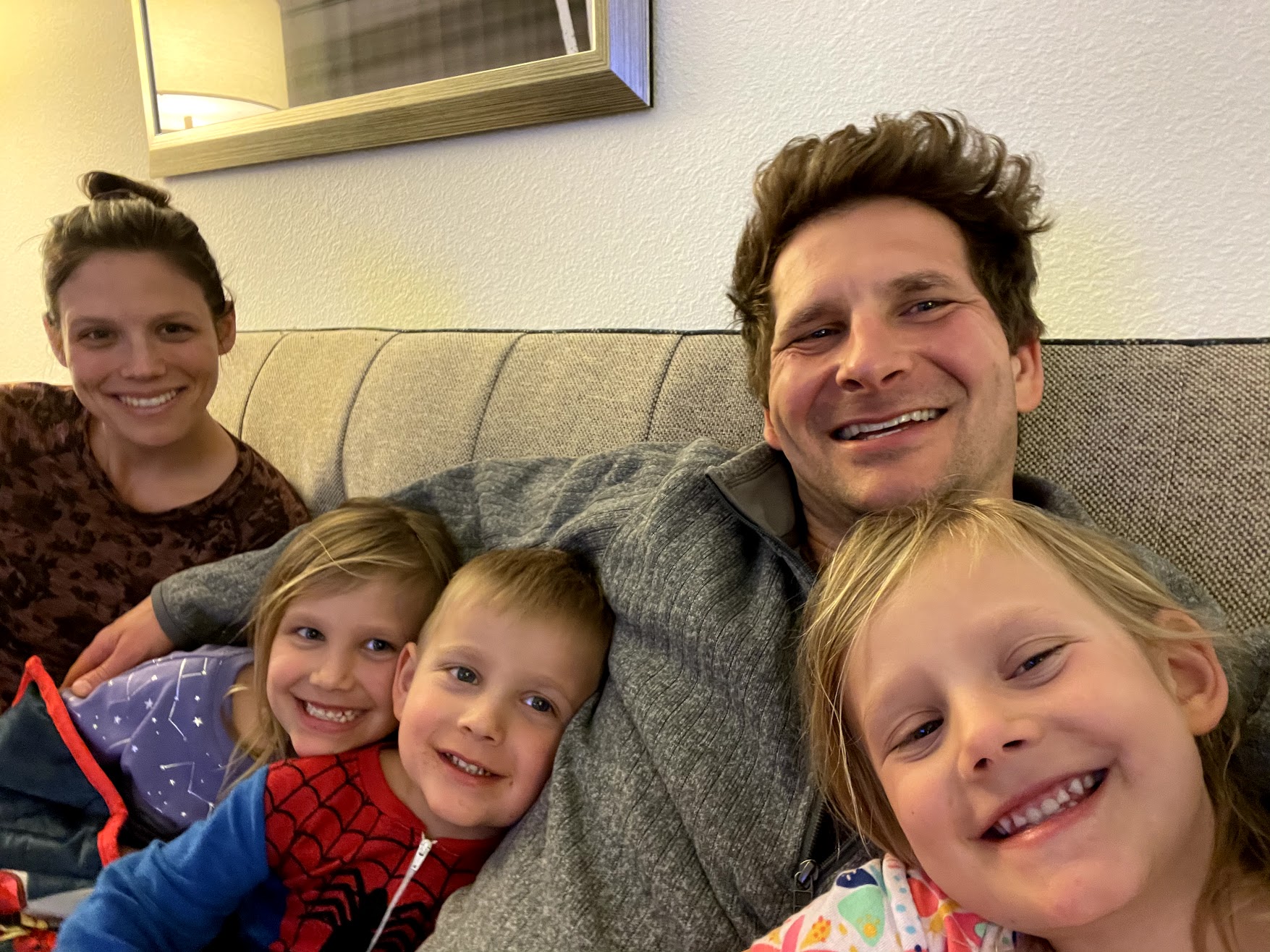 Staying in a hotel during a pandemic
Staying in a hotel during a pandemic honestly feels safer than grocery shopping. We all wore our mask and walked directly to our room, where we stayed until the next morning. The rooms are cleaned thoroughly and we made sure to do our research on hotels taking additional cleaning measures to combat Covid-19.
Keys to a successful trip with kids
Snacks, movies, activities and tablets were our key's to traveling safely with little kids. They had more junk than they have had in their entire lives, lol, but it kept them happy and quiet. WE are all on a cleanse, per se, now – loads of broccoli for everyone!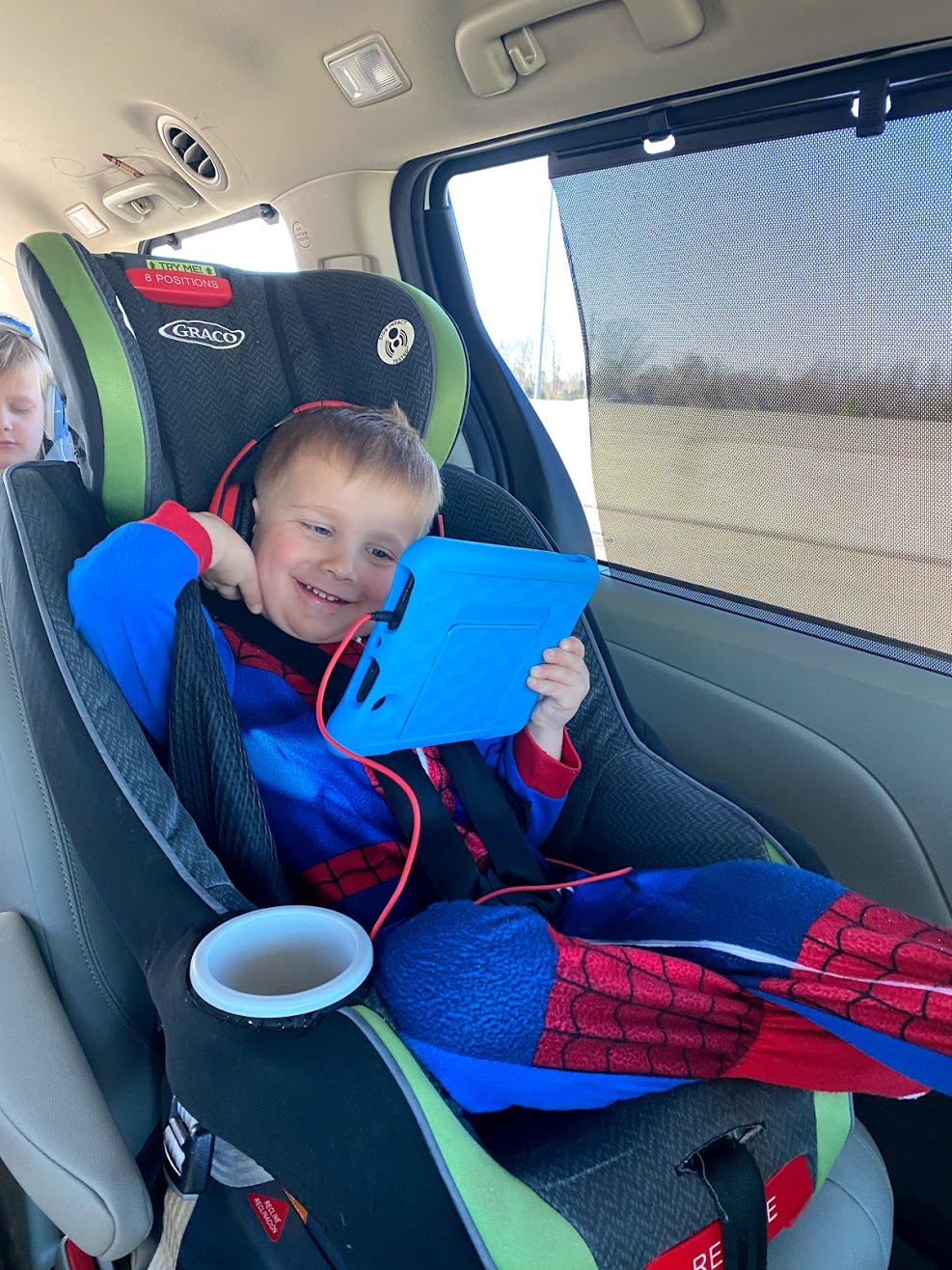 Our savior- the portable toilet
We traveled with a portable toilet (that the kids learned to toilet train on) and used this for their bathroom breaks. We lucked out because they are so little so they could still use it. This prevented them from ever having to leave the car. We did stop a few times so they could stand and stretch their legs but otherwise they did amazing.
Log some miles early in the morning
Our golden hours were early in the morning when it was still dark. Getting up earlier and putting the kids in the already packed car with their pajamas was an amazing tip I received that worked gloriously. It was quiet and we just drank coffee together- honestly pretty enjoyable.
Acknowledge there will be hiccups along the way
I won't lie and say it all went according to plan. On the way down we were lucky to get through all the major cities without any hang ups, but on the way home we hit a few traffic jams which delayed our trip. We also learned that our middle child has motion sickness after she projectile vomitted all over the car. We learned quickly no more coloring or reading while looking down.
Follow safety guidelines you already follow at home
We traveled with all the precautions in place. Lots of hand sanitizer for before and after meals. We also had it for every-time we had to get gas. I am vaccinated so I didn't feel nervous going into the gas station to go to the bathroom but I still wore my mask, washed my hands and socially distanced.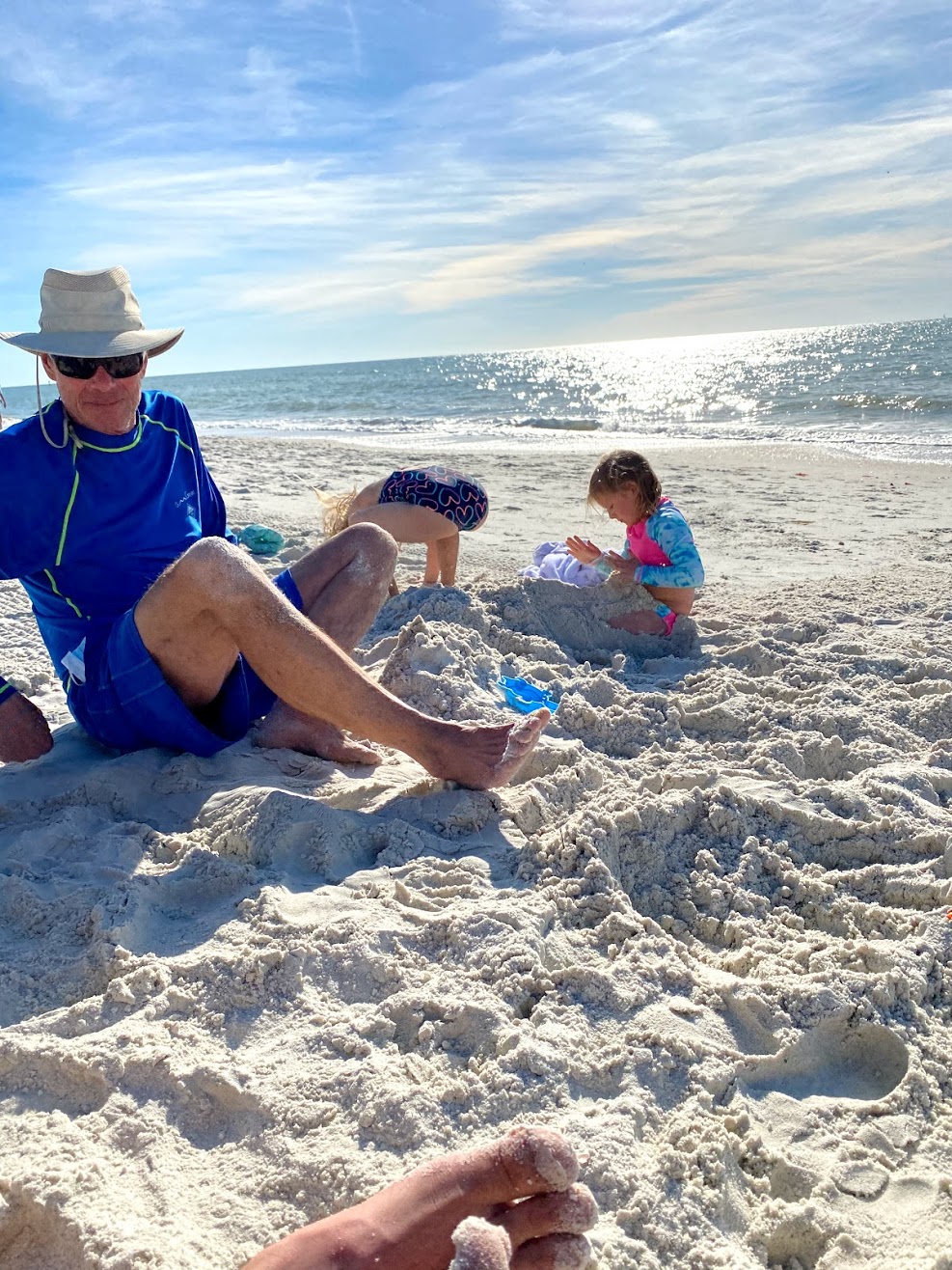 While we were at our destination, we practiced all the social distancing guidelines we do at home. We didn't go out to restaurants, just cooked at home as a family and picked up our grocery orders when needed. We went to a private pool where there was no one else around, and when we went to the beach we kept our distance and wore masks as needed.
Lower expectations and focus on memories made
MY biggest piece of advice when traveling with kiddos in general is to lower expectations and go with the flow. We kept the mindset of creating memories which helped us from getting overwhelmed. Of course the kids got cranky at times, or wanted to be done driving but we just worked our distraction methods and all was good. Any time tensions were running a little high my husband would look at me, or vice-versa, and say, "MEMORIES!!:)"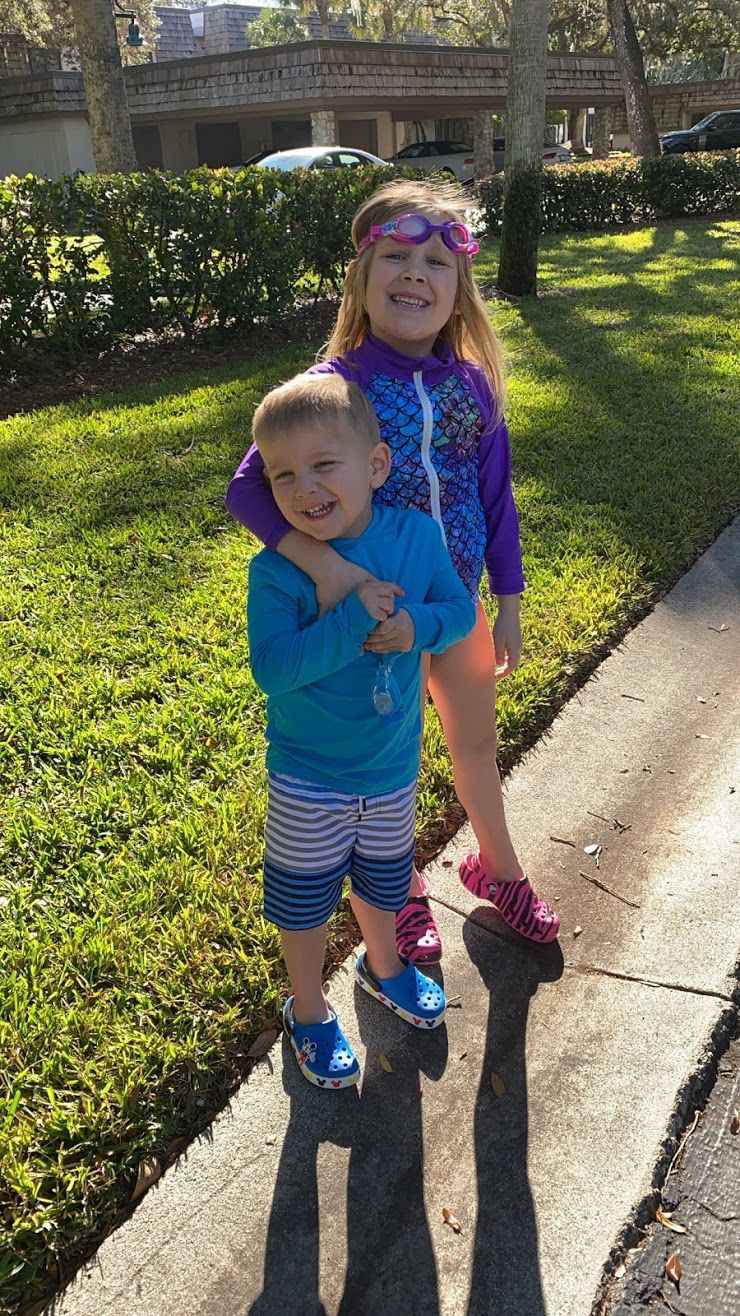 Traveling during a pandemic can be scary but its doable
Traveling during a global pandemic can be quite scary but honestly, if you take all the precautions, driving to a safe destination can fell very similar to what we're experiencing at home. I won't lie, the trip at times felt much safer than going to target or the grocery store and my kiddos definitely interacted with less people than they do at school.
Prior to leaving, I did get some idea of how the experience might look from this blog post here in the LA Travel blog. All in all, it felt good to get a change of scenery and break from the dreaded cabin fever we've been experiencing. I am so happy we decided to focus on making memories together during this very unique time in our lives. It's definitely one for the books and memories we will cherish forever!
xo, kayla