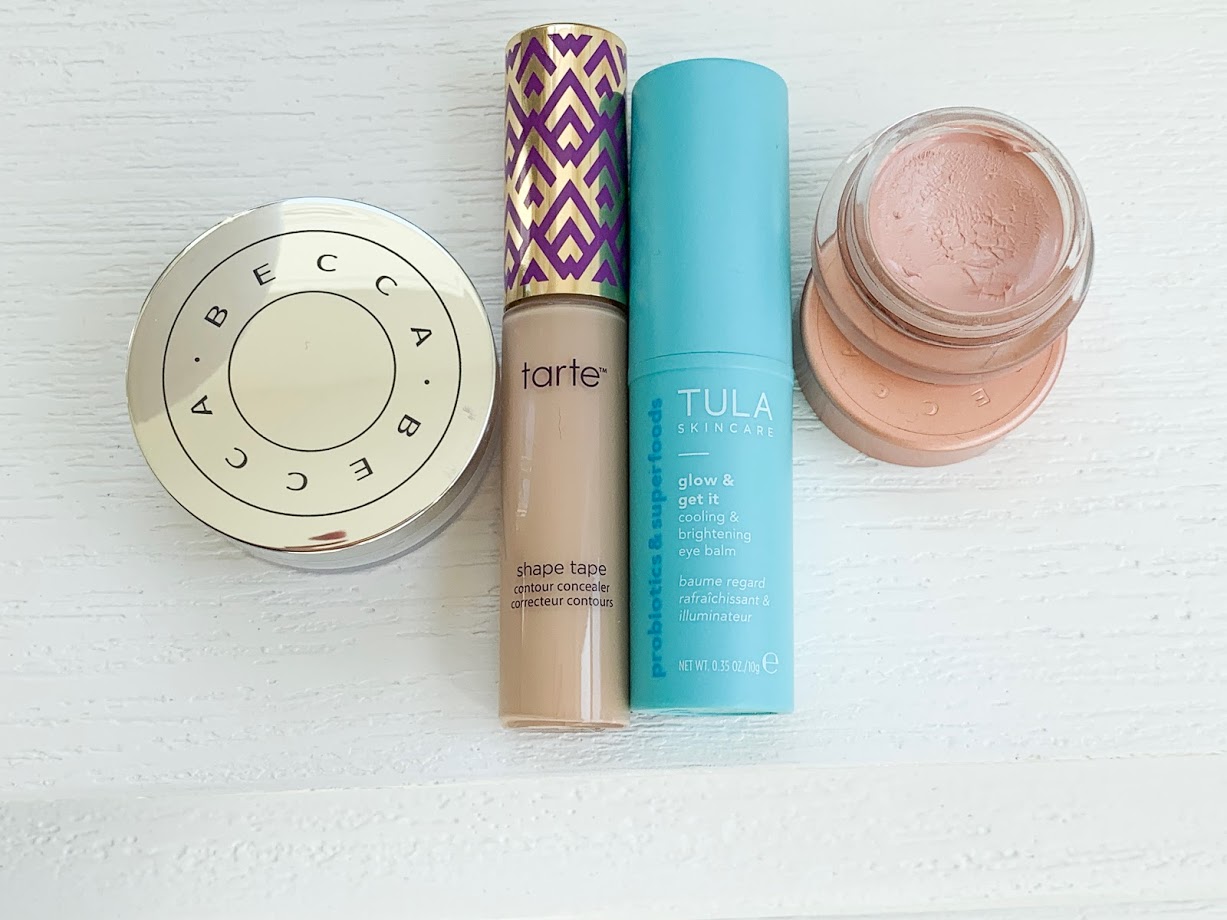 |eye setting powder | Concealer | cooling balm | under eye corrector |
This post contains affiliate links, which means if you purchase through a link on my post I may earn a small commission
I just recently started wearing make up, and it has everything to do with those beautiful permanent black eyes I have been rocking the past few years. Having three babies in three years, I sincerely feel like I haven't had consistent sleep since I became a mother. Between nightly wake ups, sleep regressions, sick kids and everyday responsibilities of being a working mom, I am TIRED! With fatigue comes some stress, and with stress comes skin changes! I own those under eye black bags and wrinkles on my forehead because it's a small price to pay for the gift of motherhood. However, if I am being completely honest, my self-esteem and overall "mom-boss" attitude doesn't feel quite up to par after a restless light.
|eye setting powder | Concealer | cooling balm | under eye corrector |
My favorite products that hide those black under eye circles
If you ask my darling husband, he would say I still don't need any make-up, but this post isn't about that. In all honesty, my skin has changed. It has changed a lot. I am guessing this is due to the surge of hormones I have endured being pregnant three times in three years. Add in there consistent lack of sleep, and bam, you have dark circles!  Up until a couple of years ago I was able to color the discoloration, blackness and puffiness with a little bronzer. That is no longer the case.
I will say I am pretty thankful that there are products out there that help me feel more like myself. Sometimes you just need a little pick me up to make you feel like you can conquer another day in mommy-hood! I started wearing make up to help me feel better about skin, and to be honest, these products I am about to touch on, have made a word of difference in my overall self-esteem and confidence. If I can't be rested in this season of life, I can at least fake it until I make it 🙂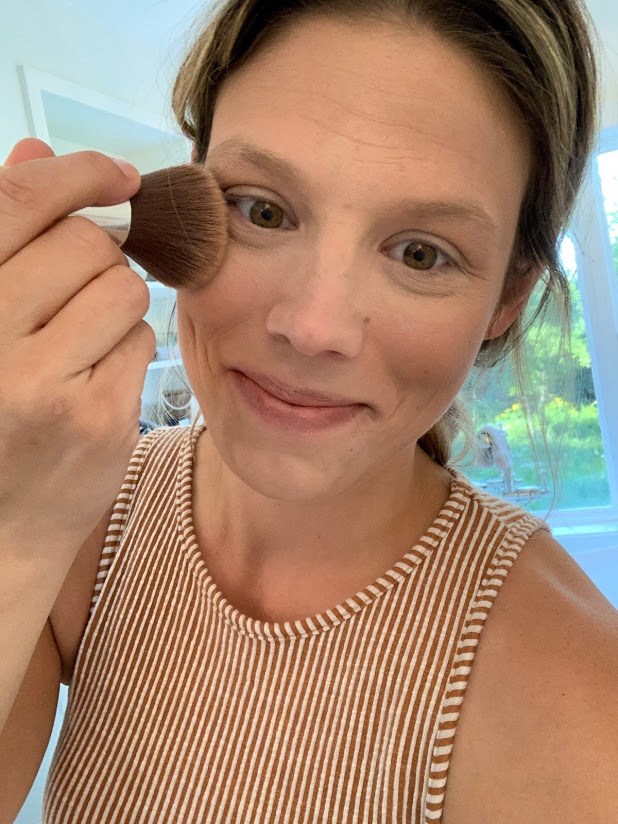 favorite products to hide the dark under eye
These four products are my ride or die, 100% go to, game changer products that have helped me hide my under eye circles.
eye balm
Eye Balm: The first thing I do when I wake up is I use this brightening eye balm. I had seen this promoted by numerous bloggers and each time I went to snag one it was sold out. I saw it came back in stock last month and when it did, I had to try it. I can now tell you I understand what all the hype is about. After a restless, sleepless night I swear I wake up and my face just feels puffy, red and heavy.
This product is great because it has a cooling mechanism that literally calms your heavy eyes down. I love putting it on right after I get out of the shower or while I am getting others things ready in the morning. The balm provides just the smallest amount of shimmer and is the perfect first step in your make up or skin care routine.  One of the bests things about Tula, is that their products are free from all the harmful chemicals. The balm can also be used as a make-up refresh mid day!  Just simply place it right over your make up for an easy refresh.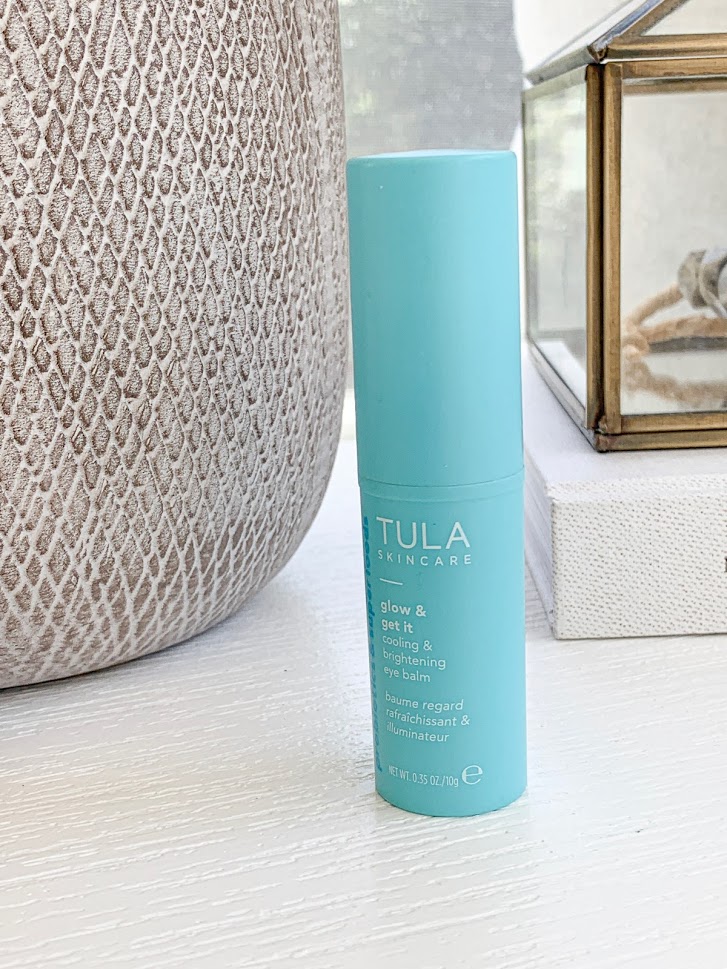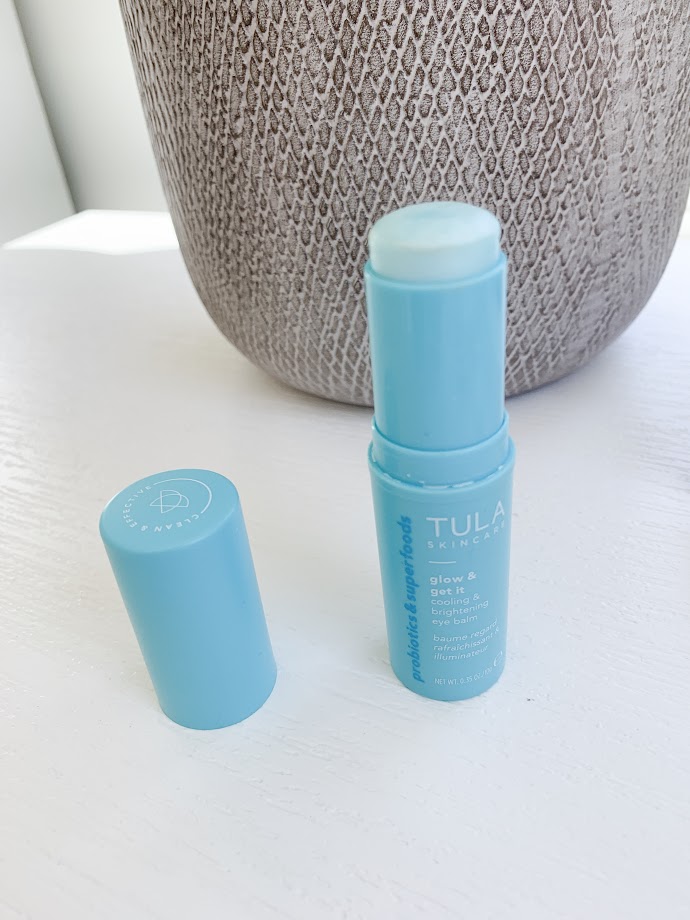 game changer product
Under eye brightening corrector- This is my game changer. I will be completely honest with you, I was a little skeptical due to the price. Unfortunately my concealer alone was not covering the blackness on most days, so I was willing to try something new. This very well may be my favorite product I use in my entire make up routine and I don't ever see myself going without it again. That is unless I sleep for 3 weeks straight 🙂 This under eye brightening corrector was made for tired mom eyes and I can not recommend it enough. What I love the most about this corrector is that it not only hides the dark circles under your eyes but it gives you the most subtle beautiful glow under your concealer.
why it works
I use the shade light to medium and I put it on right after my foundation. The pink pigment literally counteracts to tone out the black circles leaving you with the perfect color correction. It literally cancels out your black eyes so you are working with a neutral base before concealer! It feels amazing, and a little goes a long way. I have been using the same little pot for a few months now and I likely have a few months left to go. To me, this product is worth its weight in gold and if you take anything away from this blog post, it is to try this under eye brightening corrector.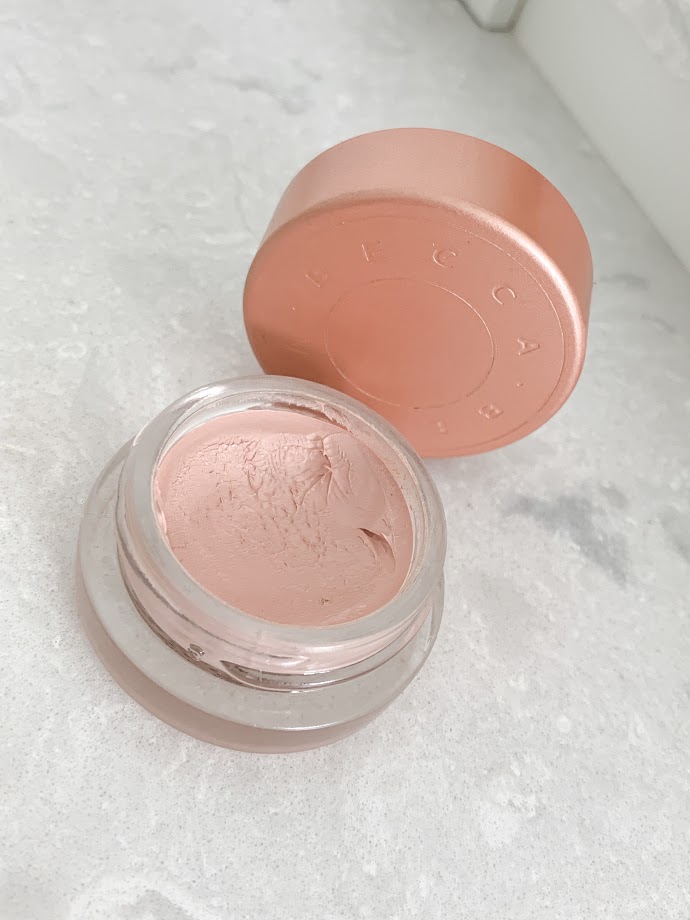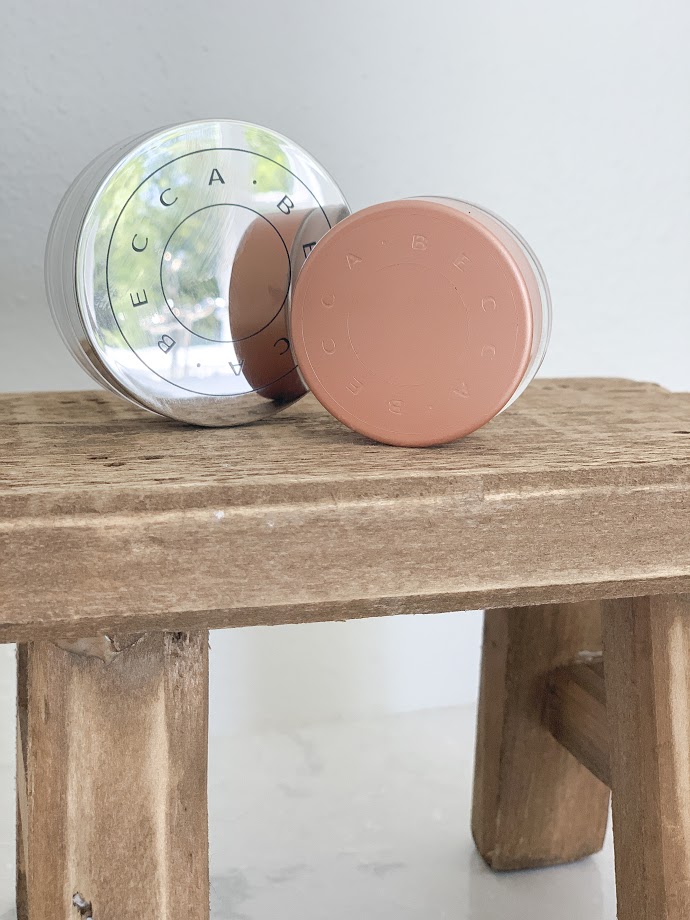 |under eye corrector | setting powder |
Concealer
Concealer- Man oh man I can't believe I was missing this! Finding a good concealer makes a huge difference in your entire make up look. Not all concealers are the same and finding the right one is another dilemma! I have been alternating between two. I have been loving the this concealer by Charlotte Tilbury in shade 3. This concealer is really light and airy, great for an effortless and minimal summer look. It comes with sponge applicator and has been lasting me months. I have even used this alone on non make up days blended in with a beauty sponge and its so easy!
When I am not using the magic away concealer and needing fuller coverage I use shape tape concealer. I use the color light neutral and it works perfectly throughout the summer and the winter months. Shape Tape is full coverage and lasts all day. It is my go to product if I had a super serious sleepless night! I will say this concealer is thick, so I apply it with a damp beauty blender. I recently found these less expensive beauty blender dupes from amazon and have been using them with great results!  |amazon beauty blender|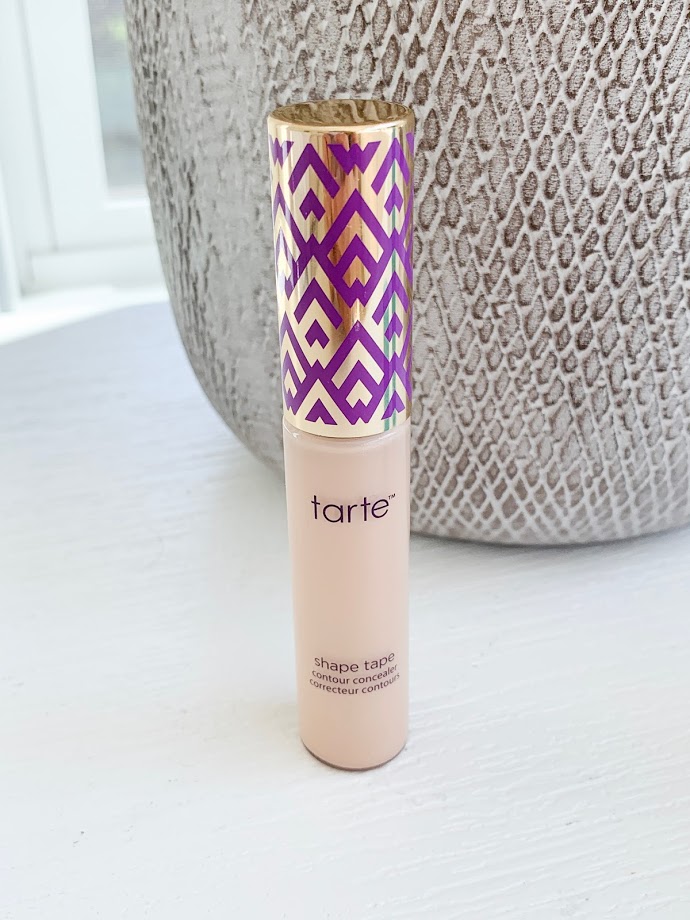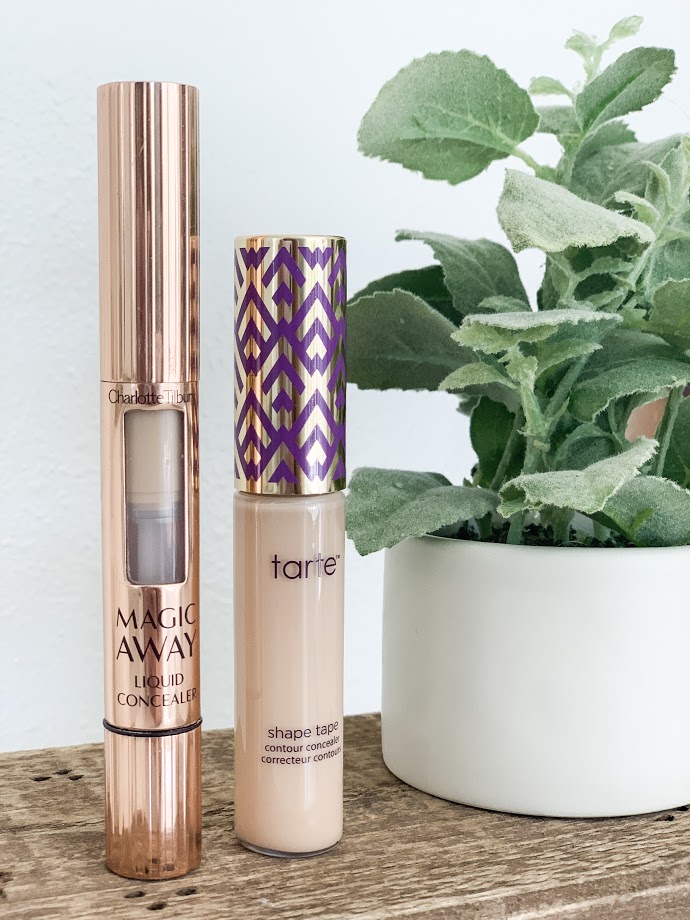 |Magic Away Concealer| Shape Tape Concealer|
setting powder
Here is another honest post. I literally had no idea what the term "setting" even meant until a month or so ago. I had found that concealer was helping with the blackness under my eyes but midday I found they started to show up again. I thought it was the product at first, until I realized what "setting" was all about.
My original plan was to grab the Laura Mercier setting powder based on reviews I saw online. Unfortunately at the time, my local Sephora did not have any in stock.  I decided to ask the sales clerk for the next best recommendation and she immediately pointed me to this setting powder by Becca. She said it had great reviews and also pointed out that it was less expensive. I have been using it for month or so now and I really like it. It certainly helps my concealer last all day, which is great news for the long days!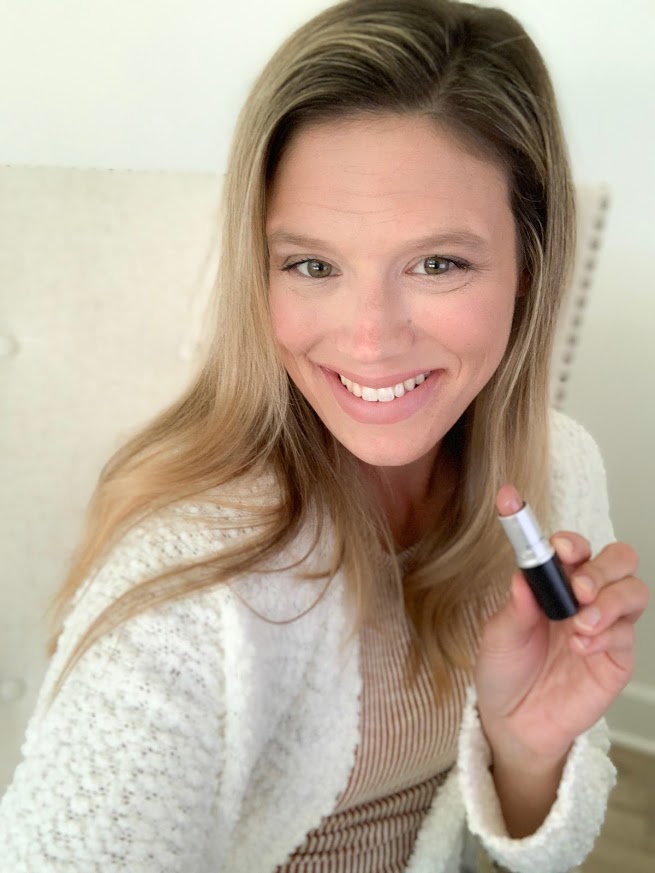 Above Full make up look with under eye corrector products /  Click here to see blog post on lip combo
I hope this blog post help shed some light and reviews on products that I have found that may help you too. Being a mom of young kids, I know how hard it is to try and feel put together. For me that sometimes means I have to fake it until I can get some sleep (i.e. purchase products that hide my black eyes) These products have really helped me feel good about myself, given me confidence and overall improved my self-esteem as I sleep walk through this current phase of life 🙂
This post was not sponsored and all opinions are my own.
Shop The Post