leggings- a wardrobe staple
I don't know about you but leggings are an absolute closet staple for me. Living a diverse climate, I am constantly trying to adapt my wardrobe to whatever wild weather is in store. I wear black leggings year after year, season after season. There is just something to say about comfort and being able to eat all the food 🙂 I don't know many women, especially mamas, who don't love a great pair of leggings!
This post contains affiliate links, which means if you purchase through a link on my post I may earn a small commission
top 5 best options for black leggings
There are so many different legging options out there SO I wanted to round up what I think are the best 5 options. Most of these leggings I own and have been wearing for years, the others I purchased solely to review for you based upon suggestions online. Each pair of leggings come in various lengths, materials, colors and price points and this blog post is intended to help you find the pair that may work for you.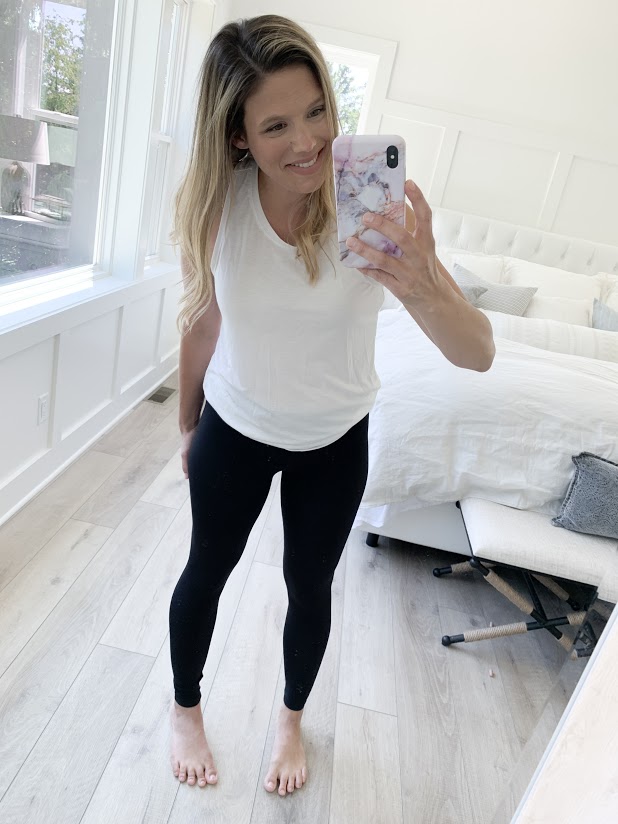 Aerie – play
The first pair were recommended by a fellow lifestyle blogger. Above I am wearing the Aerie leggings by American Eagle. These leggings have been compared to the lululemon align leggings but they are a fraction of the cost. I wanted to try them to test their quality, because the price point is great!  $50 but American Eagle has sales all the time, and I think I snagged mine for only $25.
tummy control
Any mamas out there need tummy control? Well you're in luck because I ONLY rounded up leggings that are high waisted, including these. The aerie leggings are high waisted which is a must in my book! In terms of thickness, these leggings in particular are on the lighter side. I would probably wear these during transitional seasons like spring and fall and not so much in the dead of winter.
sizing
Originally I purchased my original size based upon reviews, but after wearing them for a day I realized they lost their shape and would recommend sizing down one. The material is fairly soft and feels a a little slippery and would work best for lounging. I have tried to work out in them but they don't seem to hold their shape or provide the support I need for this activity.  For the price, I think these are a great purchase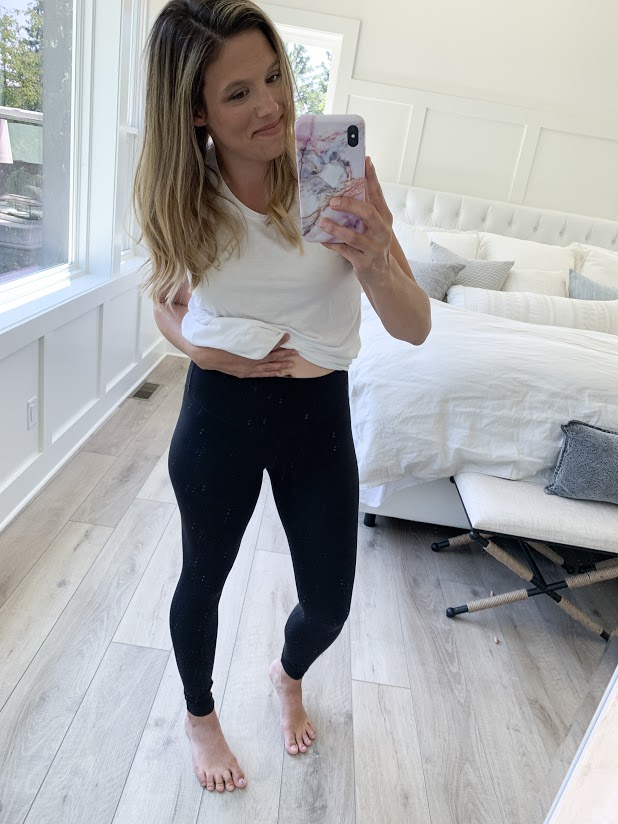 Zella live in leggings – highly recommended by friends/bloggers
I picked up these zella leggings during the Nordstrom Anniversary Sale after hearing so many people rave about them. These pair of leggings are particularly thick and could likely be worn throughout the winter. Zella leggings have amazing tummy control and hold their structure. Here I am wearing a size small and they run TTS. I think you could wear these for lounging, working out as well as going out!
One of my favorite things to wear in the fall is a great pair of leggings, a t-shirt and a chunky cardigan. This pair of leggings do not disappoint and I think I will be wearing them this fall for sure! The price ($59 ) is completely reasonable for the quality and I see them lasting a long time! One additional plus to these leggings is the length. They are much longer than any other pair I reviewed here and would be perfect for anyone that is a little taller! I posted a picture below of the length. For reference I am 5'6″ and I still had plenty of room left.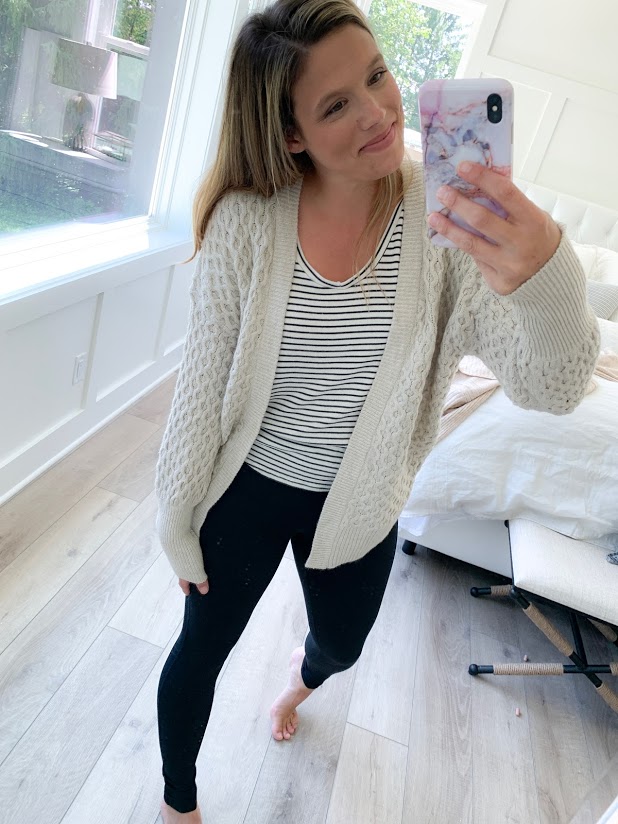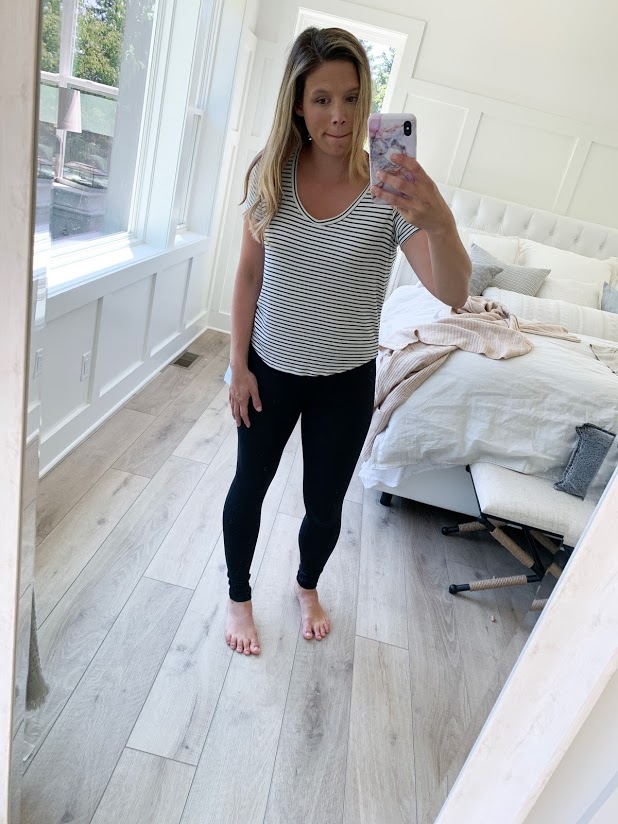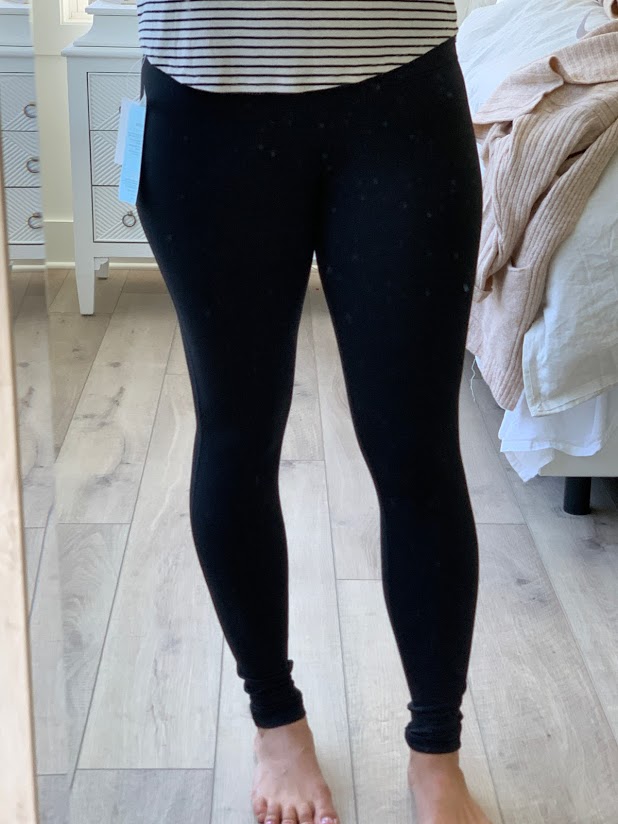 Amazon- 90 degree
These are another pair of leggings I purchased to review for you. I had heard great things about these Amazon leggings and the best part is the price,  $25! In addition to a great price point, the quality is really good. The material is thick and they have excellent length. Again, these are also high waisted with really great tummy control. They come in a variety of lengths and colors as well. I think these are a win in my book and an excellent option for this price point!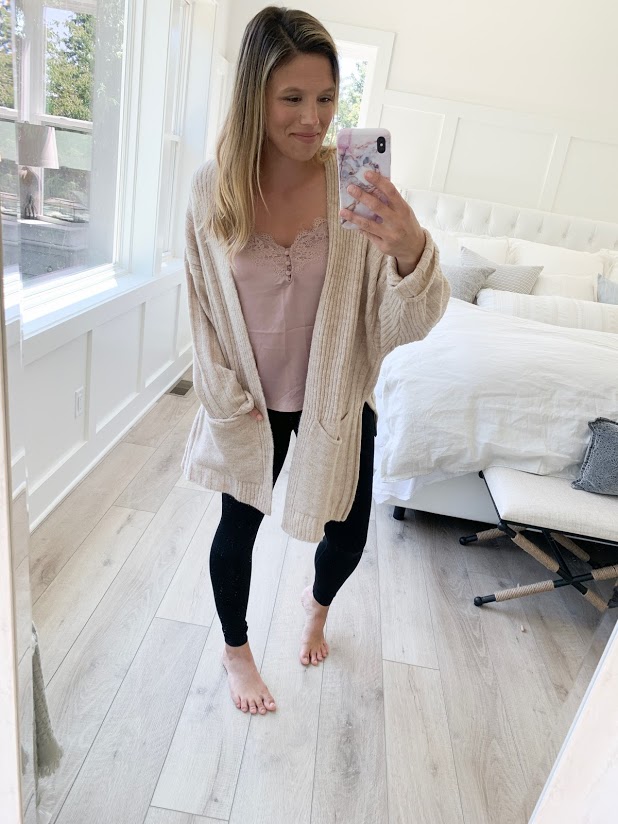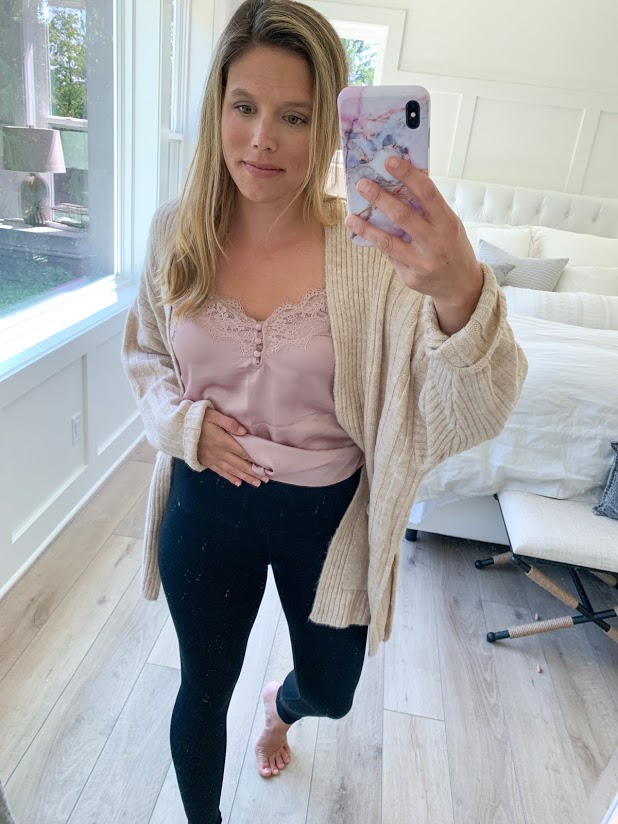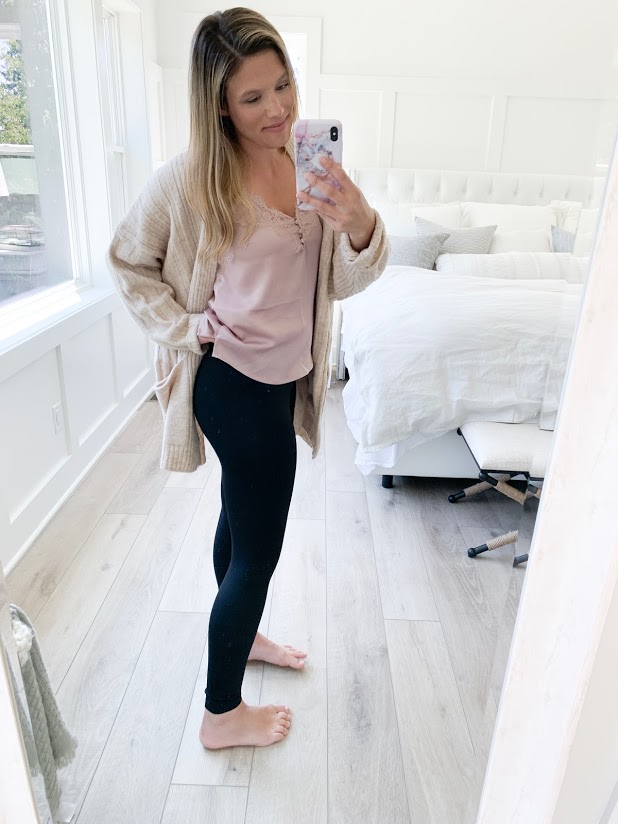 Lululemon – Align
Although the previous leggings reviews are amazing options for the price point, nothing compares to these align leggings. These are my holy grail, 100% reaching and grabbing for every time, pair of leggings! When I put them on it feels like I am wearing the most buttery soft pair of leggings ever.
It wasn't until we were stranded in Minneapolis without our luggage that I actually agreed to trying a pair. I kept hearing they were amazing but they were also so expensive! To be honest, I couldn't justify the price, especially when I didn't know if the hype was true! Well, its true, I think there are a million reasons to buy them!
When we were in Minneapolis we went into lululemon with a gift card I had been holding onto for literally a year. Since we had no luggage I decided to use the giftcard that we had. I was 25 weeks pregnant at the time so leggings seemed like the most comfortable option. The sales clerk suggested these align leggings and encouraged me to get my true size . They are the same leggings I wear to this day.  Even better, they still look and feel the same as the day I bought them.
MY HOLY GRAIL
I really don't think I can say enough about them! Lululemon leggings are an investment but the quality is so worth it! You honestly won't need another pair of leggings!  They suck you in in all the right places and feel absolutely amazing!
Align leggings are so versatile. I wear them to work out in, lounge in, and when I am going out. Align leggings are seamless, giving you a dressy feel when you need it. I can honestly say these are the first pair of leggings I reach for when I am in my closet. They are entirely worth the price. If you have to purchase a pair of leggings every fall or spring, I would honestly considering investing in ONE pair of these align leggings! They will last you for years and to me, worth every penny!
| sweatshirt | Lululemon align leggings |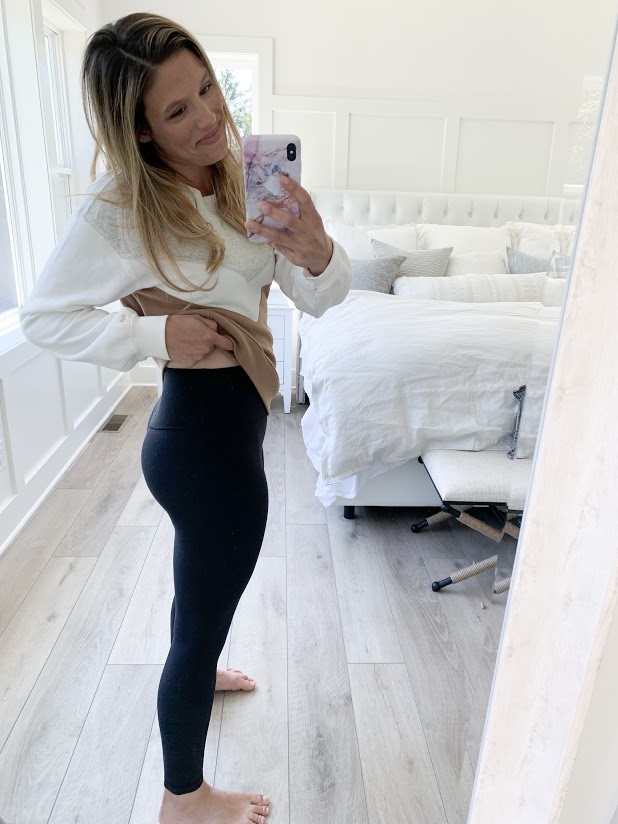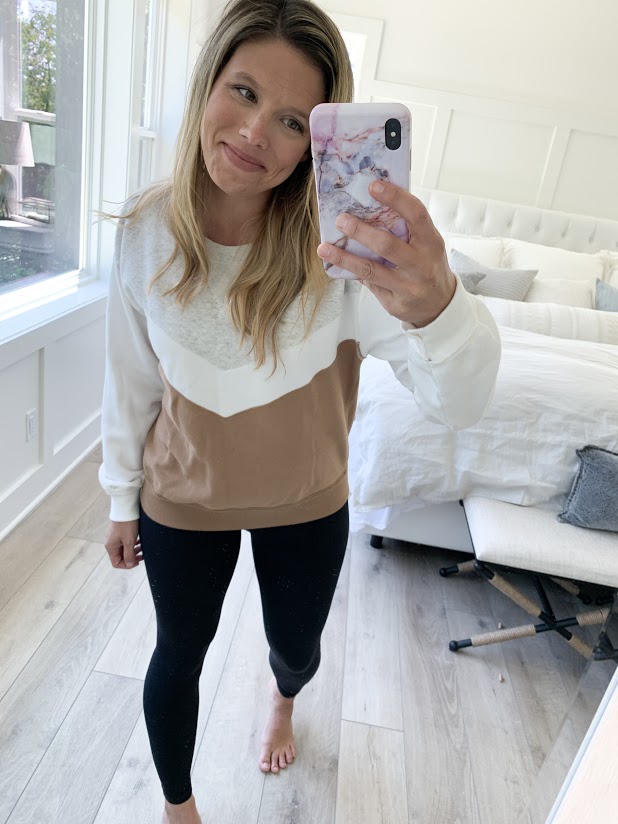 spanx faux leather leggings
If you haven't tried the faux leather leggings by Spanx, I highly recommend these. These leggings are a little different and definitely more of a "going out" legging. They look like leather but fit like leggings. Wearing these leggings with a nicer sweater is the cutest winter outfit. They do run a little small and I would recommend sizing up.
I hope if you were in the market for a great pair of black leggings for the fall and winter you found this blog post helpful!
Shop The Post