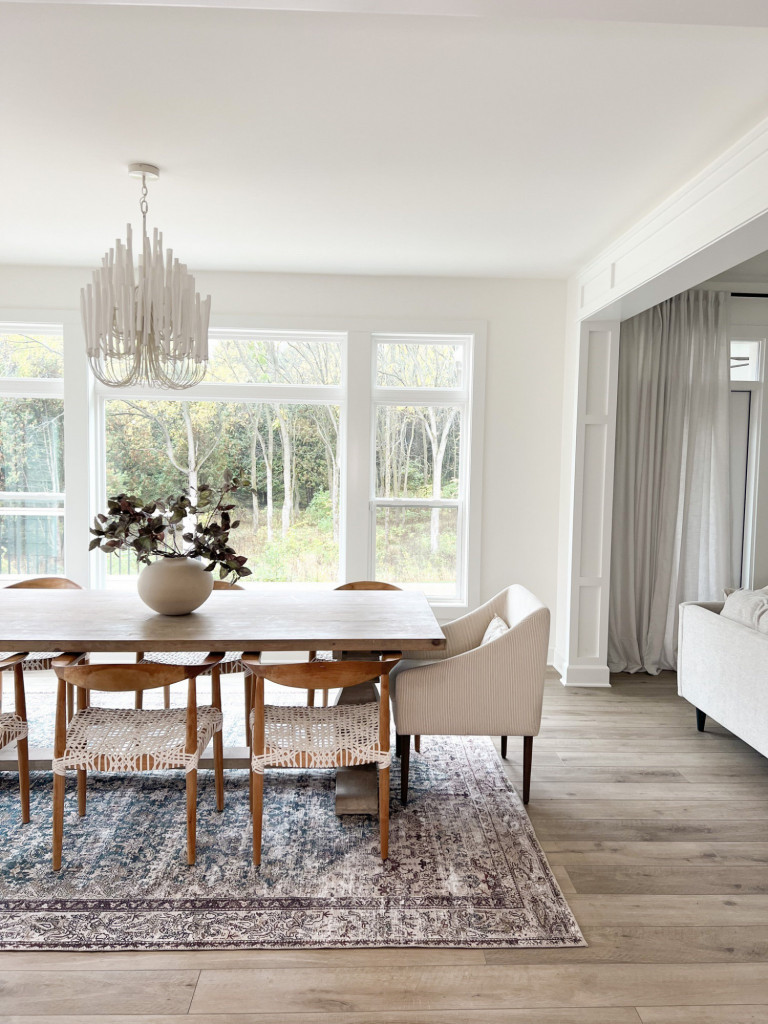 The new year is inspiring me to refresh literally every space in my house! Isn't that the way it goes? All of the holiday decor came down and my house just felt empty! So, I have been trying to tackle and plan out spaces in our home that I would like to overhaul and refresh this year. One of the biggest rooms I am hoping to give a face lift is our dining room. Last year, I finally took this picture when loloi sent me this gorgeous rug. It elevated the space perfectly for the fall and really tied in all of our elements from the leather woven chairs, to my favorite chandelier. However, our current dining table and chairs are in need of an upgrade.
We got this table when we moved about 3 years ago. Unfortunately, it arrived damaged and when I asked for the company to send me a new one, they alerted me that it was discontinued. Instead of having me ship it back, the company allowed me to donate the table, but seeing as though we didn't have a place to eat at the time, we opted to keep it. I found the chairs shortly there after. Both products are so pretty but the wood on the table is just not durable.
The design dilemmas for our dining room refresh
In the upcoming months we will be changing out our kitchen counter stools and pendents, so it's important to me that I bring natural wood tones and black lines into the design as those elements are being eliminated with our kitchen changes. I found these chairs at McGee & Co. and they have been the first and only thing I have purchased for the refresh yet.
What's left to source? A new dining room table! I wanted to wait until the dining chairs (shop them here) arrived to figure out the size, shape and finish but with how long shipping delays are, I may have to bite the bullet and risk ordering it earlier. Another goal of mine with this space is adding drapery. I think adding some curtains would really add some dimension to the space. We don't need the privacy so I could even get by with sheer and since they are specifically for the look- I imagine them tucked to the sides anyways. I have always been drawn to Kate Marker's style when it comes to custom drapery, and I have wanted to put custom patterned curtains in a space since we moved in. I am hoping this is the space to do it!
Shop My Dining Room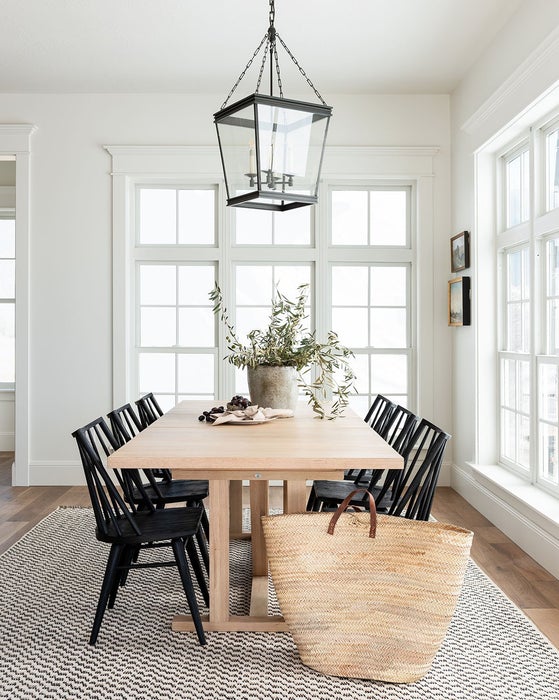 This dining room inspiration comes from McGee & Co. and I absolutely adore it!
Adding texture and pattern- my go to
Just like I mentioned in my past blog posts, adding in texture and pattern is a great way to modernize and bring excitement to your spaces. I love how in the above photo, they used dark chairs paired on a patterned rug. Speaking of rugs, some of the best rugs I have found for a dining space or eat in kitchen are low pile rugs, or jute rugs. Having a rug that is durable and can withstand spills and crumbs is really important because you want it to function for your family. You can read more about how I layer rugs, and my favorite go-to jute rugs, in yesterday's blog post!
McGee & Co. Picks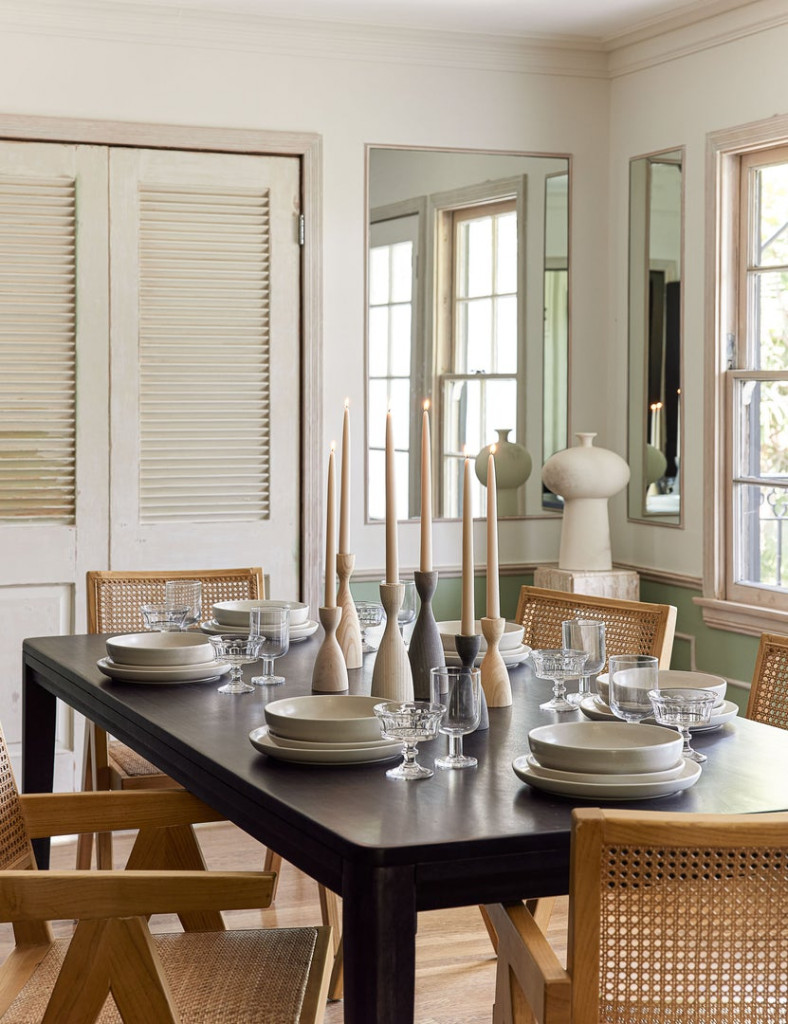 I love the blend of tones and textures in this dining room from Lulu and Georgia
Choosing a table with consideration to seasonal decor
During the holiday's I attempted my very first tablescape. You can check out the final look here. I worked with Cambridge home and had such a fun time learning how to style flatware, dishware and a centerpiece. It was certainly intimidating, but I really enjoyed it. When I think about a new dining room space I really want to keep this opportunity available to me. Though we aren't super fancy, my kids really enjoy it and I love being creative with how it comes together.
Lulu and Georgia Finds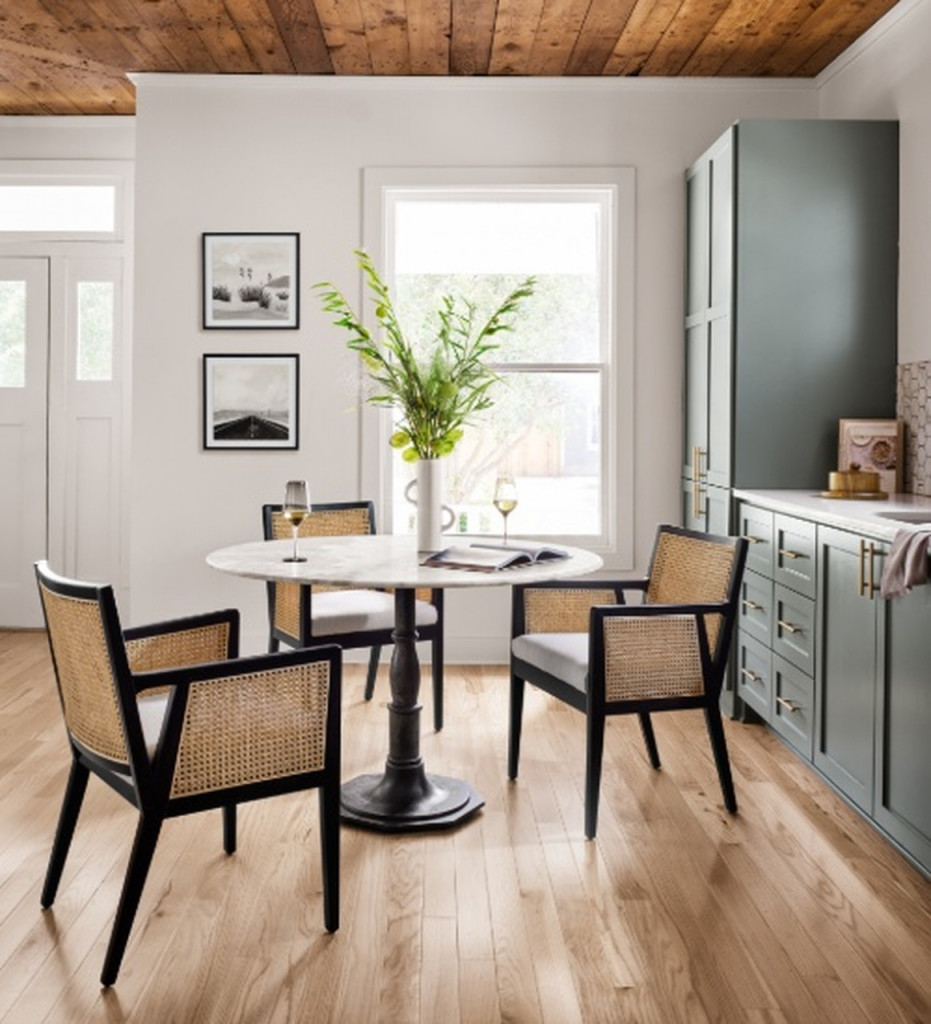 The mix of marble and woven cane in this Eclectic Goods dining room is amazing!
The transition from Dining rooms to Dinettes or eat in Kitchens
I know many people may not have the space for a full dining room. I think they are becoming less and less common, and more people are entertaining an eat in kitchen or dinette. Small spaces can be just as effective and fun to decorate and source. You don't need a grand room with tons of detail to make a charming and welcoming dining space.
Eclectic Goods Favorites

I am really excited to start tackling this project, especially sourcing products! Like many of the projects I have started, the shipping delays seem to be pushing the completion off! However, I am really hoping to utilize products for most of my upcoming projects with products that you can source and will ship soon, so stay tuned. Make sure you follow along on on my instagram for daily updates on all the projects we have going on at Kaylahaven.
xo, kayla
---
This post does contain affiliate links, which means if you choose to purchase something while clicking a link in my post, I may receive a small commission.
Shop The Post