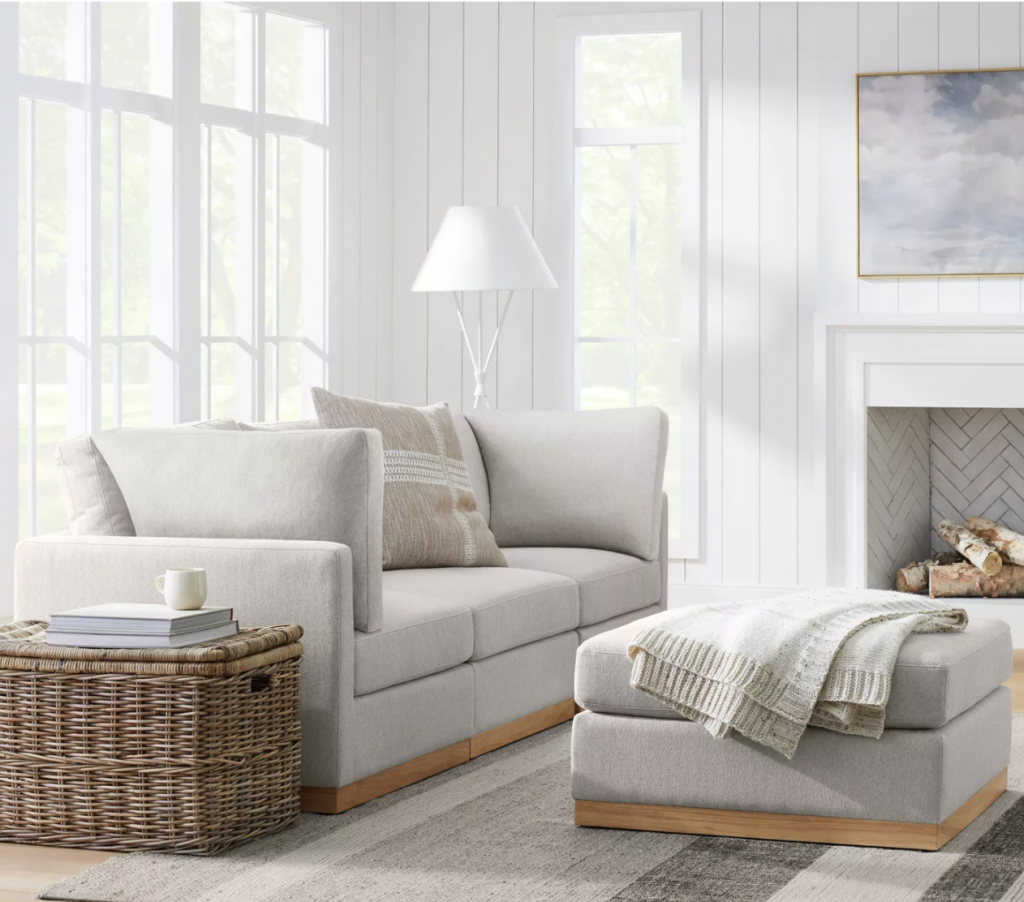 photo credits: Target Threshold x Studio McGee
The long awaited Studio McGee and Target spring line will officially be live tomorrow January 23rd. I wanted to get a blog post together for you now, sharing all the deets so you can fill your carts and prepare to shop on Sunday! Like with every Studio McGee and Target Launch, a lot of the items can sell out quickly so don't wait!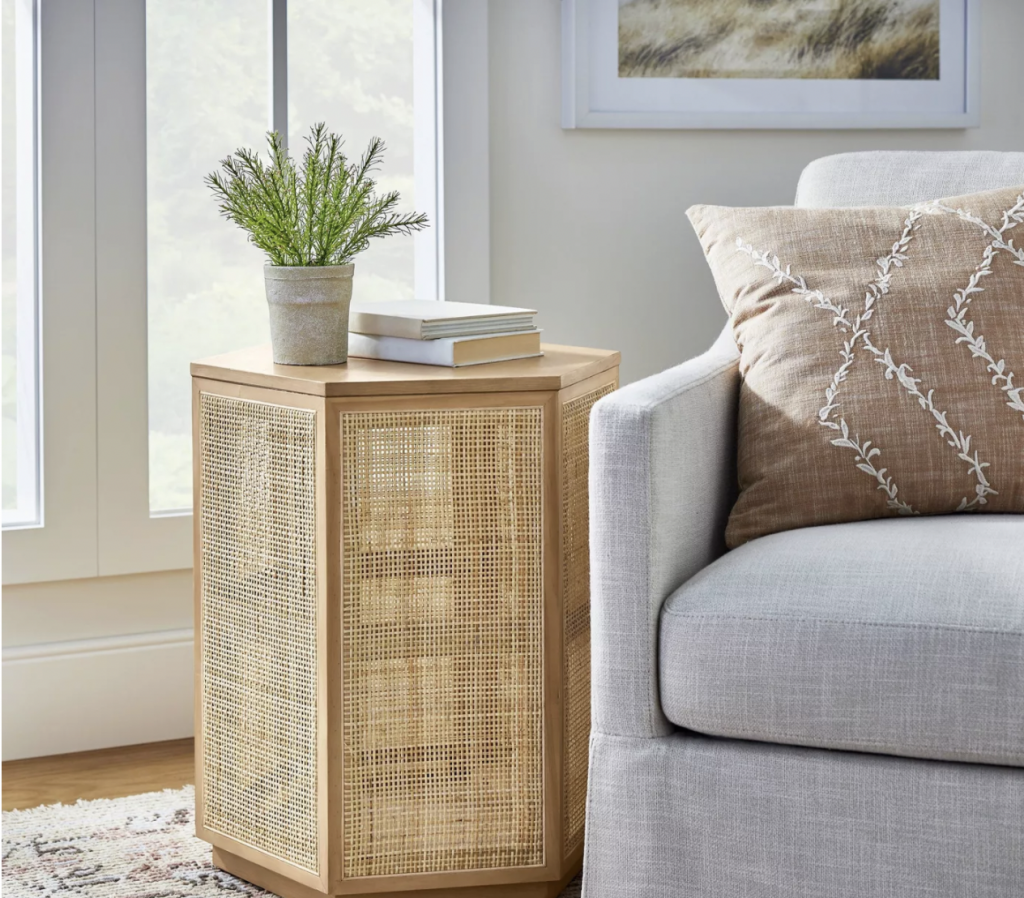 Furniture Finds & Favorites
I am so excited that this line is beginning to offer larger furniture items in their Target/Threshold line. In the past they have offered coffee tables, consoles and desks but in some of the recent launches larger items such as sofas and beds have been available. I noticed in this particular launch there is going to be a sectional sofa available and it looks super similar to the designer sofa on their website. We actually ended up ordering two of the sofas from previous launches for our hearth room and our playroom. I wanted sofas that the kids could jump up and down on, didn't cost a ton and looked good with the rest of my decor. For the price I think they are both really great options! I am so interested to see the reviews of this sectional sofa.
Shop Furniture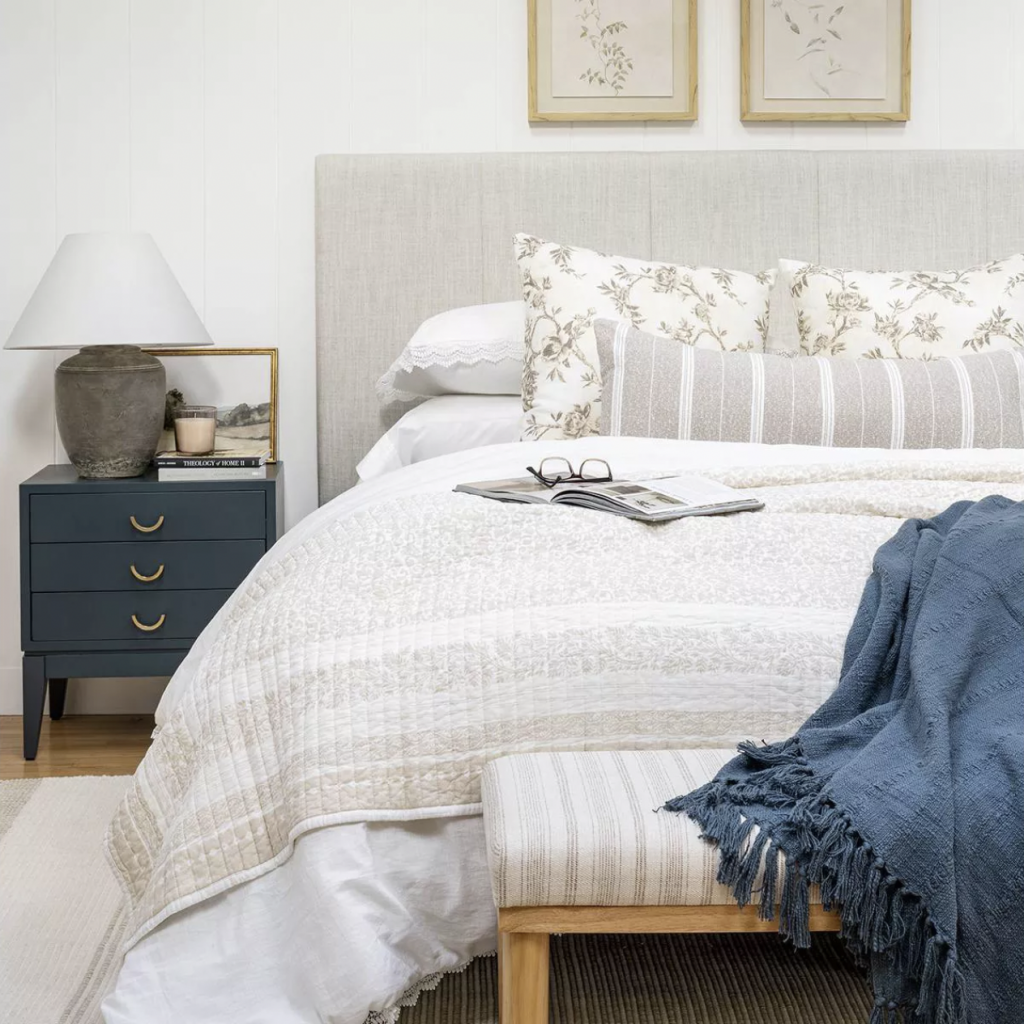 Bedding Layers & Textiles
I think this might be one of my favorite things about this recent launch. Bedding textiles are always one of my favorite things to invest in and this line looks incredibly beautiful! I love the quilt and the pillows. We recently got a similar quilt from McGee and Co, and although to me worth the cost, it was super expensive. This quilt is well priced and looks almost the same! I also really love the floral pillows, as they give off such a great spring vibe!
Shop Bedding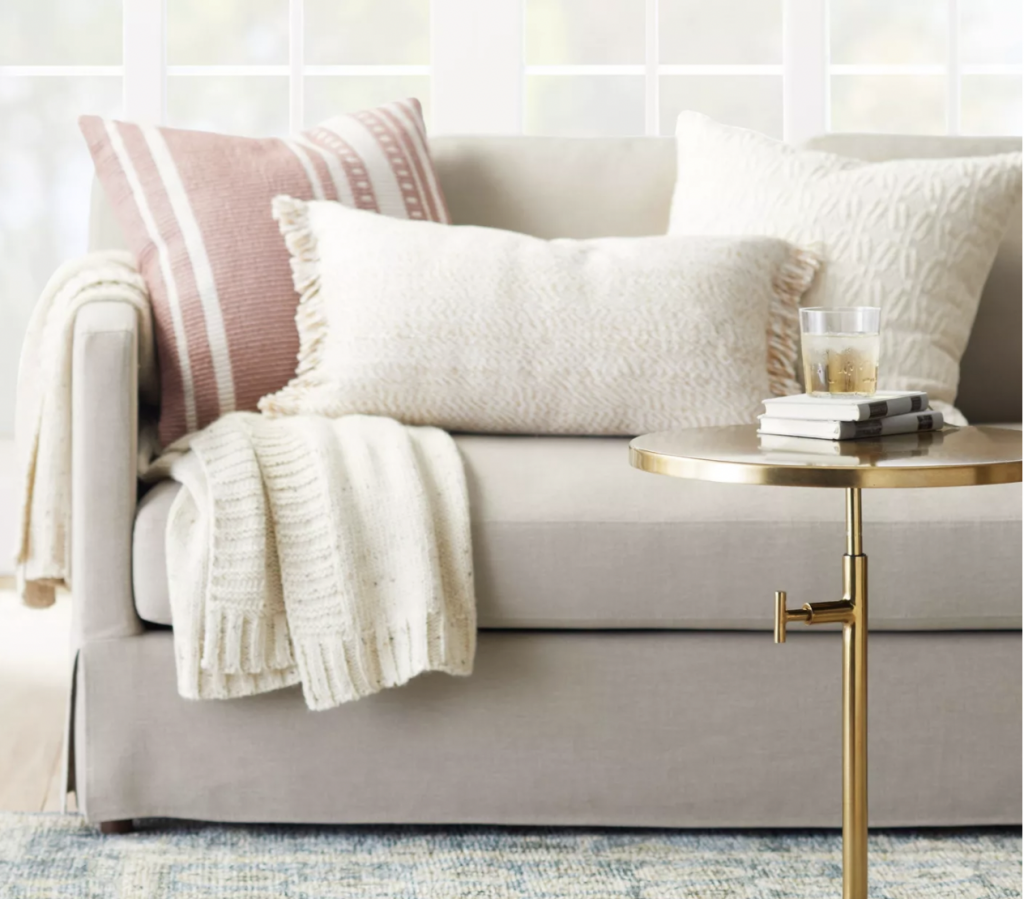 Textured Pillows & Throws
When Studio McGee & Target launch their new arrivals, I typically am drawn to look at textiles first. They can occasionally have really good pillows and I usually love their throw blankets. I will say with the throw pillows, they don't always have the best inserts. Most of them come with zippers so you can change that out, and I recommend my tried-and-true pillowflex insert from Amazon.
Shop Pillows & Throws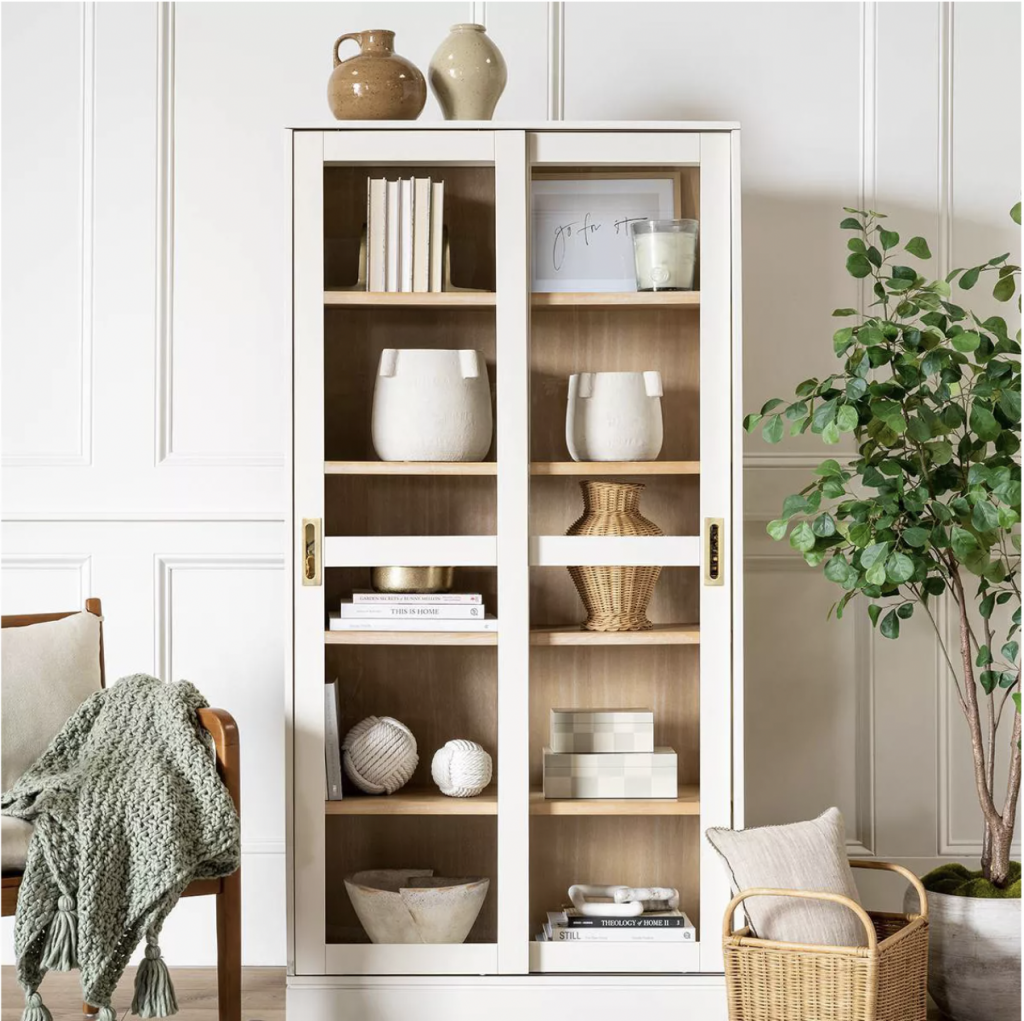 Decorative & Dainty Details
I love the way this cabinet looks, and think it would be a great addition if you don't have the budget or space for built ins. I think the wood shelves and the brass hardware are incredibly beautiful. It's styled with some more of my favorite things from the collection- which is decor. These launches are a great time to invest in inexpensive but good quality decor that will fill shelves and can be used throughout different seasons. You will find a lot of the Studio McGee & Target line on my shelves and in my home for this very reason.
Shop Decor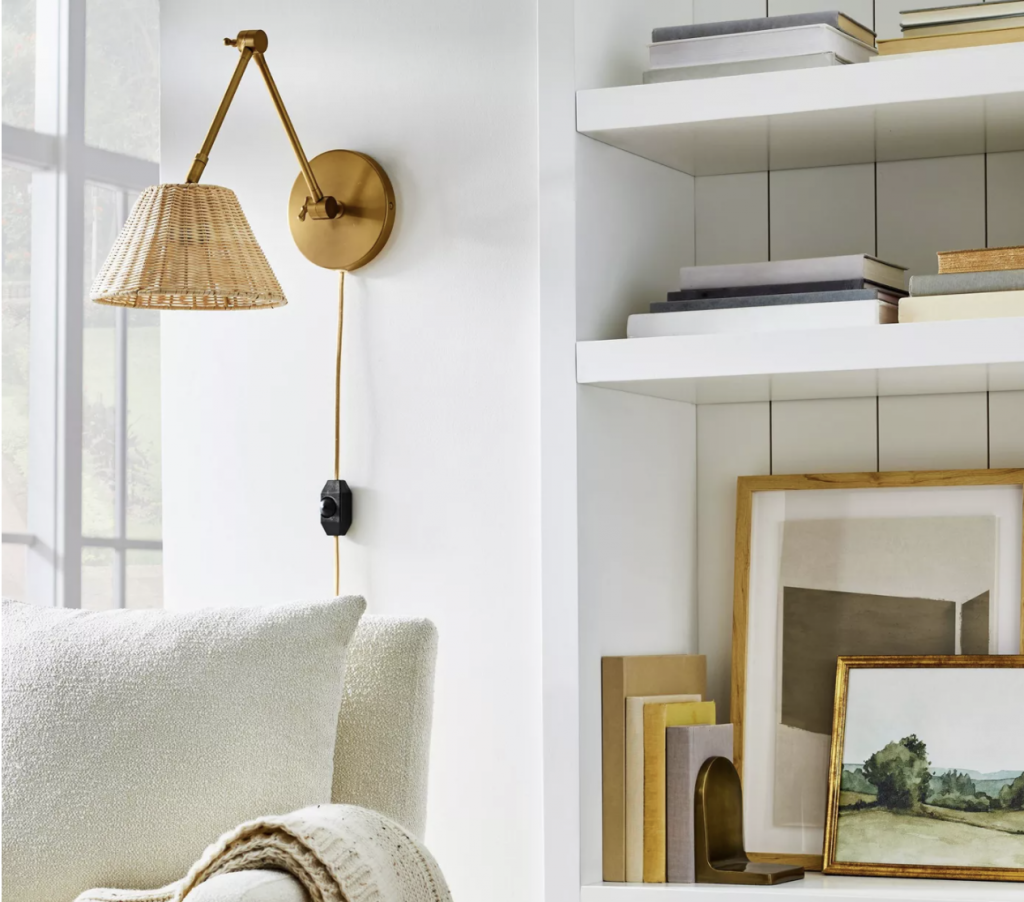 Mixed Material Lighting
Another thing that Studio McGee  &  Target started offering is additional lighting options. I love the lamps they have had in the past and this collection is excellent as well. I know this gray lamp is becoming very popular on instagram, and it's not surprising why. It's oversized, looks found, and is a great price! I am also really loving this floor lamp. It compares to the designer version, here.
Shop Lighting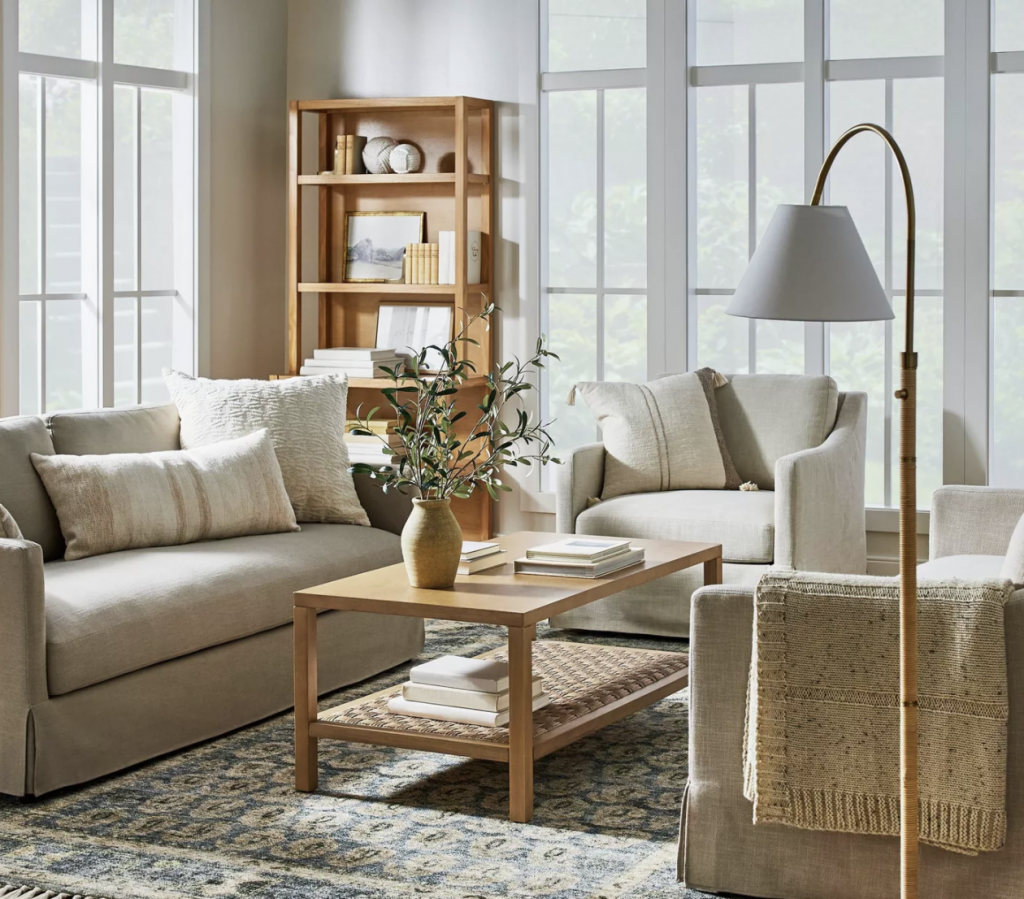 Rugs for Every Room
Rugs are something I love sourcing for all of you and often it's difficult to find a hand woven or wool rug for a reasonable price. This is another product line that Target has begun to feature from Studio McGee, and they are all so good. I love how most of them are so unique and can work with many different styles. I own a few of them and the quality is great!
Shop Rugs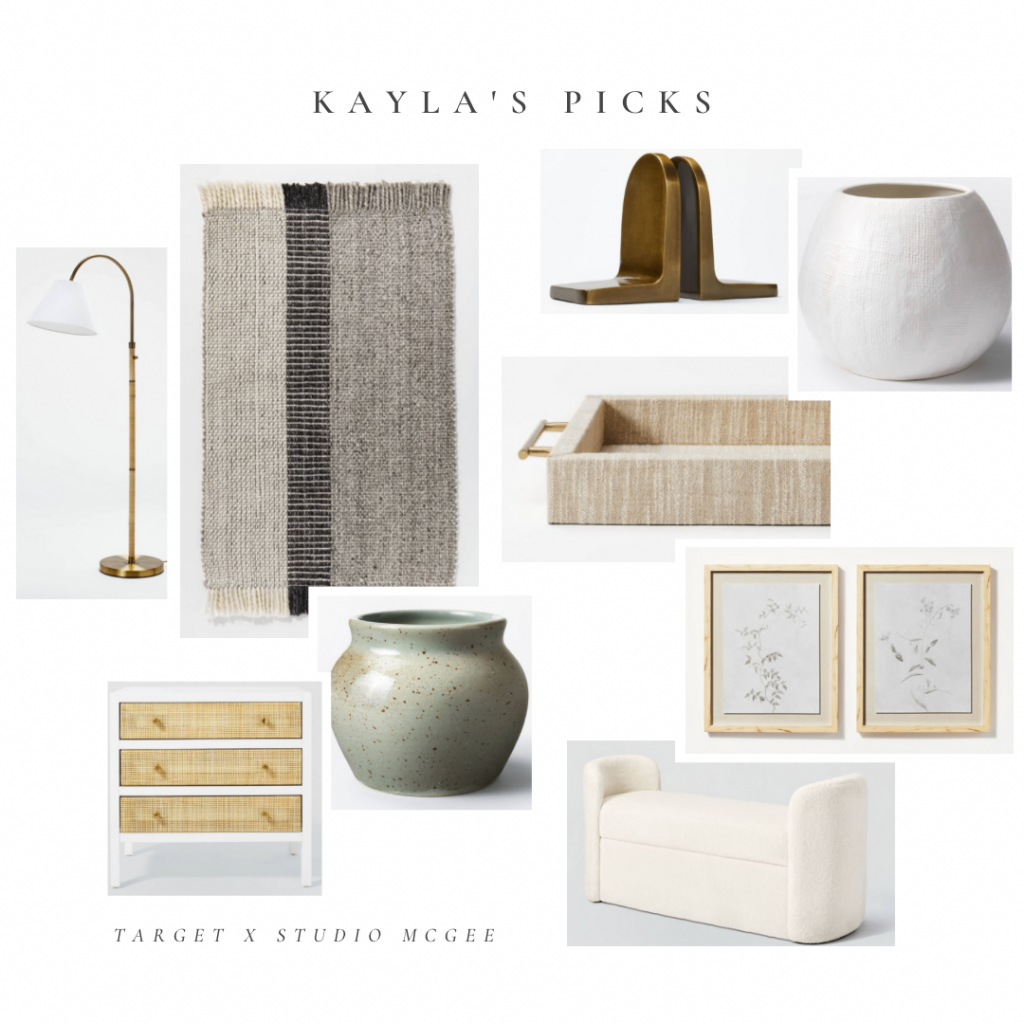 Above are my picks for this launch, and what is in my cart. I am hoping I can snag them in time but as history likely repeats itself, these launches typically sell out quickly. If you see things you like from this blog post, I recommend you "like them" and save them in your cart for right away Sunday Morning. I plan to do the same. Some of the things I am hoping I don't miss out on, is this green pot, bench and lamp! Fortunately, I was able to buy the tray and the white vase earlier in store, so I can attest that those a great options as well!
Shop My Picks

xo, kayla
---
This post does contain affiliate links, which means if you choose to purchase something while clicking a link in my post, I may receive a small commission.
Shop The Post