Continuing with my inspiration to refresh our spaces in the new year, today I wanted to share how updating even a small corner or a space of your home can make your entire room feel refreshed. Thank you to Walmart for sponsoring our room refresh today, focusing on our bedroom corner!
Creating a cozy reading nook 
Since we moved in, I have always envisioned our bedroom to have a little reading nook/chair in the corner (you can read more about our initial primary bedroom design here). For some reason, every time I add a chair here, it ends up in another room filling another space. During the holidays we had my flocked tree filling this cozy corner of our bedroom, and it felt naked without. I thought this would be a great opportunity to add some charm to our bedroom, and also some functionality.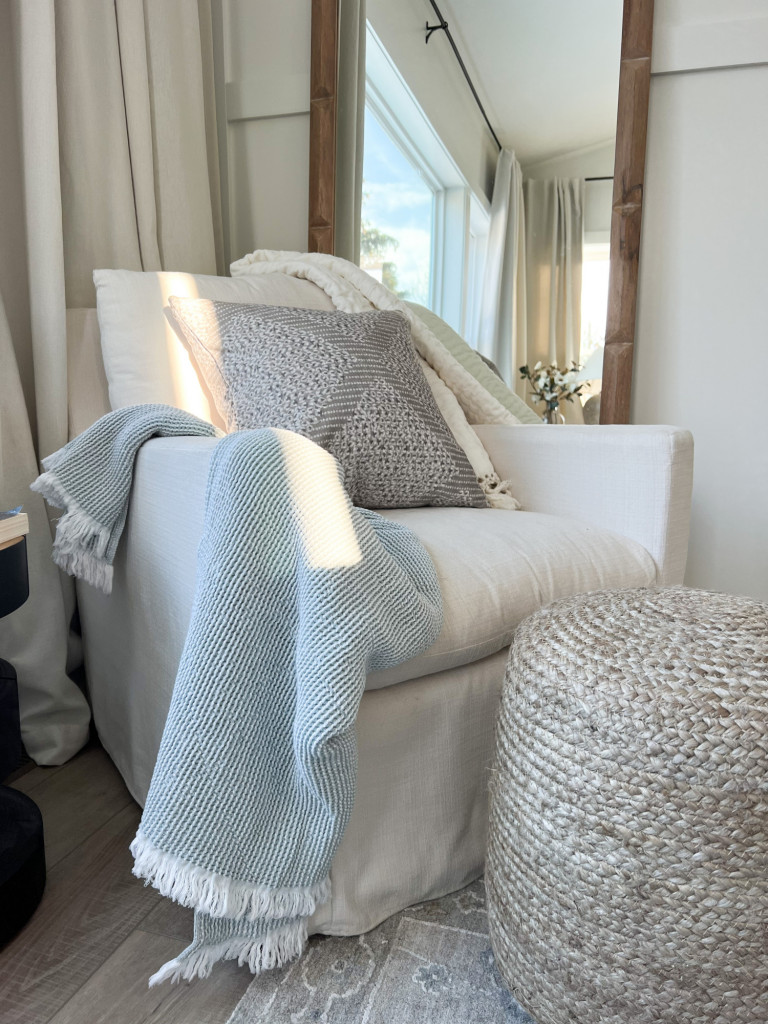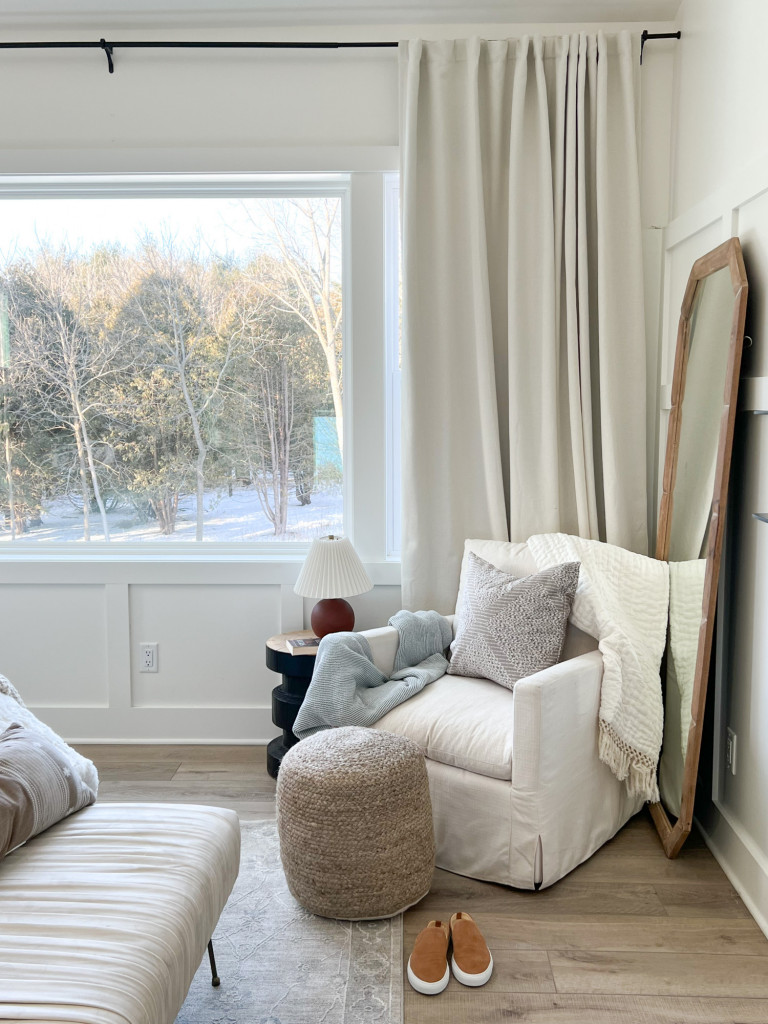 New Years Goal "read more books"
Anyone else make goals to read more in the new year? Well I sure do, and creating a space I want to snuggle up in, definitely helps motivate me to devote some "me time". We've had this chair in our basement, and decided to repurpose it while adding some new decor pieces from Walmart. We added some small touches like these soft throw blankets, throw pillow and jute ottoman from Walmart for styling. I highlighted some of these products this past fall (read here), and I continue to love and use them throughout the changing of seasons.

Adding a Large Scale Mirror to your bedroom will make it feel larger
I talked about this large scale mirror on my instagram last week and everyone went nuts for it. It's such a great bargain. I love the size, shape and finish of the wood. I think using an oversized mirror in your bedroom can make your bedroom feel larger. We don't necessarily have the largest bedroom, but with a mirror up against the wall in there, it magically feels bigger. I also think a large scale mirror is a functional decor piece. The best part about this one is its less than $250!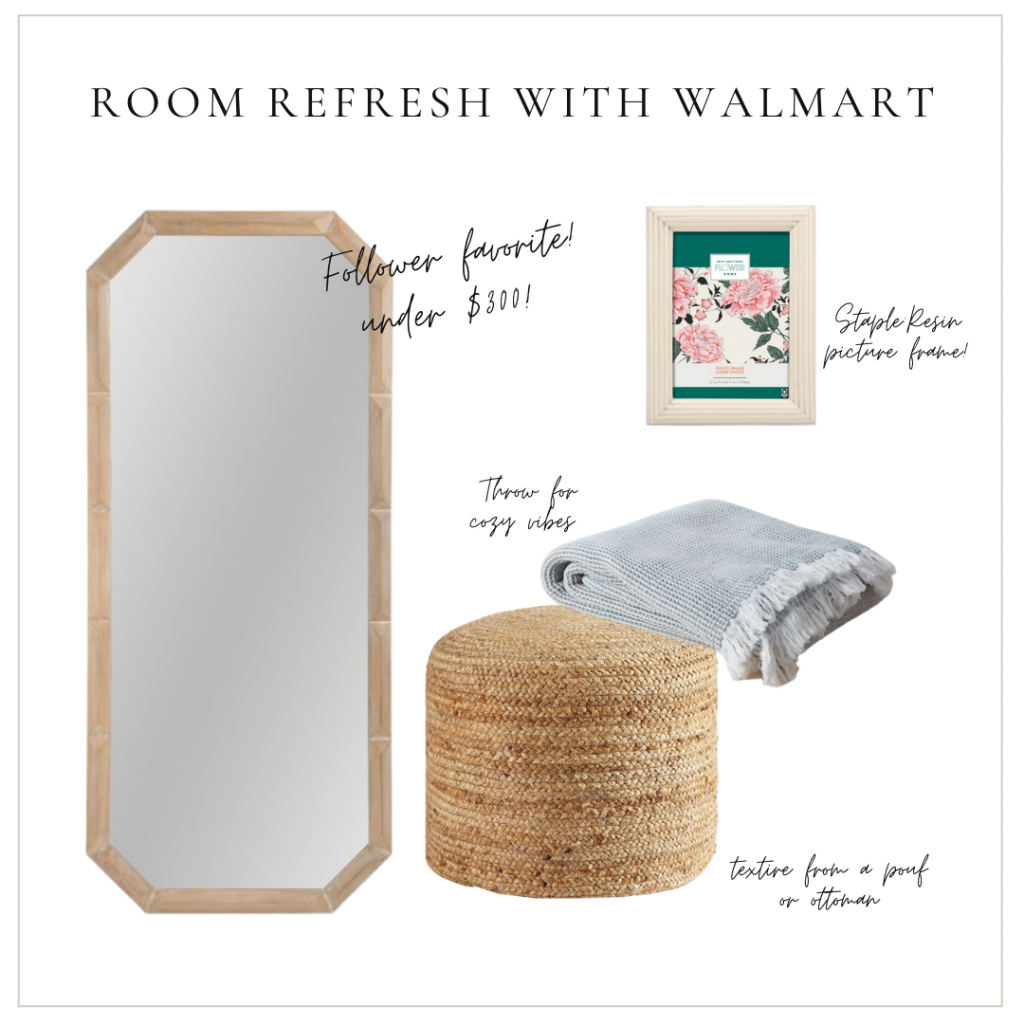 Adding simple and affordable decor pieces to complete the space
Other subtle additions I added to this space, are this $11 throw pillow, the soft textured blankets and jute ottoman. With the room pulled together, now I have an itch to go moodier with my curtains. Another project for another day! I hope this post inspired you to repurpose what you have and add small new touches to refresh your space. I only invested in this large scale mirror and the small decor pieces and I feel like I have a brand new space to curl up with a blanket, read a book and just be.
Shop My Walmart Room Refresh

Shop My Walmart Favorites

xo, kayla
---
This post does contain affiliate links, which means if you choose to purchase something while clicking a link in my post, I may receive a small commission.
Shop The Post