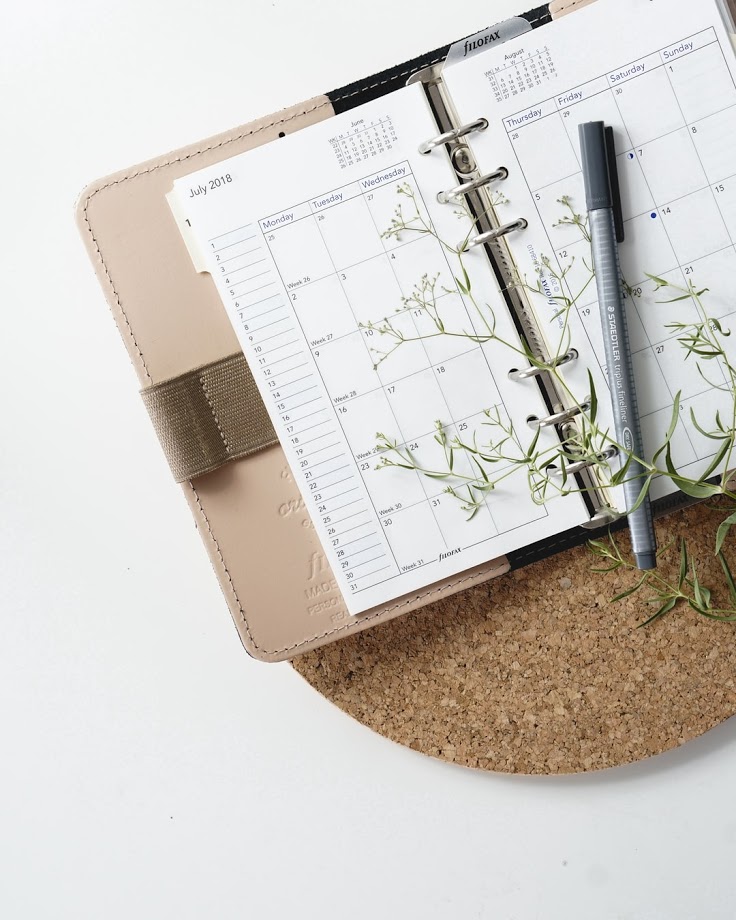 Hi friends! This morning I had every intention of continuing with my building a home blog series. But…to be completely honest, I wasn't feeling all that inspired for that particular topic today. Don't worry the building a home blog series will continue with hopefully another topic yet this weekend, but today I wanted to talk to you about something I just committed to for the end of the year.
If you have been following my instagram and have seen my stories, you know that I recently learned about the #last90days challenge. Because I am feeling so inspired by this particular movement I wanted to share a little more detail here incase you feel like joining me! I also hope if you are not following me yet on instagram, you'll head over to @kaylahaven_ and give me a follow!
last quarter of the year
Now…back to the topic!  The #last90days is essentially a movement, or challenge for the end of the year, where you invest in yourself. If you haven't noticed, I really love home decor, and fashion, and beauty. But…but what I love more is self-care and helping others find balance as I constantly strive for it. Like many of you, I tend to fall off the healthy wagon at the end of the year with all the holidays! I'm not just referring to my healthy eating habits or exercise patterns, I'm talking about self-care in general. Usually it is a time of the year where I worry about everyone else even more so than I already do! In addition to the hustle bustle of the holidays, daylight savings time in Wisconsin really gets me feeling all sorts of blah.
Ever since my Mom died, the holidays can be a little stressful. I try each year to look forward to them but there is always something that prevents me from fully embracing them! This year I want to change that. I have three young kids and I want to be fully present during the holidays, for myself and for them! Usually January 1st brings lots of optimism, drive, excitement and goal making. I have been known for setting so many new years resolutions and maintaining them for all of 3 weeks. This year, I am changing things up, and apparently I am not the only one!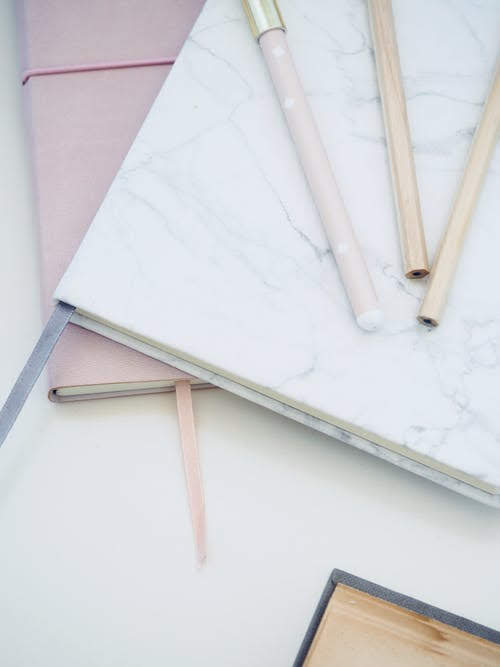 #madeformore
My sister in law invited me to the #madeformore group on facebook and if you are not already following, I 100% recommend you join. It is a group of like minded people who are all supporting and lifting one another up. You know I am all about that #womensupportingwomen and #findyourtribeandlovethemhard motto. If you are feeling lost in any aspect of your life, this group will be the group that reminds you "you are made for more" While I was scrolling the group last week, I kept seeing the hashtag #last90days. I had no idea what it was but after looking into it a little further I realized it was challenge focusing on the last 90 days of the year rather than waiting to make a new years resolution. Honestly, it took me all of 2 seconds to be completely inspired by these real stories being told by real people to decide I was ready to commit to. It is so inspiring to see so many people making a serious effort to work on themselves, for themselves.
5 to Thrive
Rachel Hollis, the author of Girl Wash Your Face and Girl Stop Apologizing came up with a 5 to thrive list. You do the 5 things on the list every single day for 90 days ending the year in complete control of your life, your emotions, and your health.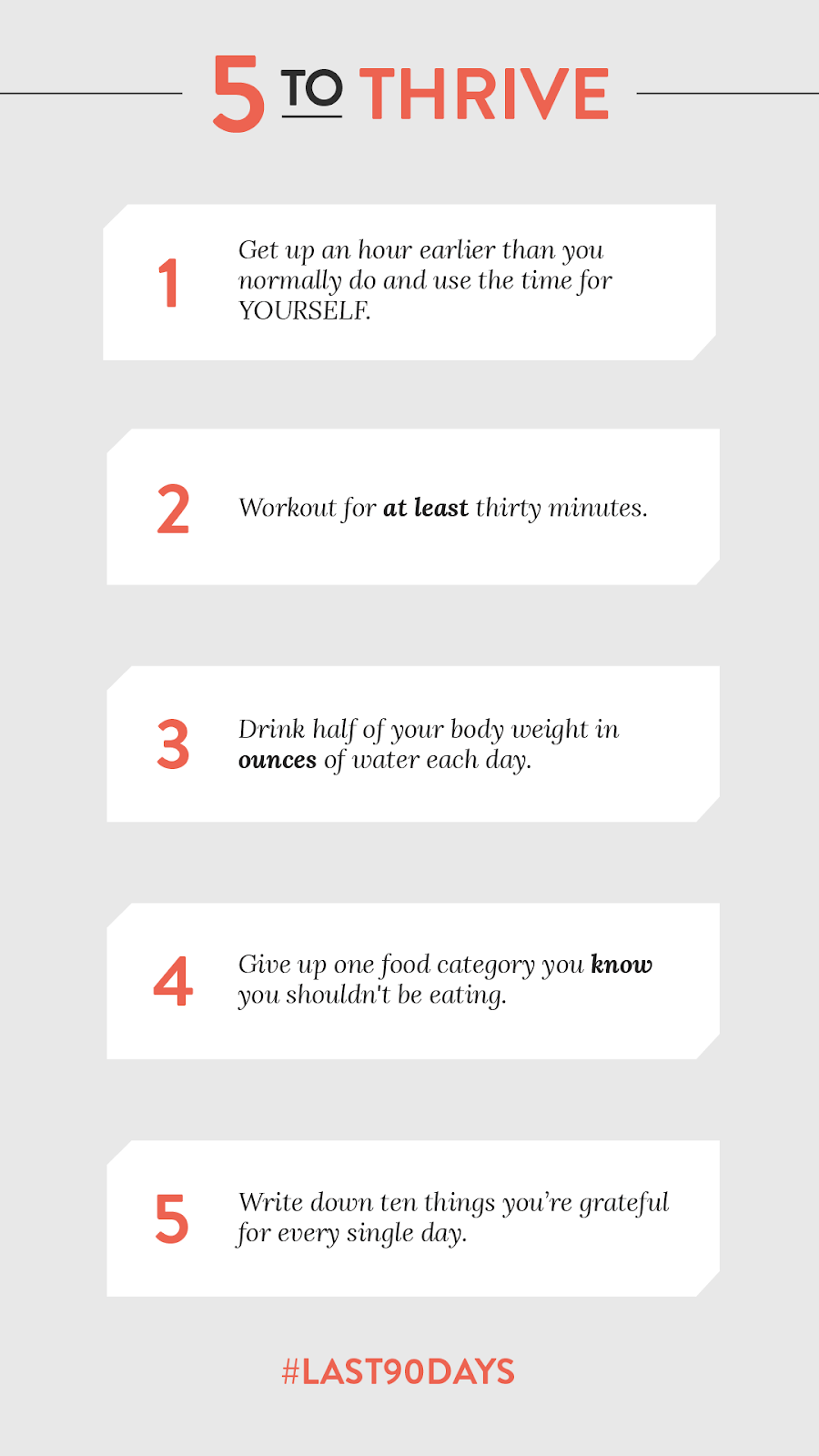 1. wake up one hour earlier every single day and use that time for you
I won't lie the first day of this was a little tough. I actually found myself super excited for my alarm to go off on October 1st. Unfortunately I was pretty tired and crashed by 10 am.  On day 3 today and I think I am now settling into my new routine. I have to say, I kind of love it. Sure, I am sacrificing precious sleep, and with three kids, it is certainly precious. But I am gaining so much more. The hour I have been able to spend alone these past few days has been exactly what my heart and soul have needed. Sitting alone in the quiet, alone with my thoughts has brought me more perspective than I have had in almost a year. My alarm goes off at 4:16 in the morning, but I have to tell you, I kind of look forward to that time more than I thought I would.
         2. Move your body for at least 30 minutes a day.
I absolutely love how she wrote this goal in particular. I am a lover of exercise and getting in a great sweat session, I always have been. Honestly, exercise is what keeps my anxiety leveled. However, I do know that hard, vigorous exercise is not for everyone. I think this is why Rachel  "move your body for 30 minutes everyday"- This is completely doable and modifiable for mostly everyone and I encourage you to try. For my movement, I have been focusing on cardio and weight lifting but honestly I'd be proud of a simple walk if that was all I could get in.
3. Drink half your body weight in ounces of water each day.
I have always struggled getting my water intake in, and to be honest, I think I have been chronically dehydrated. I have slugged my water the past few days and the energy I feel is incredible.
4. Give up one food category you know you should't be eating.  
You could read this and think, man here it comes, the diet. OR you could look at it and read the words- "give up one food category you should not be eating". Rachel wrote the words "a food category you know you shouldn't be eating. For me, I really should not be having dairy. It messes with my digestive system and makes me incredibly irritable and bloated. I struggle with it everyday, as to my children. In addition, processed sugar really makes me feel groggy with low energy. Instead of changing your entire diet, into a quick fad, get rid of something you tend eat that you know you shouldn't. Maybe it is soda, candy, snacking, dairy, ice cream, gluten.
5. Write down 10 things you are grateful for every single day-
reflection and journaling. This is honestly, my favorite part about the entire 5 to thrive list. I have tried this in the past but have never been able to keep up with it. My aunt has been able to shift her mindset to always wake up and go to sleep reflecting with gratitude and I completely envy this.  Often we get so wrapped up in the never ending cycle of the hustle and bustle of life's chores and to do lists we forget to be present. We think we need more, should be doing more, or that we aren't enough. We strive for change and the future all while wishing time would slow down. I am completely guilty of these traits and continuously wish I could be more present and thankful for what is now. I love that this practice really pushes me to be intentional with my time. For something that is new, this definitely takes a lot of practice but I am finding so much self-reflection, worth and care in this activity.
Now, I honestly hope I sparked your attention, and you are considering joining me. What do you have to lose? #thelast90days is something you commit to, for you, and you alone. I am so excited to participate in this and can not wait to see what transforms in the next three months. What I am learning is I am certainly #madeforemore
xo, kayla